Parney's World
| April 5th, 2014
Flying Squirrels exec has gone from playing baseball all day long to living it all year round
---
One of the most memorable lines in television history was spoken by comedian Garrett Morris in a Saturday Night Live skit in 1978. Playing the role of Chico Escuela, a baseball player from the Dominican Republic, Morris delivered a line that became a catchphrase: "Baseball been berry, berry good to me."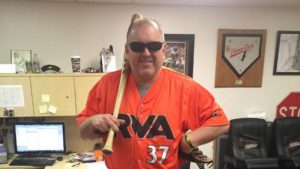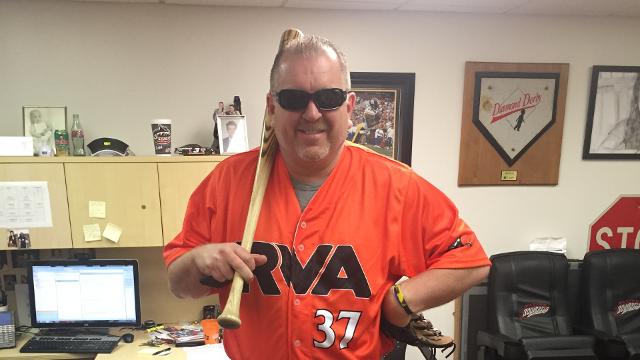 Todd Parnell can relate to Chico because baseball has been very, very good to him.
If you're thinking, "Todd who?" it's understandable. Name recognition for Parnell is based on one word:
Parney.
As the Richmond Flying Squirrels begin their fifth season, Parney, the team's vice president and chief operating officer, is raring to go.
"We never rest on our laurels," he said in a recent interview in his office at The Diamond.
Parney has laurels he could rest on. After the Squirrels' second season, during which they averaged 6,679 fans a game, he was named the 2011 Minor League Executive of the Year by Baseball America.
'THEY CALLED ME "BIG MAC" '
The 47-year-old Parney's love of baseball goes back to his boyhood days in Locust, N.C., a rural community about 25 miles east of Charlotte.
"We lived next to my grandfather, who farmed four acres of land," he said. "Every morning in the summer, the neighborhood gang showed up on their bikes. As soon as everybody got there, we played baseball. We played all morning long. My mom would make us peanut butter and jelly sandwiches for lunch, then we would play until everybody had to go home. That's the way we grew up."
When he was 14, his parents moved to Philadelphia. "From Locust to Philadelphia. That was culture shock for this country boy." After high school, he went to Messiah College in Mechanicsburg, Pa., where he played basketball for the NCAA Division III school. His lack of jumping ability earned him a nickname in honor of a fast-food hamburger.
"They called me Big Mac, because I couldn't jump over one."
His plan was to become a basketball coach. "I was addicted to competition. I wanted to coach and help kids be better players and better people."
FROM CHOCOLATE TO BOLL WEEVILS
That plan changed his junior year when he took an internship with a television station in nearby Harrisburg, Pa., which led to his first job in professional sports, working for an indoor soccer team there.
"Hershey was where I discovered beer and chocolate really go together," he said, "which helped me tack on my first 35 pounds after college."
While in Hershey, he met a Reading baseball executive, Chuck Domino. "Chuck gave me my first job in baseball in 1990, and he became my best friend," Parney said. "We are like brothers, so, of course, we argue a lot."
Domino and Parney teamed up to make things happen in Reading. "We went from 200,000 fans a year to 425,000 in seven years," Parney said. "That was where we connected with a certain philosophy: One, never be afraid to make a mistake. Two, there is no off season."
At the end of those seven years, Parney posed a question to himself. "Can I run my own show? The question became so big for me I had to take a shot."
He was hired as general manager of the Class A South Atlantic League team in Kannapolis, N.C., an old cotton mill town about 30 miles northeast of Charlotte.
The team was the Piedmont Boll Weevils. "A cotton mill town's baseball team was named for the bug that killed the cotton crop," Parney said. "I never did get my arms around the thinking behind that." That would soon be changed. Being near Charlotte enabled him to meet NASCAR people, including Kannapolis' favorite son, Dale Earnhardt Sr., the most popular driver at that time. Earnhardt's nickname, The Intimidator, inspired Parney to change the team's name to the Kannapolis Intimidators.
Working in Kannapolis was like going home.
"I was 12 miles from Locust," he said. "My parents were still in Pennsylvania but my aunts and uncles and a lot of family members were still there. It was awesome."
His parents now are back in Locust, living in the house where Parney spent his boyhood years.
"On the car porch where my Dad nailed a basketball rim when I was a kid, the rim is gone but you can still see the nail holes."
'WHAT HAVE YOU GOTTEN US INTO?'
Further moves were ahead.
Old friend Chuck Domino was instrumental in bringing the Class AA Eastern League franchise in Norwich, Conn., to Richmond in 2010. Richmond had been without professional baseball since the end of the 2008 season when the Richmond Braves, the city's Class AAA International League team for many years, moved to the Atlanta suburbs.
Parney was working in the front office of another Eastern League team, the Altoona (Pa.) Curve at the time. Domino, who would become the Squirrels' chief executive manager, called and asked him to go with him to Richmond. Parney agreed.
The two came to Richmond in August 2009, to check out The Diamond and the city.
"We walked into this office and it was in terrible shape," Parney said. "I looked at Chuck and said, 'You S.O.B. What have you gotten us into?'
"He said, 'Parney, we can do this.' So we took a blank sheet of paper and set about making something real happen."
The success of the past four years has proven that. Through shrewd promotions and tightened management, the Squirrels have become one of the Eastern League's most successful teams.
As Todd "Parney" Parnell begins his 25th season promoting minor league baseball teams, he is reluctant to take sides in the location of a new ballpark in Richmond. Mayor Dwight Jones supports a plan to build it in Shockoe Bottom. Opponents want a renovated Diamond or a new park on Boulevard.
"We try to stay focused on what we can control, which is the fan experience here at The Diamond," Parney said. "But I will say that when we moved here, major league baseball and minor league baseball were under the assumption we would not be in The Diamond for long. And I think the mayor's plan makes sense."
Meanwhile, a new season begins and Parney's job is to make fans show up game after game.
"Everybody in this front office has an insatiable appetite for what we do," he said. "This place is an incubator for new ideas because we don't want to get stale. We want to stay fresh."
A former sports writer for the Atlanta Journal-Constitution, Steve Clark went on to become a columnist for The Richmond News Leader and, later, the Richmond Times-Dispatch.