VA College Football Rivalries
| September 6th, 2015
Veteran sportswriter and author Jim Ducibella scans the state's most legendary college football rivalries
---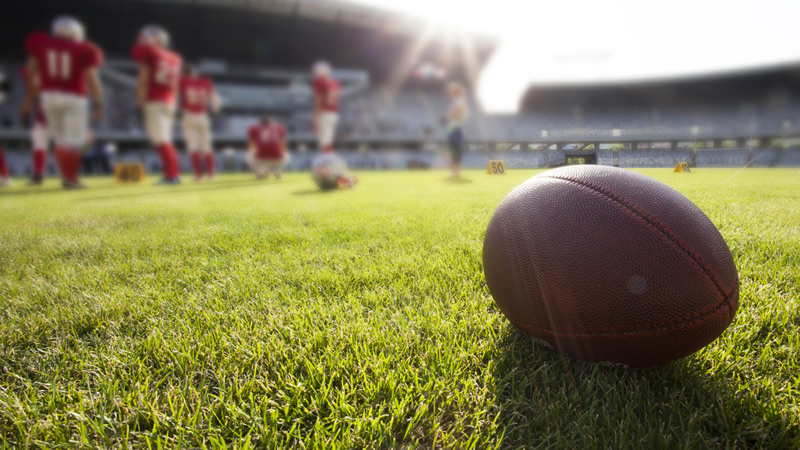 They meet annually, usually around the holidays, yet keep a wary eye on each other all year. They occasionally converse, if you call trading barbs and gloating over the other's misfortune "conversation." The commonwealth boasts half-a-dozen notable family feuds – er, college football rivalries. Randolph-Macon and Hampden-Sydney have been at each other's throats since Benjamin Harrison was finishing his only term as president of the United States. Virginia Tech and Virginia, Richmond and William & Mary, Virginia State and Virginia Union aren't far behind. Here's your Pick 6, with some memorable victories in recent years.
VIRGINIA VS. VIRGINIA TECH
The Commonwealth Clash
Series record: Tech leads 54-37-5 (began 1895)
MEMORABLE TECH VICTORY: 36-29 in Charlottesville, Nov. 18, 1995. The 100th anniversary game. Virginia is ranked 13th in the nation; the Hokies, 20th. Cavaliers, paced by touchdowns from Tiki Barber and Germane Crowell, lead 29-14 to start the fourth quarter. Then QB Jim Druckenmiller and Jermaine Holmes combine on a 10-yard pass to cut the lead to nine. After a Tech field goal, Hokies regain the ball with 2:12 to play and 71 yards to go. Tech squeezes out 10 plays in the next 1:25, including a 14-yard gain on fourth-and-10. Finally, Druckenmiller and Holmes cover the final 32 yards for the go-ahead score. Antonio Banks seals the win by intercepting Mike Groh's pass and returning it for a TD.
MEMORABLE UVA VICTORY: 36-32 in Blacksburg, Nov. 28, 1998. Hokies score first 17 points and lead, 29-7, at halftime. Then QB Aaron Brooks throws a TD pass to Kevin Coffey, LB Byron Thweatt returns an interception for a TD, RB Thomas Jones makes a miraculous diving catch for a TD, followed by Brooks' 2-point conversion run. With less than two minutes to play, Brooks hits Ahmad Hawkins with a 47-yard, game-winning scoring pass.
RICHMOND VS. WILLIAM & MARY
The Capital Cup
Series record: W&M leads, 61-58-5 (1898)
MEMORABLE W&M VICTORY: 31-17 in Williamsburg, Nov. 20, 1993. W&M celebrates the football program's 100th anniversary with a resounding victory to establish itself as the school's highest-scoring team ever (46 points per game) and secure a berth in the I-AA playoffs. W&M rolls up 487 yards, as RB Derek Fitzgerald rushes for 145 yards and a touchdown, and FB Troy Keen scores three times.
MEMORABLE UR VICTORY: 23-20 in OT, in Williamsburg, Nov. 22, 2008. In the first half alone, Spiders' defense forces QB Jake Phillips into five turnovers that UR converts into 17 points. In all, Phillips is intercepted six times. Still, the Tribe comes back to tie, only to see UR block Brian Pate's 39-yard field goal in OT. On ensuing possession, Richmond's Andrew Howard converts a 37-yard field goal to send the Spiders to the NCAA I-AA playoffs as an at-large entry – with UR running the table to an eventual national championship.
NORFOLK STATE VS. HAMPTON
The Battle of the Bay
Series record: NSU leads 26-25-1 (1938)
MEMORABLE HAMPTON VICTORY: 7-6, in Hampton, Oct. 15, 2010. Senior DE Brandon Peguese doesn't know his grandmother is traveling from North Carolina to see him play for the first time until shortly before kickoff. Until the last play of the game, he does little to make her cheer. But with NSU at the HU 38 and driving, Peguese sacks QB Chris Walley on fourth down to preserve a victory that keeps HU in first place in the MEAC. Teams would have been headed for OT had NSU K Ryan Estep not pulled an extra-point attempt to the right.
MEMORABLE NSU VICTORY: 20-19, in Norfolk, Oct. 13, 2007. Pirates are 18th nationally, and NSU hasn't beaten them since 2001. Spartans turn 10-5 halftime deficit into a 20-10 fourth-quarter lead behind 275-pound "tailback" Daryl Jones. Hampton QB T.J. Mitchell, a transfer from West Virginia, leads Pirates to a field goal and what would have been a tying touchdown with less than 30 seconds to play – except Don Carey, coach Pete Adrian's first recruit and now with the Detroit Lions, blocks the extra point. More than 27,000 watch the game; 5,000 storm the field and start dancing to year's popular hit, the "Cupid Shuffle." Even Adrian and his wife, Christine, stay on the field and join in.
RANDOLPH-MACON VS. HAMPDEN-SYDNEY
The Game
Series record: Hampden-Sydney leads, 68-41-11 (1893)
MEMORABLE R-MC VICTORY: 21-14, in Ashland, Nov. 11, 1989: Two huge defensive plays in final 1:08 enable Yellow Jackets to gain first ODAC title since 1985. First, linemen Kyle Fisher and Jody Kane, who had never scored a touchdown at any level of competition, hit H-SC QB Dwayne Bowyer in the end zone; Kane steals the ball from Bowyer for go-ahead touchdown. Then, on ensuing possession, Kevin Ofchus recovers a fumble at the R-MC 7. Indicative of the rivalry's intensity, game features several fights, including a bench-clearing brawl that takes several minutes to quell.
MEMORABLE H-SC VICTORY: 31-13, in Ashland, Nov. 10, 2007: Coach Marty Favret has a plan – get a quick lead on his arch rival. After scoring a TD on opening drive, Tigers recover an onside kick and score again. Four minutes into the game, it is 14-0 – before Yellow Jackets even have their hands on the ball. R-MC halves the lead with a touchdown, but that is as close as Yellow Jackets come. Josh Simpson (Mills Godwin) gains 276 all-purpose yards, 169 rushing, with three TDs. Victory gives Tigers the ODAC title.
VIRGINIA STATE VS. VIRGINIA UNION
Series record: VUU leads, 52-43-6 (1902)
MEMORABLE VSU VICTORY: 33-12, in Richmond, Nov. 8, 2014: Both teams are undefeated in CIAA Northern Division games, but Trojans advance to second straight CIAA championship game before 9,500. Defense forces seven turnovers, including four interceptions. VUU actually leads, 6-0, before Trojans score 26 unanswered. Trojans ultimately win overall conference title, make their first NCAA appearance and advance to second round of Division II Atlantic Region playoffs.
MEMORABLE VUU VICTORY: 31-3, in Ettrick, Nov. 15, 2009: Playing in steady rain, Panthers rush for school record 490 yards. (You read that right.) Litany of running backs pound the Trojans: Trevon Winston runs for 185 yards; Jerrell Washington, 98 yards on just 12 carries; Wesley Queen, 52 yards on six rushes. It could have been worse: Panthers lose two fumbles deep in Trojans territory and, at the end, kneel at the VSU 8 to kill the clock.
JAMES MADISON VS. WILLIAM & MARY
Series record: JMU leads, 21-16 (1978)
MEMORABLE JMU VICTORY: 48-34, in Williamsburg, Dec. 10, 2004. National I-AA semifinal. W&M's first-ever night home game, televised on ESPN. In a game of streaks, JMU scores 27 straight second-half points to win its third straight road playoff game. The Dukes had opened with a 21-0 lead only to see William & Mary's Lang Campbell complete 17 straight passes, leading to four consecutive scores to pull the Tribe to within 21-20 at halftime. When W&M started the second half with 73-yard TD drive, the Tribe had its only lead. But JMU's defense recovers four fumbles and intercepts a pass, while RB Maurice Fenner runs for 106 yards in second half in the comeback win.
MEMORABLE W&M VICTORY: 27-24, in Harrisonburg, Nov. 13, 2004. (That's right, same season.) Greg Kuehn's 46-yard field goal as time expires lifts W&M. Kuehn's game-winning kick comes after JMU pulls into a 24-24 tie with 45 seconds to play. W&M's Lang Campbell hits on four straight passes in moving the Tribe from its 28 to the JMU 29 to set up Kuehn's kick. Overall, Campbell connects on 26 of 33 passes for 323 yards and two touchdowns, throwing to eight different receivers.
Jim Ducibella covered the Washington Redskins, college football and basketball, and golf during 27 years at The Virginian-Pilot in Norfolk before leaving in 2008. Author of two books, including the 2012 golf book of the year, King of Clubs: The Great Golf Marathon of 1938, Ducibella is a seven-time Virginia sportswriter of the year and 2010 inductee into the Virginia Sports Hall of Fame. He writes for the College of William & Mary's website.