Picture Your Home with Murals
| February 20th, 2020
Custom creations by local artists bring life to your walls
---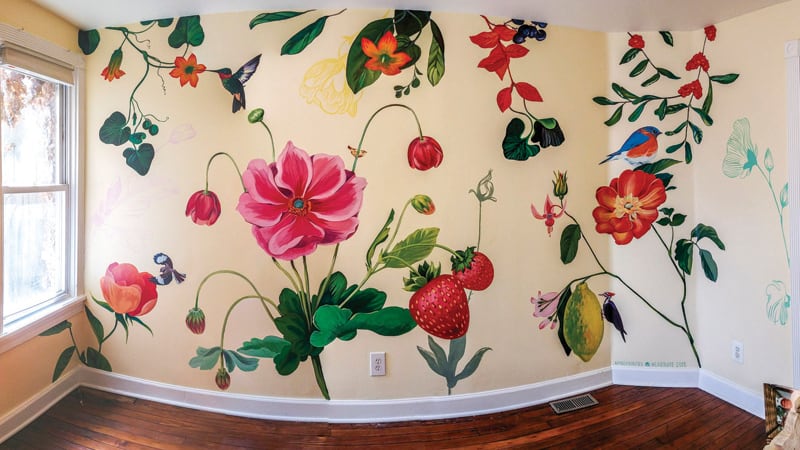 Artist Colleen Hall's murals are so lifelike they can fool family pets. A while back, she painted two cats perched on the edge of a faux window looking out over picturesque vineyards. "I painted a mouse along the baseboard chasing a grape," says Hall, whose company bears her name. "My client let the real cats in and one of the cats saw the mouse shape on the wall and went into stalking mode. That was funny."
Hand-painted wall murals like the ones Hall creates add personal flair to any room. The idea of painting scenes on a wall or ceiling certainly isn't new. It loosely dates back to the cave dwellers that drew on cave walls. But unlike those early simplistic drawings, murals and faux finishes of today make a statement in a home, drawing the eye and reflecting the homeowner's style and preferences.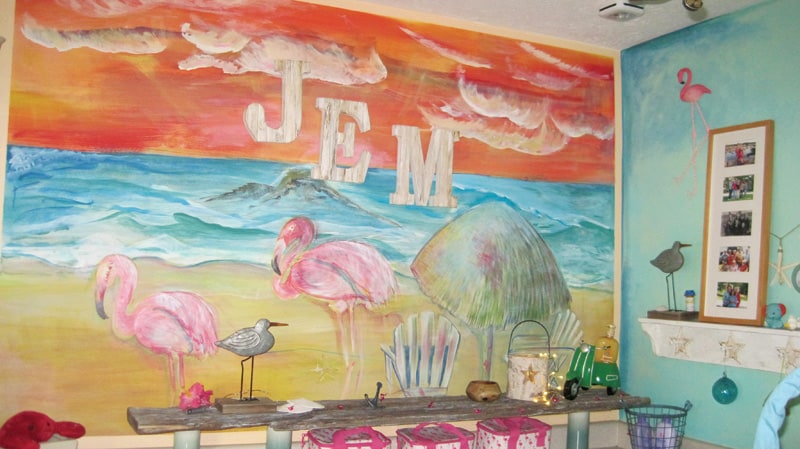 HALL'S WALLS
Hall started creating murals in the 1990s when clients asked if she would consider painting a mural on their wall after seeing her hand-painted furniture. "You have to overcome that initial fear of a blank wall and painting on it," she says.
She soon started doing jobs for residential customers, most often creating murals for children's rooms, kitchens and dining rooms. "I once painted the Sistine Chapel in a dining room," she says.
She likes to work collaboratively with her clients to ensure that the mural is the same as their vision. "I enjoy making things personal," she says. "I did a train for a child's room, [set] in a place that was special to the family. They had Irish heritage so I made the mural look like it was set in the Irish countryside."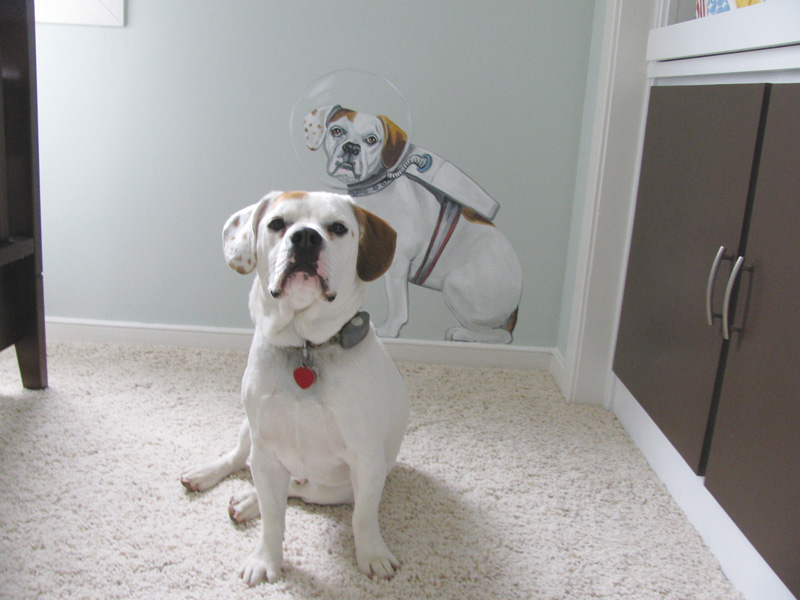 HERR'S CUSTOM DESIGNS
Murals can enhance a home the same way a unique, custom art piece does. "A mural can go a little beyond that if the client is open-minded by pulling the ceiling, cabinets, furniture, etc. into the design," says Emily Herr of HerrSuite.
A Virginia Commonwealth University graduate, Herr studied illustration and wanted to apply the thought process of "narrative and design, subject and context to a larger scale, in weirder places," she says. "My first mural was in my bedroom in high school, but I kept studying illustration until I graduated from VCU and decided to make up an imaginary job and start a mural-painting business."
Her first murals were in houses. "My main thought was paint big," she says. "Family and friends trusted me to paint their walls and supported me in the commission process that my illustration professors taught, working with a client to plan a mural, rather than being handed a blank canvas."
The context of a mural is the space it fills, she adds, "the architecture it's applied to and is surrounded by and the people that occupy the space. I love exploring this context for each new project and using it as the seed for a design."
Sometimes the murals she creates are entirely freehand when the design is very organic and doesn't require "precise placement of recognizable subjects or clean geometry," she says. "Often I'll project a base layer of the design using a digital projector, to give myself the rough scale and placement, then draw and paint the remaining elements/layers freehand. Occasionally I'll use stencils or pounces, and sometimes I'll project the entire thing and simply fill in the lines."
MICHELE'S ITALIAN MUSE
Living in Italy was the inspiration for many of artist Jeanine Michele's murals. Like Herr, Michele wanted to draw big. "I loved it. I started doing murals in 2000 when I was living in Florence," says Michele, who owns Jeanine Michele Enterprises. "My murals will usually have a theme depicting something like an Italian countryside."
Michele also does faux finishes that may look like wood or marble. "They trick your eye so they look like something else," she says, noting she uses a Trompe-l'oeil technique that uses realistic imagery to create an optical illusion. "Most of my work is freehand."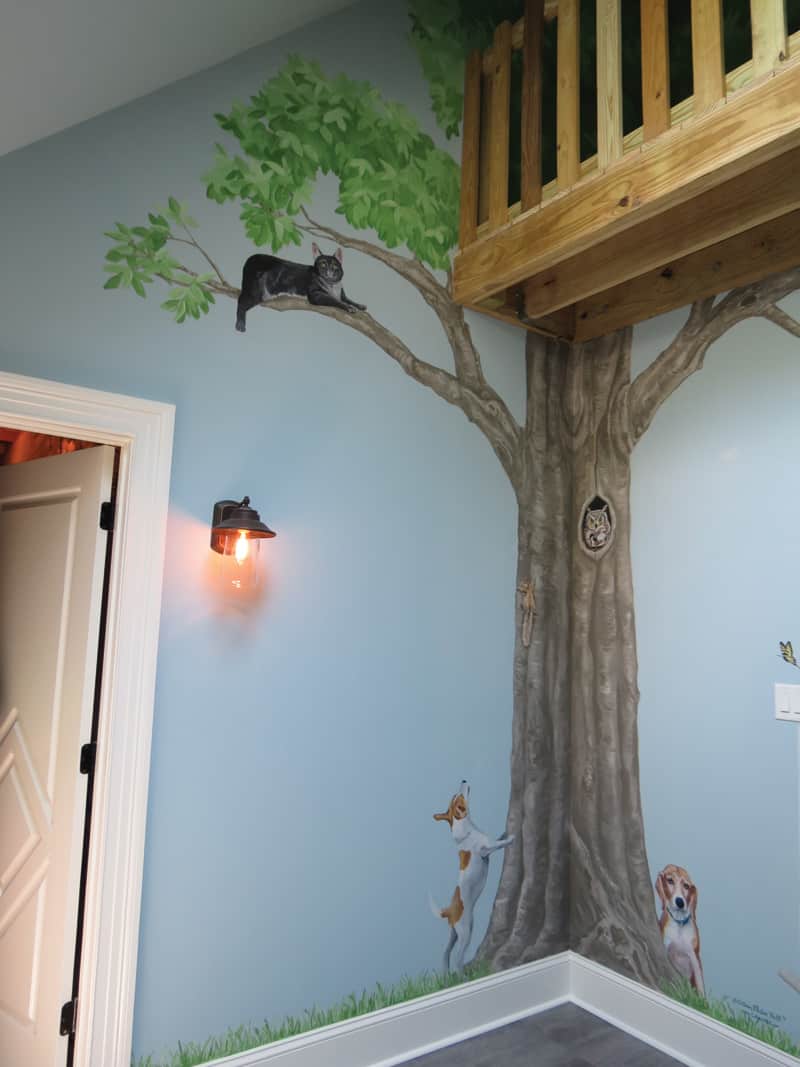 She enjoys figuring out visual solutions to her clients' design problems. "I like to work with what's there and make it function better," she says. "I find it fascinating how different paint or a different color can change a room."
EXPANDING THE CANVAS
All three artists do commercial projects, too, like Herr's murals at the Virago Spirits tasting room. "The street art world has exploded, and bringing some of that energy and sense of large-scale creativity into homes has become more intriguing to many as a result," says Herr.
Dogs and cats continue to be a favorite theme for Hall. "I am thrilled to help bring these furry family members to life in whatever way my clients prefer," she says.
One of Hall's projects was a mural for a Homearama house in Hallsley where the focus was raising awareness for the Richmond Animal League. "Then there was the mural I did for Robin Starr, the former CEO of Richmond SPCA, where I transformed the Florida room of her home into an eternal spring garden with all of her dogs and cats featured," Hall says.
Hall is amazed when she looks back on her career. "It's an unexpected and universal path," she says. "It's very joyful to see a client's vision come to life."
---
Award-winning writer Joan Tupponce writes about a variety of subjects – from business to celebrity profiles – for regional and national publications.