8 Ways to Keep Your Pint-Sized Kitchen Organized
| November 30th, 2017
---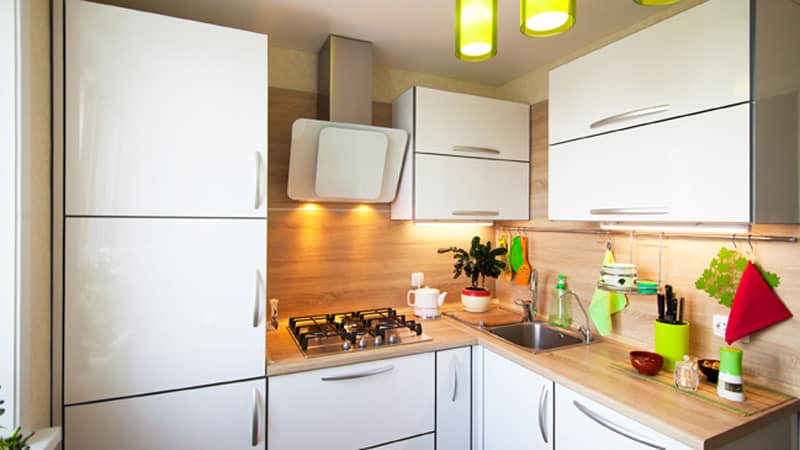 As much as we would all want a chef's kitchen complete with multiple islands, sprawling counter space and endless kitchen supplies, our reality can be quite different.
Those living in larger cities, small apartments or starter homes know all too well the challenges that come with a tiny kitchen: limited storage, no counter space and overflowing clutter are all part of the deal. Are we destined to suffer small kitchen woes for as long as we live in tight quarters? We refuse to believe it. Thanks to a few clever hacks, there are ways to dramatically improve the function of a small kitchen.
USE A UTENSIL ROD
We all have a junk drawer or a container filled with cooking utensils. But if your drawer or counter space is limited, take advantage of your vertical space, and hang your tools instead. You'll free up storage space for other essentials.
KEEP A BAR CART
Sometimes, no matter how hard we try to keep everything contained in our cupboards and drawers, limited storage space fails us. If you struggle to find cupboard space for large pots and pans or if you have nowhere to keep your spices and oils, consider adding a bar cart to your kitchen arsenal.
USE SLEEK CONTAINERS
Some things are best kept close at hand. Keep your oft-used non-perishables in pretty glass canisters, and display them instead of taking up limited pantry space. This works great for breakfast cereals, granola and sugar.
USE YOUR VERTICAL SPACE
You may have high ceilings, but are your cupboards reaching all the way to the top? So many kitchens have cupboards that stop too low, leaving precious vertical space unused. If you're not planning on renovating your kitchen, see if you can have high cupboards built-in to match your existing ones, or hang high shelves on unused walls. These are perfect for lesser-used items like vases and special occasion pieces.
CORRAL ESSENTIALS IN TRAYS
Any amateur cook knows to keep a few essentials close to the stove. To make it look more organized and less messy, corral these in a pretty tray: olive oil, vinegar, salt, pepper and other regularly used cooking essentials. Not only will it free up pantry space, but you'll also enjoy having these at an arm's length away when cooking.
SHOWCASE YOUR KITCHENWARE
Make your décor functional. Some kitchenware is too pretty to hide away. If you have beautiful wooden cheese boards, marble mortar and pestles, pretty candleholders or a collection of wooden spoons, make them a part of your decor instead of hiding them away.
GET CREATIVE WITH GLASSWARE STORAGE
If your cupboard space is limited but your glassware collection is large, try hanging it upside down, bar-style. Glassware racks can be hung on the wall or under cupboards freeing up space for your other dinnerware and showcasing your wine glass collection all at once.
USE A BUTCHER BLOCK
If your counter space is limited, a butcher block is a great way to add storage and surface to your kitchen. Keep knives and prep essentials in the drawers, store larger prep items on shelves underneath, and use the top surface for chopping and cutting.
---
(c)2017, Clique Media Inc. All rights reserved. Distributed by Tribune Content Agency. Distributed by Tribune Content Agency, LLC.