Planning a Walking Tour Vacation
| January 24th, 2017
---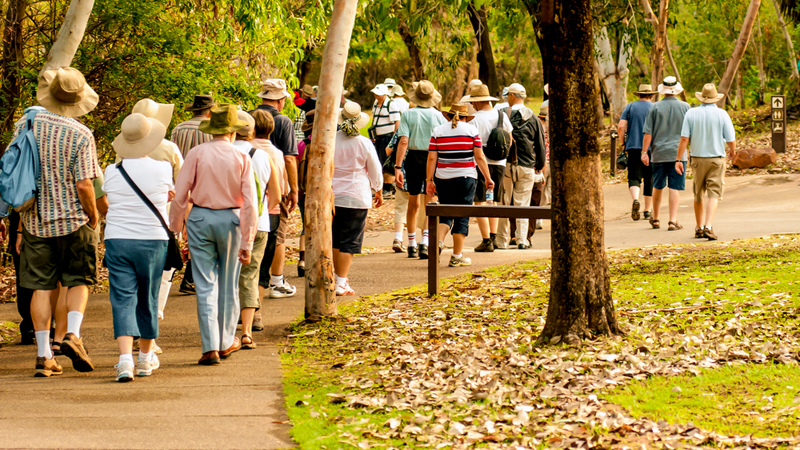 Walking tours have become a popular vacation option for health-conscious travelers who don't mind working up a sweat as long as there's a good meal and a soft bed waiting for them at the end of the day.
There are hundreds of trips from which to choose; your options are limited only by the size of your budget. High-end tour operators such as Butterfield and Robinson, Backroads, and Country Walkers target upscale travelers, with rates typically ranging from about $5,000 to $6,000 per person, not including airfare. The itinerary for Backroads' walking tour of Brittany and Normandy, for example, includes a meal at Le Coquillage, a Michelin-starred bistro that specializes in local seafood. For 2017, the tour is $4,298 per person, not including airfare.
On Butterfield and Robinson tours, walkers spend the night in castles, former monasteries and five-star hotels. A tour through the Italian Lakes region that's moderately challenging — usually five miles a day, with some steep trails — costs about $6,300 per person, not including airfare. Accommodations include the Villa Serbelloni, a five-star hotel on Lake Como, and Villa Castagnola, an Italian-style villa surrounded by exotic gardens.
Walkers with more-modest budgets should check out Road Scholar, which has been providing tours for adults age 50 and older since 1975, when it was still called Elderhostel. Road Scholar offers about 160 walking and hiking trips at prices ranging from about $1,000 for a six-day tour in the U.S. to about $5,200 for a 16-day walking expedition through five of Tasmania's national parks (airfare not included). All trips have an educational focus. For example, a nine-day tour of the hill towns of Umbria in Italy includes visits to a medieval paper manufacturer, a Roman aqueduct and the medieval town of Bevagna. The tour runs about $2,097 per person. Road Scholar guests don't stay in hostels or college dormitories anymore, says spokeswoman Stacie Fasola. Walkers usually stay in three-star hotels.
Some tour operators offer package deals that include airfare. That could save you money, depending on where and when you go. Jamen Yeaton-Masi, of Country Walkers, says the company can often negotiate lower airfares than its customers can get on their own. One advantage of booking a package deal is convenience: The tour operator will usually pick you up at the airport, and the group probably won't leave without you if your flight is delayed. If you book your own trip, you may want to arrive a day early to avoid being left behind, says Sarah Schlichter, senior editor of IndependentTraveler.com, a travel review website.
---
Sandra Block is a senior associate editor at Kiplinger's Personal Finance magazine. Send your questions and comments to moneypower@kiplinger.com. For more on this and similar money topics, visit Kiplinger.com.