More Miles to Wander
August 7th, 2018
Pocahontas State Park receives $30,000 for new trail system
---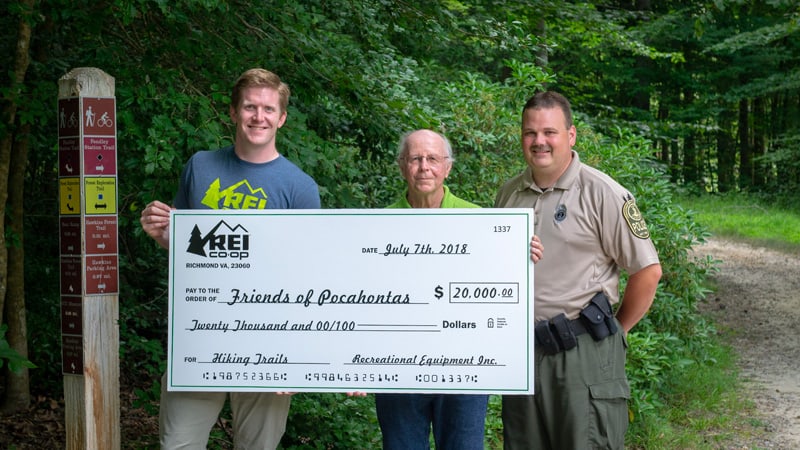 The proximity of Pocahontas State Park to Chesterfield and surrounding areas plus its many amenities make it one of the region's most popular parks. Two new grants will increase that appeal even further.
The Friends of Pocahontas State Park received a $20,000 grant from REI Richmond and a $10,000 grant from Dominion Energy to develop additional hiking-specific trails on Pocahontas State Park's generous 64-mile trail system. Jeff Samuels, member and director of hiking trails for the volunteer-based Friends nonprofit, and Joshua Ellington, park manager, accepted the check at a July 5 ceremony.
Samuels says that funding will go toward the construction of a new trail on the north shore of Swift Creek Lake.
Opening new trails is a labor-intensive process, says Ellington. "We couldn't do it without our volunteers, the Friends group and corporate beneficiaries … Thank you for continuing to make Pocahontas State Park a better place for this whole community."
Pocahontas multi-use trails range from fire roads to double-track trails for hikers, pedestrians and bikers, from easy to difficult, short to long. The park hosts about 26 miles of single-track directional mountain bike trails, for beginning mountain bikers and for technical riding. The Swift Creek Trails on the north side of the park have seven miles of machine-built flow trail and is accessible to hand trikes.
Pocahontas also offers camping, cabins, boating and rentals, nature and history programs, concert and performance events, and a large Aquatic Center with multiple pools. (The pool will close on Aug. 20 to begin construction and improvements for the 2019 season.)
Development for the new trail system is scheduled to begin in August. Completed sections may open to the public as early as September 2018.
---
Pocahontas State Park: DCR.virginia.gov/state-parks/pocahontas
Friends of Pocahontas State Park: FOPSP.org