Sinking the ball
| November 24th, 2020
The pool game's not over until Minnesota Fats says it's over. Is it over, Fats?
---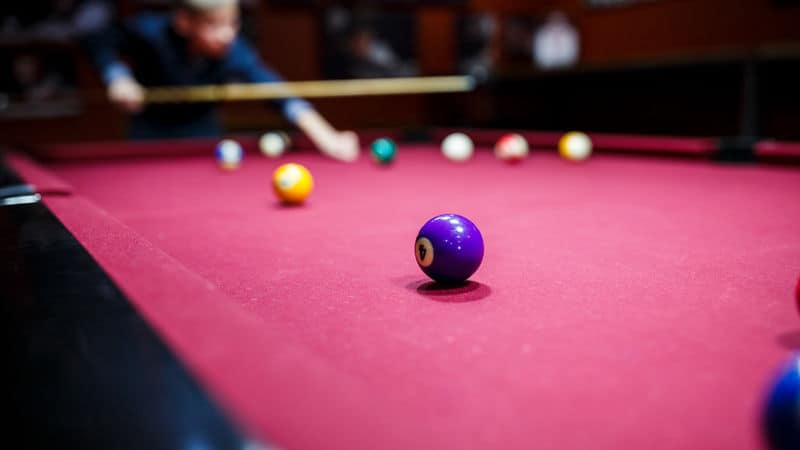 Columnist Randy Fitzgerald on a memorable heirloom pool table and family memories it helped to create.
---
When Barb and I had our second wedding on Aug. 6, 1986 – exactly to the day that would have been our original 25th anniversary – she gave me a big, beautiful, red oak antique pool table that she found abandoned in the basement of a home she had been renting in Stratford Hills and bought from her landlady. It was intricately carved around its base and legs, and came with what seemed to be the original balls and cue sticks. Bill Selden at C. P. Dean, where the table was refurbished for us, recognized it as one of the first pool tables that venerable establishment had ever made. There is a tiny plaque on the end, worn and barely readable today, acknowledging its C. P. Dean origins (estab. 1886), then at its original address on Governor Street. At the C. P. Dean website you will find that company's most interesting story and its place in Richmond history, as well as pictures of some of the early billiard tables they made. I feel pretty sure my table is The Chesterfield, dating to 1917. Wow!
If it's not a sin to "love" an object, I love that pool table. I look at it and see son Kyle, outfitted in a tux on his way out the door to the senior prom, pausing with a cue stick in hand to run a few balls as he passes. He was 4 years old when the table came into the house, and over the years he got good enough at the game that he was usually the champion in the hard-fought games with his father. Daughter Sarah shoots some mean pool as well, and that table was a drawing card for teenage friends and cousins and just about anybody who came in the door and spied it. I once played a quick game with our plumber! That was its path to becoming a symbol to me – it encapsulated all the years of the kids growing up, their friends and ours who filled our lives and our home, the to-the-death competitive spirit that infects every member of this family to this day, the link between the noisy, complex video world of today's kids and the easy pool hall days of their fathers, the family at home, together.
It has been so much more than a pool table, as much of its life covered by a big protective quilt as not. Each Thanksgiving and Christmas, a big piece of plywood (the "groaning board," we termed it) appeared upon it, topped with a festive tablecloth and spread with the biggest feast an extended family of 25 to 30 people could assemble. Every present that has ever been wrapped in this family has been wrapped on that table, and at Christmastime, there would be someone standing at every corner of it, all wrapping at once, while Nat King Cole sang a carol in the background. The children played beneath it and on it – it was a fort, a hiding place, a spot to curl up with a cat. Barb spread out sewing, tax records and coupons on it. And I fought to reclaim it.
When the pandemic came this year, the table became the temporary waiting area for any groceries that came into the house as we allowed for a sufficient quarantine of purchases to let any possible virus germs settle. Right now, as I write this, there are cans and loaves taking up about half of the table – no houseguests shooting an eight ball into the side pocket these days and no kids to shout in triumph when the shot is made!
So now the pool table needs to go where it can be a pool table again, with a new family and brighter lights, perhaps, to cheer others through the dark days of pandemic. When it's sold, the pool room will become once more a dining room, both it and the pool table returning to their true purpose. I think we're all waiting to do that these days.
Here's to your next 100 years, old table. Rack 'em!
---
Randy Fitzgerald was a longtime public relations director at the University of Richmond and columnist for The Richmond News Leader and later the Richmond Times-Dispatch. He taught modern American literature at Virginia Union University until he retired in 2012. His book, Flights of Fancy: Stories, Conversations and Life Travels with a Bemused Columnist and His Whimsical Wife, was published in 2017. Click here to read more of his Boomer columns.