Renewal at Evergreen Cemetery
| September 24th, 2019
The once-neglected African American memorial is getting its due
---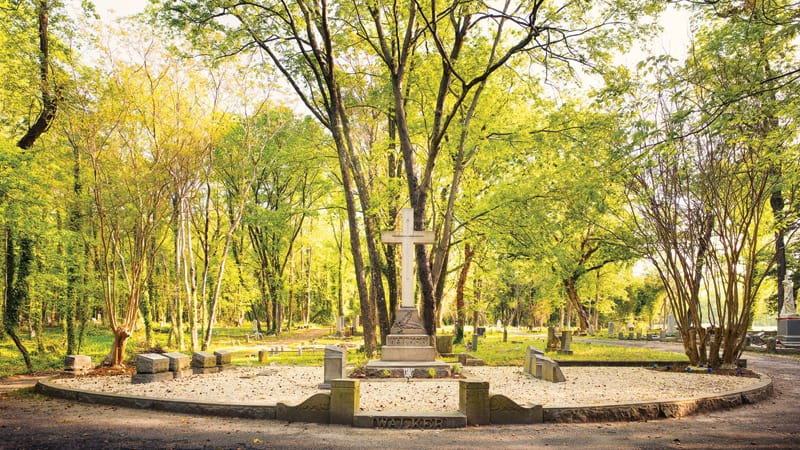 The local African American cemetery that's been living in the shadows – and under kudzu – is finally getting the attention that it and its inhabitants deserve. In July 2019, Evergreen Cemetery, located in Richmond's East End, earned a $75,000 Action Fund grant from the National Trust for Historic Preservation to help launch its restoration.
In 1891, leaders of the Richmond African American community established Evergreen Cemetery as a tangible symbol to commemorate local African Americans, their families and their achievements.
The memorial park served as a final resting place for individuals in the community during a time of severe racial division and strife. Among the 10,000 Richmond African Americans buried throughout the cemetery's 60 acres are acclaimed figures such as teacher and businesswoman Maggie L. Walker; civil rights activist and editor John Mitchell Jr.; and Dr. Sarah Garland Boyd Jones, first female African American physician from Virginia.
Over the decades, the cemetery fell into overwhelming disrepair. Though families cleared out the space of their loved ones, the area continued to become overgrown.
And the Enrichmond Foundation came to the rescue.
Since launching in 1990, the Enrichmond Foundation has worked to serve and improve public spaces throughout the city of Richmond. They took over Evergreen Cemetery in 2017 and have worked in partnership with Preservation Virginia and Virginia Community Capital – plus volunteers around the community – to restore dignity to the grounds.
Now, the Action Fund grant is bringing Evergreen Cemetery closer to revitalization.
This year, the National Trust for Historic Preservation awarded $1.6 million through its African American Cultural Heritage Action Fund to various organizations around the country dedicated to uncovering and commemorating African American culture and history. Officials chose Evergreen Cemetery as one of the grant winners because of its community-based approach to restoration and rebuilding.
According to a recent news release, National Trust CEO and president Paul W. Edmonson told the Enrichmond Foundation, "The work your organization is doing to tell the full American story is energizing and inspiring."
To get involved, visit Enrichmond.org/Evergreen-Cemetery.