Residential Trends Recognize the Benefits of Boomer Life
| April 18th, 2017
---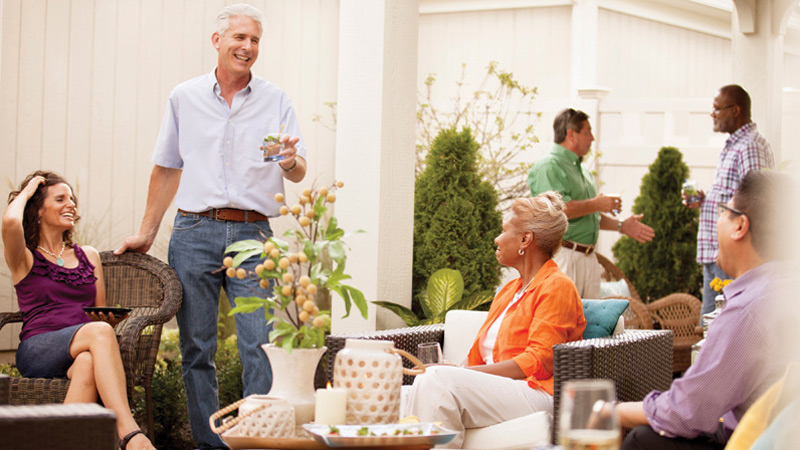 Livability is in, useless space is out. Entertainment areas extend from indoors to outside. Brighter, layered lighting is in demand. These residential trends for boomers will likely continue into 2018, area experts say.
Variety
Whatever size home boomers buy, the space has to be efficient and usable, which is a need HHHunt Homes aims to meet with multiuse rooms in different-sized options, says Jonathan D. Ridout, director of development for HHHunt Communities.
"We actually have two 55-plus communities that we are in the planning stage of right now; one will hopefully come on the end of this year," says Ridout, who attended the National Association of Home Builders (NAHB) International Builders' Show, which covers trends and what's new in home design, real estate and community development.
Boomers generally want better use of their space, no matter the size of the home, Ridout says.
"Not all boomers are downsizing. Some are buying the same size house they are getting rid of. But then they have more space than they previously had. Also they have more multiuse rooms. Some have a snore room in case their partner snores really loud, or it may have a Murphy bed in it so it's a guest bedroom in case the kids come over," says Ridout.
"In the communities we are planning, we are trying to provide all those different levels of housing. So if a boomer wants a three-car garage or if the boomer is single and doesn't need a bigger house or a boomer wants the same size house, I can provide a mix of products so that we can target all three."
A treasure chest
Jewel box homes – smaller homes with upscale amenities aligned with anticipated lifestyles – continue to attract boomers, area real estate experts say. Jewel box homes allow residents to downsize square footage but upgrade finishes, says Roger A. Glover, founder and president of Cornerstone Homes, which builds developments for active adults.
"We call it rightsizing, but 'jewel box' makes the point quickly. Most people are moving from an average of 2,000 to 3,000 square feet, two- or three-story home to a one-story, 1,700-square-foot home. They are downsizing, but now they realize they were really not using all the floors in their old home. They feel like they are living in a larger home even though the square footage is less," says Glover, who has developed active adult communities in Virginia, Tennessee, Louisiana and North Carolina, with more than 1,300 active adult condominium homes built since 1999.
The details
"I think that folks are looking to spend as much on a new house today as they are selling their existing home for," Glover says. Boomers choose to improve the finishes with high-end features such as wood floors, especially nice wider planks, granite, quartz and other hard surfaces, gourmet appliances, walk-in showers and upgraded trims. Across the board they are looking for upgraded appliances. And they prefer all main living space on one floor, he says.
Universal design allows boomers to age in place with grace by including wider doorways and hallways, first-floor masters, raised vanities, higher toilets and lowered microwaves.
What's happening now is that the universal design is less obvious, says Ridout. For example, grab bars in the bathroom and shower are available with so many "nice architectural elements they don't even look like a grab bar, but you can put them in" so when older age comes they are in place, says Ridout.
Entertaining
Another trend affecting new home design is the return of the dinner party, which may be held inside or outside, so green spaces are important. Common spaces for entertaining are a big draw, says Ridout. Some homeowners are adding wine cellars or wine coolers to their gourmet kitchens with large pantries.
For boomers who entertain on a patio, some homes have glass doors at the back of the house that can be raised to extend the space to the outside, says Ridout.
Homeowners are increasingly entertaining and prefer a home that allows them to do so with ease, agrees Rina Dyer, marketing manager for Eagle Construction of Virginia. "One of the things we are definitely noticing is our boomers love to have friends come over for game night or to celebrate a birthday. They love an excuse to show off their home and get people together and celebrate life's moments. That is not a trend that is dying down. They need kitchens and living spaces for entertaining," Dyer says.
"We're noticing they don't want a huge backyard because it requires landscaping and lawn care. They may opt to have an outdoor patio or deck, but it's not a huge space. It's large enough to enjoy being outdoors. Low-maintenance communities are popular ," Dyer adds.
Nature therapy
Another trend involves green spaces, which continue to draw boomers who increasingly plan to remain active. Pocket parks and open spaces that are not programmed are very important because boomers want the ability to read a book or have a lunch or picnic with a grandchild.
Some of these communities sacrifice a larger lot because residents don't want to take care of it. But they also want those open areas at the clubhouse or through the community where they can go and enjoy some down time and feel a connection to nature, experts say.
Walking trails and natural features such as groves of trees and bodies of water are all major draws in new communities, especially for health-conscious boomers, says Glover.
"We want to use the green spaces to provide that opportunity to encourage them into doing new things that improve their fitness. In all our communities we are committed to integrating those natural outdoor spaces," says Glover, adding that this year they will introduce professionally managed gardens that include vegetables, herbs and fruit.
Other residential trends include large master bathrooms incorporating a resort or a spa feel and homes that provide a lot of light, says Ridout. "The latest statistic I read said anyone 55-plus needs six times as much light as a 20-year-old. So in the house plans that we are coming up with we are trying to incorporate more windows and layer the lights … to help that demographic see better in these new homes."