Roanoke, Virginia's Star City
| December 19th, 2016
A cozy town highlighting heritage, hospitality and culture
---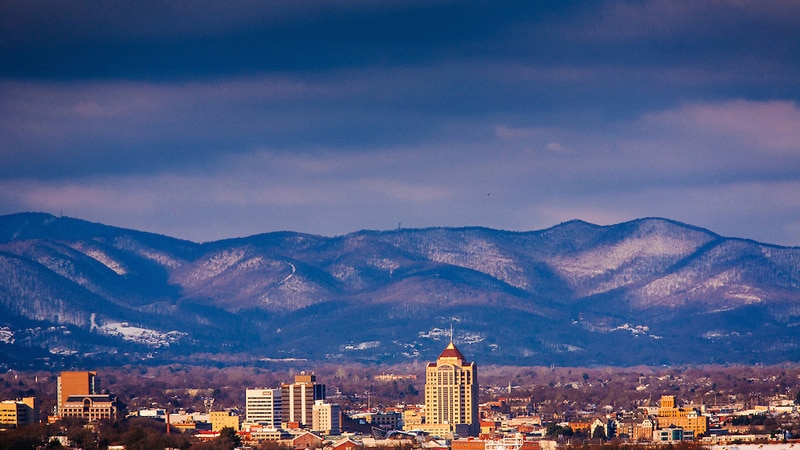 If you haven't visited Roanoke in a while, the city may surprise you. It certainly surprised me. In my short visit, the small-town charm in an urban setting and the growing arts, culture and food scene with four-season possibilities surpassed my expectations.
Over the past five years, Roanoke has evolved and developed significantly, adding restaurants, breweries and other attractions. The region's official marketing organization, Visit Virginia's Blue Ridge (VBR), represents and promotes the Roanoke Valley as well as surrounding counties. Landon C. Howard, VBR president, attributes the area's growth in part to developing its assets, such as outdoor recreation, and the partnership between the tourism industry and local and regional governments, which have banded together to pool resources. 
DOWNTOWN CHARM
Stroll around downtown Roanoke's accessible and charming streets and soak in the architecture of storefronts and buildings, including the historic Roanoke City Market, which hosts a food court, full-service restaurants and shops, and the historic Roanoke farmers market. Pick up fresh produce and local products at the market, such as handmade soaps and crafts, which is open seven days a week, year round.
If you have limited time to properly acquaint yourself with the city, consider taking one of Tour Roanoke's food tours. On the brunch tour, I ate my way through a small portion of downtown's more than 40 restaurants (boasting cuisine such as southern American, Italian, Thai and Lebanese). I also received a thorough dose of information on the city's colorful history and culinary scene – killing two birds with one stone.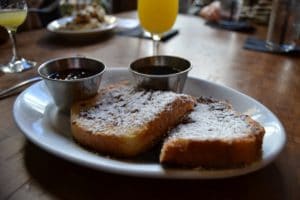 My most memorable stop was at Billy's, where I sipped on a mimosa and savored each bite of their banana nut French toast – cooked to perfection and sprinkled with powdered sugar. Another tour stop included a chocolate tasting at the Chocolatepaper gift shop, which to my surprise has the same owners as Mongrel in Richmond's Carytown. (Who doesn't want to be reminded of home in an unfamiliar city?).
For a taste of the city's arts and culture, peruse the galleries at the Taubman Museum of Art. Explore its unique architecture, temporary exhibits from regional and international artists and far-reaching permanent collections.
Two current short-term exhibits reflect the museum's diversity. Until Feb. 5, you can step into the eclectic mind and world of the Rev. Howard Finster in an exhibit honoring the folk artist's 100th birthday. In another exhibit (through May 14, 2017), you'll find artwork from Afro-American multimedia artist Sonya Clark, made with hair and combs. Clark, chair of the Craft/Material Studies department at Virginia Commonwealth University, addresses the role of hair in African-American society.
Nearby Center in the Square, which houses four museums and Mill Mountain Theatre,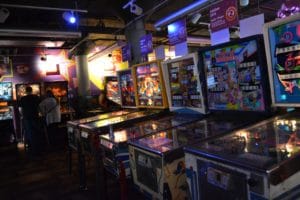 can provide hours of indoor entertainment. See a play at the theater, take the grandchildren to the Science Museum of Western Virginia or learn about African-American art and history at Harrison Museum of African American Culture. For a break from traditional museums, try reaching the highest score at the Roanoke Pinball Museum on more than 50 machines from the 1930s to the 1990s. One flat rate covers as many rounds as your nostalgic heart desires to play.
PLAY OUTDOORS
Even in the winter, you can hit the trails to enjoy the area's breathtaking mountain views. Near downtown is the trailhead for the three-mile round-trip Mill Mountain Star Trail. Poise yourself for a moderately difficult hike, complete with minor rock scrambles, to the iconic Roanoke Star and overlook for a panoramic view of the valley.
That's not all. Roanoke Valley contains more than 600 miles of hiking trails, including a portion of the Appalachian Trail. For a challenging hike with a rewarding and astonishing view, tackle the 8.8-mile round trip to McAfee Knob.
LODGING
Ready to rest? Conveniently located downtown, Hotel Roanoke's historic façade and charming appeal stand out immediately. Another downtown option, Hampton Inn and Suites, rests near Elmwood Park and many restaurants. (Ask for a mountainside room – you won't regret it when you see the sun rise from behind the mountains from the comfort of your bed.)
CAPTURE THE SPIRIT OF THE SEASON
Ice skate at Elmwood Park (through Feb. 12).
"Ooh" and "ah" at roughly 40 trees decorated for a charity competition, Fashion for Evergreens, at The Hotel Roanoke (through Jan. 2).
Dickens of a Christmas presents carriage rides, roasted chestnuts, street performers and more (Friday evenings through Dec. 16).
Grab a warm beverage for a picturesque walk filled around the historic Grandin Village, just two miles from downtown Roanoke, with extra lights and decorations through the holidays.
EXPLORE THE POSSIBILITIES AND PLAN YOUR TRIP AT VisitRoanokeVA.com.