RV Retirement - How One Couple is Living Life on the Road
January 31st, 2018
Don and Dee Gumenberg have been living in their RV for 7 years.
---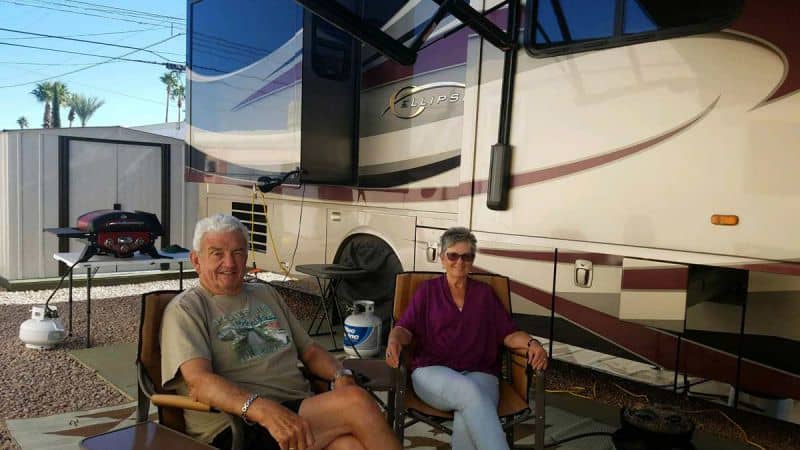 If it may sound far-fetched to sell your home and most of your possessions to live year-round in an RV; one Spokane couple did just that seven years ago. And they've never looked back.
Beginning 2010, Don Gumenberg, 75, and his wife Dee, 77, hit the road in an RV that they considered as their new year-round home.
After living in their South Hill home for more than 30 years, they sold the house in 2009. Each fall, they drive to Mesa, Arizona, to live in a retiree RV park. By April, they return near Spokane, driving their Itasca Ellipse back to property on the Pend Oreille River outside of Newport. They also find time to drive their RV to places they want to visit, such as national parks and landmarks.
"We have not missed our house," said Don Gumenberg. "We got rid of the house. It's just restrictive, and you always have to take care of it.
"It's amazing how many people we've met who have sold their homes, live in RVs and just go from one place to the other. There is a lot of history around the United States, so we've tried to see it."
Before leaping into a vagabond lifestyle, they let their adult children decide what furniture or things they wanted. They sold or donated to the Arc of Spokane much of the rest.
They have two daughters and a son, seven grandchildren and three great-grandchildren _ all who live in Spokane. The Gumenbergs do fly into Spokane to spend Christmas with family or for other special occasions.
The Gumenbergs are among nearly 9 million RV-owning "households" in the U.S., according to the Recreation Vehicle Industry Association. The group's data doesn't break down how many of those RV owners live full-time in their motor homes.
The average age of RV owners has dropped from 48 in 2011 to 45 last year, according to RVIA's RV Consumer Demographic Profile.
The Gumenbergs' current 40-foot Itasca Ellipse, which they bought in 2011, is actually their fifth motor home. They started out in 1991 with a 27-footer, used for vacations, and moved up to a 35-foot model before settling on the current model.
"When we leave Spokane in the fall, we try to take a different route to Arizona," said Don Gumenberg, who retired from working for a pharmaceutical wholesale supplier. "This time we came down the Oregon Coast and into Northern California.
"We live full-time in our RV. It gives us the freedom to wander around and do the things we want to do without the worry of caring for a home and all the maintenance and upkeep."
From their river property, they can drive into Spokane for appointments, Don Gumenberg added.
"We have all our medical and dental care done while we're here (in Spokane)," he said. "We come home for tune-ups for the RV, but mostly for tune-ups for the eyes, ears, teeth, and doctors appointments for us."
He said it's worked smoothly to live a vagabond lifestyle thanks to a little help from Wi-Fi and family support. They use a daughter's address to receive what little mail they receive, and she sends the collection to them every couple weeks.
They've set up automated bill-paying and manage their money online.
Their children and grandchildren spend many weekends with them during summers near their river property. They check the map for different routes when they want to travel.
The Itasca Ellipse, a Winnebago product, has three big slide-outs, kitchen, dishwasher, fireplace, washer and dryer, room for a king-sized bed, and storage in an underneath "basement."
"We call it cramalot."
He acknowledges that part of the lifestyle is making sure you can fuel up. "It's pretty simple, just traveling from gas station to gas station to make sure you can get down here. They only get about seven and half miles to the gallon, and it's 100-gallon gas tank."
Others might think the roughly 300 square feet of living space in their RV somewhat confining, but not the Gumenbergs. Most of the time, they sit outside or go to activities.
"We play golf three times a week, shuffle board and adventure out to different places. We go to shows, and enjoy friends in the park just chatting, or sometimes we eat together."
With a Winnebago group, they followed an RV caravan of about 25 coaches along the Mississippi River. The Gumenbergs also have gone to all the national parks and Mexico.
"About January or February of every year, we book a cruise, and we've gone to Hawaii and Panama," Gumenberg said. "This year, it will be the Caribbean."