Salvaged Wood: Using Old Wood for Home Projects
| December 23rd, 2019
Easy on the eyes and the environment
---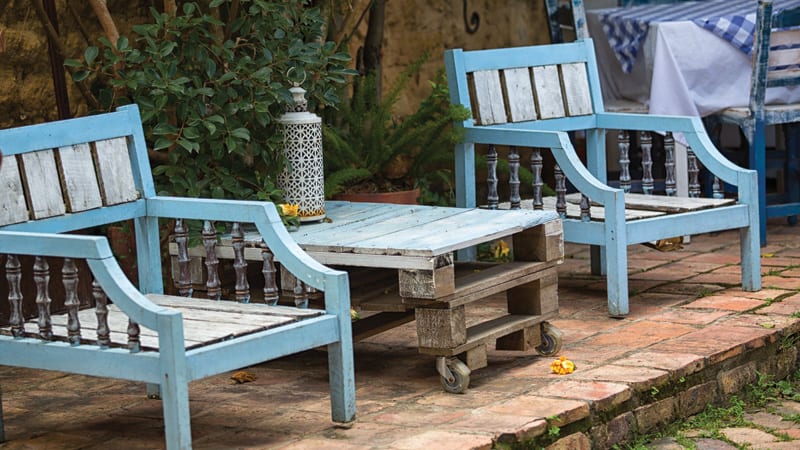 Nine years back, my father-in-law was preparing to build a home on a 500-acre farm property in Campbell County. He'd chosen a site atop a high hill – the big wraparound porch would look out on miles of untrammeled pastureland and riverside forests. But there was a problem: a pair of decrepit old barns occupied its would-be backyard.
Initially he considered restoration. But the tin-roofed structures weren't particularly special and would require substantial investment. Should he bulldoze them into a nearby gully?
"But they're 100 years old," I argued. "Likely every board and rafter was handmade. I'll bet that lumber has value."
I'd seen the TV show American Pickers and figured there was a market for salvaged wood. My father-in-law looked relieved; he loved the idea. The search for companies ensued. It soon brought two discoveries.
ONE MAN'S TRASH…
First, the wood was worth money. How much came as a surprise.
"A lot of these old barns look terrible, but they're filled with great stuff," says co-owner of Roanoke's Black Dog Salvage, Robert Kulp. Farmers harvested premium trees and often milled them onsite. "You might find hand-hewn oak and American chestnut logs, or antique heart pine beams. That stuff can be worth a pretty penny."
Kulp and business partner Mike Whiteside made a name for themselves starring in the DIY Network reality-TV show, Salvage Dogs. Now in its 10th season, the action follows the Black Dog crew as they dismantle old homes and buildings looking for valuable architectural treasures – including old wood – to sell in their showroom.
…IS ANOTHER MAN'S TREASURE
Though pricing depends on condition and age, Kulp says 10-foot oak barn logs typically sell for about $250 each; 22-footers for $575. Sixteen-foot poles for hanging tobacco can bring $80, and there might be dozens in a single barn. Ditto for simple 8.5-inch-wide by 8-foot-long rough-sawn pine beams. And siding? In the vicinity of $6.50 per board foot.
My father-in-law and I were astonished and intrigued. After that, we visited the shop of a Lynchburg-area carpenter who specialized in repurposing old wood. Touring his showroom, we made a second discovery: Whether sourced from barns or elsewhere, old wood makes for beautiful and creative home additions.
There were rustic kitchen cabinets, bathroom vanities and bedroom doors made of reclaimed pinewood siding. The grain of an 18-inch-thick cedar mantel had been torched and finished using the 18th-century Japanese weatherproofing technique, shou sugi ban, and featured striking black outlines. Arched Old World-style doors were crisscrossed with custom blacksmithing and made of American chestnut planks speckled with a kaleidoscope of blemishes and wormholes. Round beams from a smokehouse had been varnished and displayed as accents in a vaulted drywall ceiling. Gigantic heartwood support beams from a 19th-century warehouse bookmarked a 24-foot-long bar made from re-planed cabin logs.
LOCAL SOURCES FOR SALVAGED GEMS
A visit to architectural salvage stores like Black Dog Salvage or Caravati's Inc. in Richmond will yield similar sights, as well as a host of other items including everything from old bathtubs to chandeliers to carved fireplace surrounds to a bar made from the nose of a repurposed 1950s firetruck.
Other salvage businesses focus solely on salvaged wood. These include Richmond's E.T. Moore and Appalachian Woods, LLC, in Stuarts Draft. The latter features an onsite mill that produces refurbished floorboards made from hardwoods like hickory, white oak, walnut, red oak, wormy maple and more.
Best of all, says Kulp, using salvaged wood means more than rustic character and one-of-a-kind home products – it keeps waste out of landfills and new trees from being cut down.
After visiting the Lynchburg salvage store, my father-in-law felt similarly. He chose to incorporate the barns' usable material into his new home. With construction completed, he gazed around the living room, pondering its exposed beams, repurposed floorboards, mantel and end tables.
"This room feels steeped in history," he said. "To think, I almost bulldozed this stuff into the ground!"
---
Eric J. Wallace is a career journalist whose writing has appeared in more than 40 media outlets.