7 Living Room Decorating Mistakes
| June 4th, 2018
We asked three professionals to share the decorating mistakes they frequently notice in living rooms
---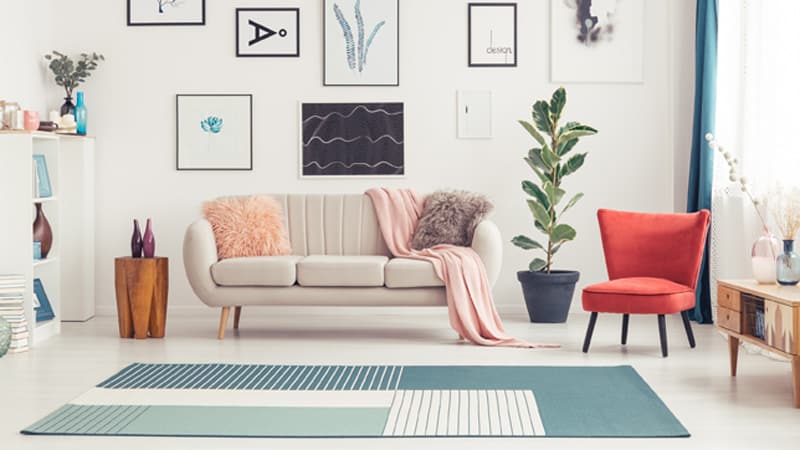 W asked a stylist, an interior designer and a residential architect to share decorating mistakes they notice in living rooms everywhere.
---
When entering a meticulously designed living room, we feel it right away: the perfect proportions giving the space a certain grandeur, the plush seating drawing us in, each well-appointed seat suggesting long lazy afternoons spent without having to leave the living room … Just like a beautifully directed movie, a well-decorated living room is at once engaging and impressive, but it's also familiar and safe. Trying to replicate this attention to detail in our own homes, though, is another challenge. As much as we try to replicate the feelings we've experienced in certain rooms (that we've visited and loved), there's usually something that's just off.
Interior designers spend their lives studying the little details that make a room perfect. And sometimes, what is wrong in our own living rooms can be as simple as a painting hung too high or a lack of eye-level lamps. To shed some light on the most common living room decorating mistakes that may be plaguing our spaces, we asked a stylist, an interior designer and a residential architect to share the decorating mistakes they frequently notice in living rooms everywhere. The living room of your dreams may not be so out of reach – simply fix these mistakes, and then enjoy your new and improved space.
MISTAKE 1: SELECTING THE WRONG SOFA
Designers agree: A great living room starts with a great sofa.
"So often I come into a house and the owners have good taste, but they already have a sofa that they want to work with," explains stylist and TV host Emily Henderson. "They don't want to replace it because it's not that old and they don't mind it. I've had to break the news over and over that with a sofa like that, they would never get the room they want," says Henderson.
David John Dick of DISC Interiors agrees. "We hear time and time again from our clients how the sofa they purchased in the past was not comfortable or was too big (or too small) for the room. In living rooms, a good sofa is key to comfort, but it's also central to how a room feels and looks. Our tip for getting it right is to pay attention to sofa seat height (a low seat is hard to get in and out of) and to draw a furniture floor plan before purchasing. Buying on impulse is great for accessories and side tables, but never for a sofa, as it can be a very costly mistake."
"To avoid choosing the wrong sofa, stick to something simple," adds Henderson. "No one loves a simple sofa more than me because they are so easy to style." She recommends paying particular attention to the quality of the fabric and the timelessness of the shape. Henderson recommends staying away from overly ornate details like curved legs, winged arms, tufts, and nail heads.
MISTAKE 2: FALLING INTO THE SHOWROOM LOOK
Another mistake that plagues living rooms everywhere, according to New York-based architect Elizabeth Roberts, is the "showroom feel." (In other words, a room that looks like it's all been purchased from the same store.) "It's important to us to mix new and vintage elements in order to create an interesting, eclectic and individualized room," she says.
DISC Interiors agrees: "We love the patina of vintage furniture, especially paired with modern upholstery."
To avoid feeling like you're in a store, Roberts also recommends leaving adequate room in the budget for lighting, textiles and accessories after large items are selected. "The small pieces are what add personality," says Roberts. "We also prefer to light the living room with low lighting instead of overhead light. Floor lamps and table lamps are best for living rooms," she says.
---
Visit https://www.homeblisshq.com/, for all your interior design, decoration, and home improvement needs.
---
MISTAKE 3: BUYING A RUG THAT'S TOO SMALL
For Henderson, one of the main offenders in living room decorating is the poorly sized rug. "America has been suffering for too long from 'small rug' syndrome," she says. "I see it virtually every day, and it pains me _ especially when it can be so easily avoided." Huge rugs can be expensive and can feel like such a scary commitment, but according to the stylist, it's one of the most important aspects of a room.
"Living rooms almost always need at least an 8-by-10-foot (if not a 9-by-12-foot) rug. Unless you have a tiny living room, stay away from anything under 6-by-9-feet. A 4-by-6-foot rug might be fine next to a bed, in a kitchen, or in an entrance, but it will assuredly not work in your living room," advises Henderson.
MISTAKE 4: POORLY PLANNING YOUR LAYOUT
While it may be tempting to push a sofa against a wall facing the TV stand and call it a day, Roberts reminds us that there is more involved in planning a great living room layout. "It's important to consider and create conversation groupings, especially if the room is long and narrow like many townhouses and lofts," she says.
"It's also very important to consider views from major seating elements. In a large open room, it's nice to be able to sit on a favorite piece while addressing the rest of the room. In a small room, it's important to consider necessary window views. In a room with a fireplace, it's often difficult to know where to put the TV _ large TV cabinets are cumbersome and don't fool many. My favorite solution is a projector that projects onto the white wall above the mantel," says Roberts.
MISTAKE 5: HANGING ART INCORRECTLY
"Art hung the wrong way on a wall is like a character in a movie wearing a really bad wig," Henderson says, "it's just kinda hard not to see it, and you wish so bad you could just rip it off, knowing that everything would be so much better without it. It doesn't ruin your experience, but it's just terribly distracting."
While some agree that art should be hung at eye level, the stylist stresses that this doesn't apply in every case. "Yes, the art should be at eye level, but not if your ceilings are really low and not if you are really tall," she says. "If the wall were cut up vertically into four sections (going from bottom to top), think of the art being in the third quadrant (counting from the floor)," says Henderson.
---
10 tips for decorating small rooms
---
MISTAKE 6: MAKING IT TOO PRECIOUS TO LIVE IN
While the days of unused "sitting rooms" and plastic-wrapped furniture are long gone, Roberts still insists on paying special attention to making your living room fits the conveniences of everyday living. "Select textiles and rugs that can take the wear and tear of everyday living," she recommends.
Roberts says, "There are some great outdoor fabrics that we're using indoors that dogs and kids cannot destroy. It's important to select rugs that will wear well. Beware of the seductive silk rug. Wool is a much better rug for a family. Make sure that there's adequate storage in the living room to contain all of the items that we like to have around: toys (if you have children), books, remotes, and a junk drawer. It's always helpful!" 
MISTAKE 7: NOT MIXING PERIODS AND STYLES
Dick says, "Often times people feel boxed in and limited by the architecture of their home and select furniture based on the home's architecture and time period. Our solution is to mix furniture styles with the style of architecture." In one Georgia home, the design firm merged contemporary furniture with traditional crown molding, Moroccan antique rugs, African beaded benches, and contemporary art. "We love to recover and rework vintage pieces and mix them with custom sofas so the living room feels timeless and approachable," he adds.
Roberts has one indispensable trick for combining periods and styles: "When mixing new and vintage elements, pay attention to furniture heights, as traditional furniture is typically higher than modern pieces."
---
© 2018, Clique Media Inc. All rights reserved. Distributed by Tribune Content Agency, LLC.