Shenandoah National Park: A Nearby National Treasure
| August 18th, 2016
Immerse yourself in nature just a few hours away.
---
The trees are lush and plentiful, and the weather is that perfect temperature – not too hot, not too cold. Goldfinches and other birds chirp, while deer munch on grass along Skyline Drive.
You can soak in this idyllic scene just about 2½ hours from Richmond in Shenandoah National Park. This destination is not only for outdoor lovers who want to get dirty, hike and camp but also for people who like a more luxurious trip – staying in a hotel and going on light nature walks or riding horses. Shenandoah activities appeal to almost anyone.
"It all depends on what you're into and what you're up for, and I think that's one of the special things about Shenandoah, just the full range of experiences," said Claire Jennings Comer, interpretive specialist with the park.
"People who are not into hiking … can still have a fabulous experience here, and people who are into solitude camping can have that experience here, too."
TRAILS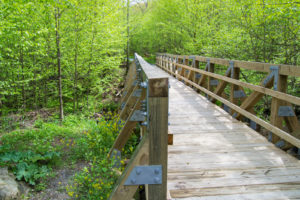 An assortment of hikes for all experience levels span the park, which has about 500 miles of trails, including 100 miles of the Appalachian Trail. Many trails can suit those interested in a less-strenuous hike, like the 1.3-mile, stroller- and wheelchair-accessible loop of the Limberlost Trail. The trail winds and turns and takes you over a recently built bridge with a flowing creek underneath. If you get tired during the stroll, rest areas dot the trail.
For more experienced hikers, the Dark Hollow Falls trail takes you on a short yet scenic trip alongside a waterfall. Going down doesn't prove to be a difficult task, but be aware of the
many rocks along the steep trail. While on the trail, you may see chipmunks jumping across the path if you can spot them quickly enough – they certainly don't waste time. Also, make sure to stop along the way at the few natural cove areas and soak in the soothing sounds of the rushing water and birds calling. But be cautious not to venture off the path. When the rocks along the creeks and fall are wet, they become very slippery and dangerous.
You're rewarded with a breathtaking view of the falls when you reach the base. Once you take it all in, it's time for the return, which has an elevation change of 440 feet, the most challenging part of the hike.
Comer said the park has between 10 and 15 waterfalls and cascades with breathtaking views, but she advises park guests that not all hikes to them are easy. "There's no easy visit to a waterfall," she added.
Numerous other trails are situated throughout the park, some easily accessible from the two main lodges. For instance, guests of Skyland Resort can take a short stroll to the lush Stony Man Trail, which is a fairly easy hike and has an elevation change of about 350 feet. The trail summits at a ledge that sticks out for a view of an abundance of vibrant trees and bright blue sky, depending of course on what the weather is like the day of your trip. When you arrive, look for falcons soaring in the sky.
OTHER OPTIONS
Visiting the park's many trails isn't the only thing to do at Shenandoah. Skyland Stables offers guided horseback riding tours. The nearby Shenandoah River provides ample opportunities for all things water related, including fishing, tubing and kayaking.
When you're ready for a guided trip, you can take advantage of tours such as the Whiskey-Wine Excursion at Skyland, which includes a gourmet lunch picnic at a vineyard and a trip to nearby wineries and distilleries. If you want to take a break from hiking or other outdoor activities and grab a drink, this could be a good option for you.
Visitors can also travel to the nearby Luray Caverns or set up a time to go rock climbing or rapelling. Adventure awaits anyone and everyone.
In the evenings, live nightly entertainment at Big Meadows and Skyland makes the crowds stomp their feet, clap along and sometimes even dance.
HAPPY ANNIVERSARY!
People have hiked, walked and camped at the country's national parks since the beginning of the National Park Service in 1916. Now they are celebrating 100 years of sharing the parks.
Comer said Shenandoah's goals for this celebration include celebrating the park's employees and "rewarding them for all the good work they do." Besides honoring the park's achievements, they will plan for the future. "It's great to look back and see all the great things that have happened, but it's really important … to look forward."
Shenandoah attracts 1.2 million visitors from around the globe annually. Perhaps you'll be the next visitor to embark on a hike or hop on a horse.
TAKE A HIKE
Bearfence Mountain: 1.2-mile loop; difficulty rated as moderate; takes one to two hours. Panoramic view of Shenandoah Valley starts with a boulder maze.
Hawksbill Summit: 2.8-mile loop; moderately difficult. Fairly steep hike to great views.
Rapidan Camp: 4-mile out-and-back trip; moderate. Scenic trail leads to the camp that President Herbert Hoover created as a summer retreat during his time in office, including historic buildings and exhibits.
South River Falls: 4.4-mile out-and-back hike; moderately difficult with an elevation change of 800 feet; two to three hours. Offers a view of an 83-foot-tall waterfall, plus a refreshing pool at the base of the falls.
Story of the Forest: 1.8-mile trail; rated as easy; one to two hours. Self-guided tour to a Blue Ridge forest features a wide gravel path, forest floor and pavement.
Whiteoak Canyon from Skyline Drive: 4.6-mile out-and-back trail to upper falls (1,200-foot elevation change) – add 2.7 miles round trip (1,100-foot elevation change) to lower falls; moderate, but return trip is steep. This popular hike features six waterfalls.
Sources: Best Easy Day Hikes Shenandoah National Park (Falcon Guide) and NPS.gov hiking maps
GRUB
Skyland and Big Meadows Lodge both serve breakfast, lunch and dinner, each with a full dining room, to-go options and taproom with cocktails, wine and beer (including local craft).
Three wayside stops offer varying combinations of groceries, snacks, carryout and full-service dining.
Click here for additional information on lodging, activities, events, dining, specials and more at Shenandoah National Park.
THE ROCKY MOUNT FIRE
One of the largest forest fires in the history of Shenandoah Nation
al Park occurred in April – but don't let that discourage you from visiting the park.
"[Forest fires are] necessary if you want to maintain certain ecosystems," said John Miller, director of resource protection with the Virginia Department of Forestry (DOF).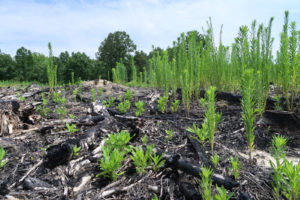 Miller explained that certain types of plants, such as long-leaf pine, depend on blazes for reducing the chance of diseases like brown spot disease. Fires also help manage wooded areas by burning the understory.
Because this is a necessary part of natural life, the Virginia Department of Forestry and other agencies implement prescribed fires, which are managed blazes intentionally started. Miller said there are other methods, such as herbicides, that can accomplish many of the same goals, but fires are less expensive. "It's a good management tool," Miller said.
Of course, forestry officials are always in control of prescribed burns, and though fires benefit the woods, that doesn't mean the rest of us can freely start fires, whether intentionally or by accident. The DOF supports Smokey Bear and wildfire prevention programs.
Miller added that although a fire roaring through a beautiful park could seem to damage its assets, a blaze is a "short detriment" to the woods and heals itself quickly.
That was the case at Shenandoah National Park. The fire broke out in the park's remote designated wilderness area in early April, according to Claire Jennings Comer, interpretive specialist at Shenandoah. She added that the park's employees and firefighters fought the blaze that engulfed more than 10,000 acres of Shenandoah's nearly 200,000 acres of land for about two weeks. By May 5, the fire was completely out.
The fire burned through some of the woods' understory, and it has left some charred and blackened wooded areas, but for the most part, Comer said, it's starting to repair itself. Those portions that were closed have re-opened.
"In the long run, it's going to be great for the ecology," she added.