Silver Saddles for Alzheimer's Patients
| July 24th, 2017
Horses and seniors connect at Williamsburg therapeutic riding center.
---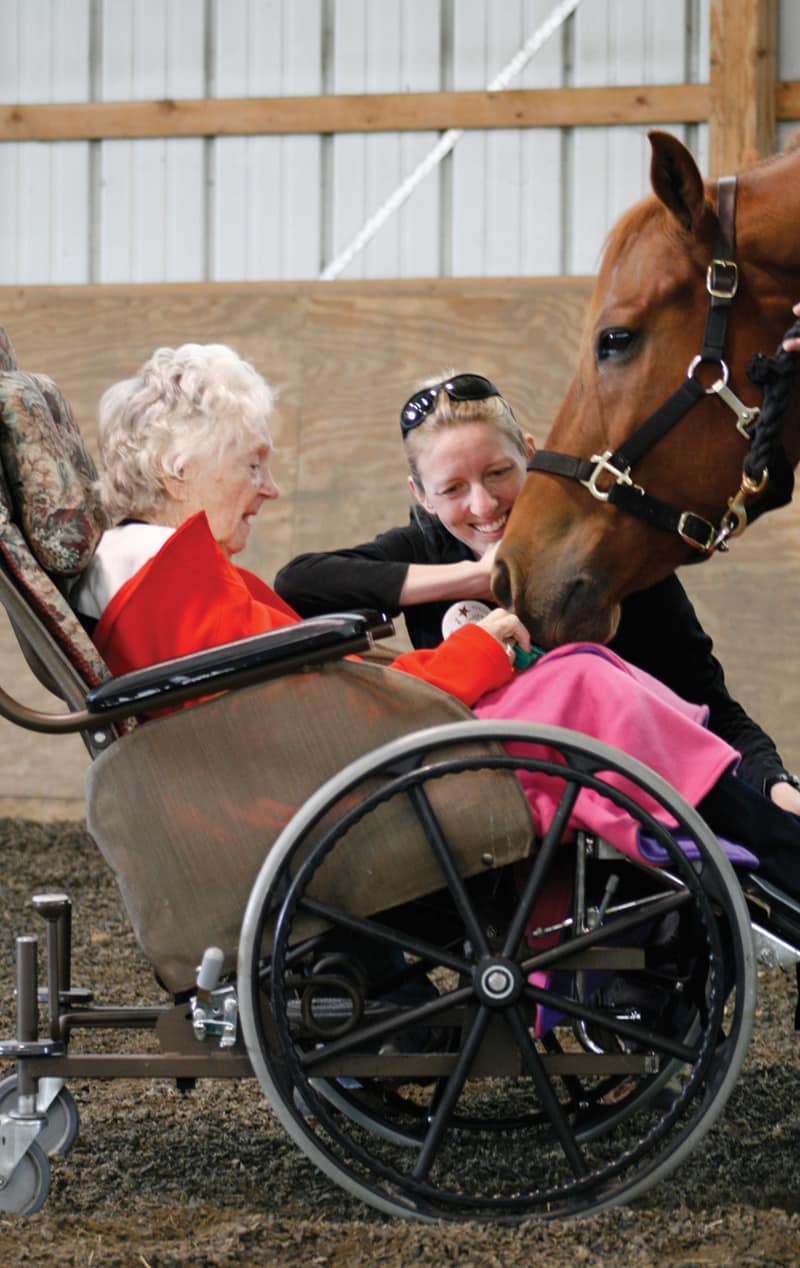 In one section of the barn at Dream Catchers at the Cori Sikich Therapeutic Riding Center in Williamsburg, a woman gently brushes the snarls out of a horse's tail. Another sings to her equine partner. Still another talks softly while the therapy horse she is about to ride reaches down to nuzzle her.
All three women are involved in the center's Silver Saddles therapeutic riding program, and all are part of that program's mission to promote wellness and to enhance the quality of seniors' lives. Now, program developers are studying how equine-assisted therapy might benefit those with symptoms of Alzheimer's disease and other dementias.
"It's the frontier," says Nancy Paschall, Dream Catchers' executive director.
HELPFUL HORSES
Founded in 1993 at the site of the Cumberland Children's Hospital, Dream Catchers initially established a program to provide a therapeutic horseback-riding program for special needs children. Three years later, the program had provided between 35 and 40 equine-assisted therapeutic riding lessons weekly to kids with a variety of conditions ranging from ADD/ADHD to traumatic brain injury.
In 2012, Dream Catchers expanded the program to include seniors experiencing the symptoms of Alzheimer's disease and other dementias, a population Paschall says was long underserved by most therapeutic riding programs nationwide. Since then, the oldest riders to take part in the Silver Saddles are a 97-year-old man who had never ridden a horse until age 94 and a 107-year-old woman.
"The goal of the center's Silver Saddles program is to not only help [participants] build strength and improve coordination and balance, but to improve quality of life for participating seniors," Paschall says. "We don't expect the [seniors' conditions] to change, but if we can somehow improve their quality of life, we are making a difference."
ENGAGING WITH THESE GIANT THERAPISTS
Before they can participate, seniors must meet certain program criteria, Paschall says.
"First, they must get permission from their physician and demonstrate certain abilities, such as having the ability to sit up on their own," she says. "Currently, all the participants were equestrians or were around horses earlier in their lives."
After seniors satisfy program requirements, volunteers work with them to acquaint them with the therapy horses and teach simple groundwork skills such as brushing the horse and combing its mane and tail. Participants are then divided into two groups – one engages in groundwork while the other rides for 45 minutes. All wear protective gear including an equestrian helmet when they ride, and they get help from volunteers when mounting the horse. Once in the saddle, three volunteers walk alongside the horse and steady the rider.
"This is not riding your neighbor's horse," says Paschall.
LOOKING BENEATH THE BENEFITS
When the sessions are over, the positive results are obvious, says Tina Thomas, MSHP, BS, CDP, CMHI, director of programs and services for the Alzheimer's Association of Greater Richmond.
"We see improvements in walking, mobility and core strength, and even in holding conversations with the horse or with the people in involved in the program," says Thomas, who has tracked results derived from the Silver Saddles program.
But there were other benefits, too, Thomas says, including the way that programs like Silver Saddles can help defuse stress and depression.
"People are worried about getting this disease, and it's on the rise," Thomas says. "We can't cure it, but we can manage the symptoms; we can help you live your life well."
But while there is no argument that equine-assisted therapy benefits those with symptoms of Alzheimer's and other dementias, scientific data demonstrating why it works is scant.
"Right now we have opinions, but we have no idea why it works," Paschall says. "Is it the horse? Is it just leaving the [home] facility? Is it the interaction with the volunteers? We just don't have the hard science."
To obtain such data, Dream Catchers, along with researchers from the Riverside Center for Excellence in Aging and Lifelong Health, the College of William and Mary and others, have initiated a research project to learn how programs such as Silver Saddles can actually affect the way medications are prescribed to manage stress, anxiety and depression in those who have symptoms of Alzheimer's and other dementias.
"We will look at anxiety medication to see if participation in the program causes a reduction in dosage or in the frequency of dosage," says Christine J. Jensen, Ph.D., director of health services for the Riverside Center. "There will also be an assessment of depression and anxiety."
In addition, the staff at memory-care facilities will keep a log tracking the number of times a program participant falls and whether the incidents stay consistent or are reduced.
"There will be a baseline and participants will be monitored at five weeks, the midpoint of the program, then at 10 weeks at the end of the program, then five weeks later," Jensen says.
The goal of the study is to provide physicians – and eventually insurers – the hard data they need to prescribe – and pay for – this drug-free alternative to bettering the lives of those experiencing symptoms of Alzheimer's and other dementias.
In the meantime, Paschall and her staff have no doubt that horses enhance seniors' lives.
"We had one woman who was brushing the horse's tail and said, 'You know, I had to do the same thing to my mare this morning,'" Paschall says. "You know that was many years ago [that she was recalling], but she was in a place where her memories were good."
Paschall adds, "We're looking at all kinds of dementia and it's been amazing the improvement we're seeing, and what we see is joy."
---
Pat Raia is a veteran journalist who covers a range of topics, including health and equestrian industry issues.