Ski Canaan Valley: All Levels, All Ages
| January 24th, 2017
---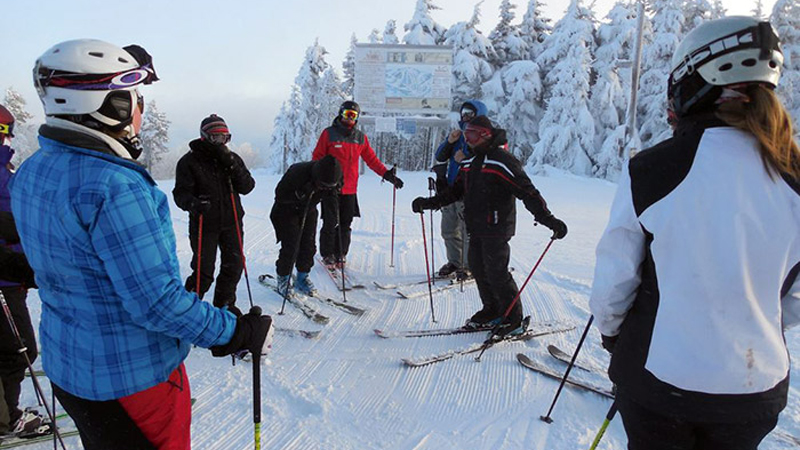 As with any respected ski resort, avid skiers grab their gear and prepare for a winter vacation on the slopes as they travel up to Ski Canaan Valley Resort, located in northeastern West Virginia.
I joined the mob as I trekked the 200-plus miles from Richmond over the river, through the woods and up a lot of steep mountains to Canaan Valley Resort. As I got farther away from civilization, the roads narrowed and my anticipation widened. Once I arrived, anxious to get back into the swing of skiing, I was intrigued to find that I might not be spending all of my time on the slopes.
This snow-covered getaway proudly features activities for all levels, ages and interests.
For people who learned to ski at the same time they learned to walk…
Black diamond trails are Canaan Valley's middle name.
Or something like that.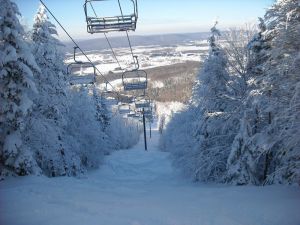 With 21 black diamond trails in all, the resort knows a thing or two about steep hills and challenging slopes. And speaking of exhilarating trails, have you heard of Canaan Valley's black diamond slope, Defy Gravity? It contains one of the steepest pitches in the state. Which might in fact make you forget your own middle name as you plunge down it.
For people who don't even know which ski goes on which foot…
Here's a hint: it doesn't matter. It also doesn't matter if you've never so much as touched a ski before. Canaan Valley offers introductory ski lessons, for skiers ranging from newbies to people who just need a little practice.
As someone who hadn't set foot on a slope in nearly 10 years (and couldn't actually remember if there were designated "left" and "right" skis), I jumped at the ski lesson opportunity, a quick way to dust off the cobwebs. We gathered bright and early for an hour-and-fifteen-minute-long lesson, and I stood amongst a range of novices and fellow skiers seeking a refresh. We learned how to strap on our ski boots, how to maneuver down a gentle slope and the correct way to stop.
The instructors were friendly and patient and didn't laugh at me when I fell face forward into the snow trying to put my second ski on.
And yes, there are snowboard lessons, too!
For the blue and green people out there…
Oh the choices! The variety! The decisions! Among Canaan Valley's 47 slopes, half of them are green and blue trails of varying levels, steepness and length for beginning and intermediate skiers and snowboarders.
For people craving winter sports away from the slopes…
For the non-skiers, taking-a-break-from-skiing skiers and just plain nature lovers: cross-country skiing and snowshoeing could be right up your winter sports alley.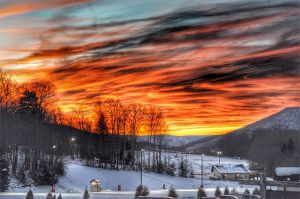 Sometimes, when you're surrounded by panoramic mountains, snow-dusted trees and nature like only West Virginia can provide, you just want to stare at it. And unlike downhill skiing, this activity does allow you to stop and enjoy it, without going 15 MPH and worrying about breaking a shinbone. I rented my very first pair of cross-country skis and glided among the mountains and trees, all the while taking in the atmosphere and wishing I was better at identifying animal tracks. It was a much more low-key, scenic alternative to skiing or snowboarding.
Canaan Valley offers showshoe and cross-country ski rentals, and has 30, yes 30, miles of trails (weather allowing).
And a winter hike isn't the only way to break away from the slopes. Take a quick stroll down the road from the ski lodge, and you'll find four lanes of snow-covered tubing ecstasy. I laughed so hard I cried as I plummeted down the slide on my tube. Which unfortunately made my face colder, but I didn't care, because I was still too busy laughing. What I'm saying is…it could be the most fun you have all winter.
For people who are small and young…
Got some kiddos in tow? There are tons of activities that you can send them off to on their own, or enjoy with them.
On the resort premise are a handful of arcades, a pool, and an ice skating rink! The rink has long open hours, but if you get back to the resort at the end of the day and aren't ready to shed your winter clothes just yet, head out back to see the activity that evening. With themes every weekend night (I got to experience "Pajama Jam," "S'mores" and "Disco Night!"), no evening on the ice is the same.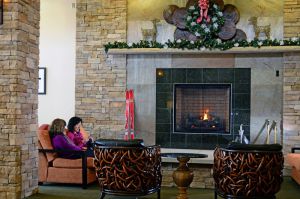 And of course, most adult activities at Canaan Valley can also be catered to kids.
For people who are willing to venture afar…
Let's talk off-mountain for a second.
Canaan Valley Resort is tucked about 10 miles away from two quaint, endearing straight-from-a-Hallmark-movie towns, Thomas and Davis. Former twin coal towns, they've recently been developed by locals. Stroll down their charming little sidewalks and you'll find restaurants, antique stores, shops, a few microbreweries and people so friendly you'll wonder if you've met them before.
For people who want a diverse winter getaway…
Go somewhere that has skiing, snowboarding, tubing, snowshoeing, cross country skiing, famous black diamond trails, and themed ice skating.
I can help you think of a place.