Skip-Gen Travel: Bonding with Grandkids on the Road
| December 18th, 2018
Tips from active grandparents
---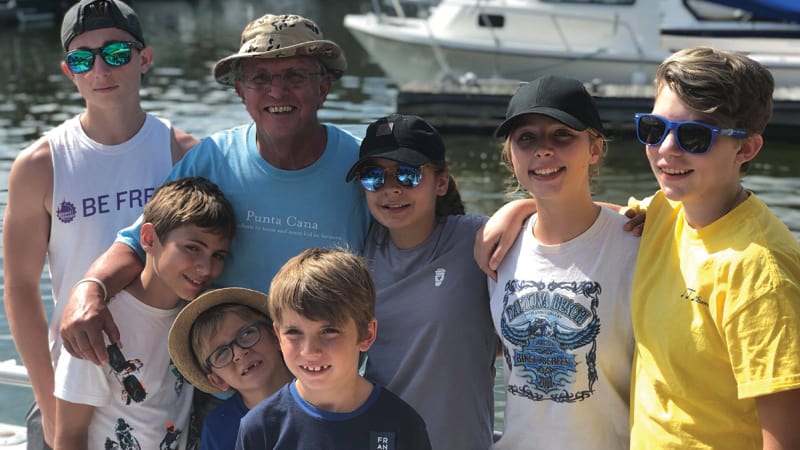 Spoiling grandkids has come a long way since the days of slipping them candy or a few dollars. Many grandparents today are treating their grandkids to epic "skip-gen" vacations in the U.S. and abroad.
Unlike multigenerational travel, skip-gen leaves the middle generation – parents – behind while grandparents bond with grandkids on fun vacations away from everyday distractions.
It's a win-win situation for everyone, says Sarah Gilliland, who lives in Birmingham, Alabama, with her husband, Neil, and their 7-year-old twin daughters. Every summer, her parents, who live in Montgomery, Alabama, take their granddaughters on a one-week vacation. Recently they visited FDR State Park in Georgia.
"We're allowed some much-needed relaxation time, whether that's a staycation or an actual vacation. It gives us a chance to remember who we were before kids and allows us uninterrupted quality time with one another. My parents benefit by growing their relationship with their grandkids," says Gilliland.
The Gillilands are among an increasing number of families enjoying skip-gen travel. "It's very much a strong, growing trend," says Dan Austin, owner of Austin Adventures, a Montana-based tour operator (AustinAdventures.com).
Whether you craft the itinerary or book a tour, skip-gen travel can be a rewarding experience.
Trips and Tips
A retired army general and history buff, 72-year-old Evo Riguzzi has 12 grandchildren and strategically plans his trips like his former missions – with purpose and gusto. He takes one or just a few grandchildren at a time on local trips and to Europe. Whom he takes depends on a child's maturity and the destination.
"I recommend before you take a big trip, take a smaller trip with each of the children. You've got to know your grandkids," says Riguzzi, who lives in Danbury, Connecticut.
One of his first grandparent-grandson trips was to Florida to visit his daughter. "I got the confidence that this is something I can do," says Riguzzi. Since then, he's taken two granddaughters to Boston, followed by more sets of grandkids to Philadelphia, New York and eventually to Italy to meet family.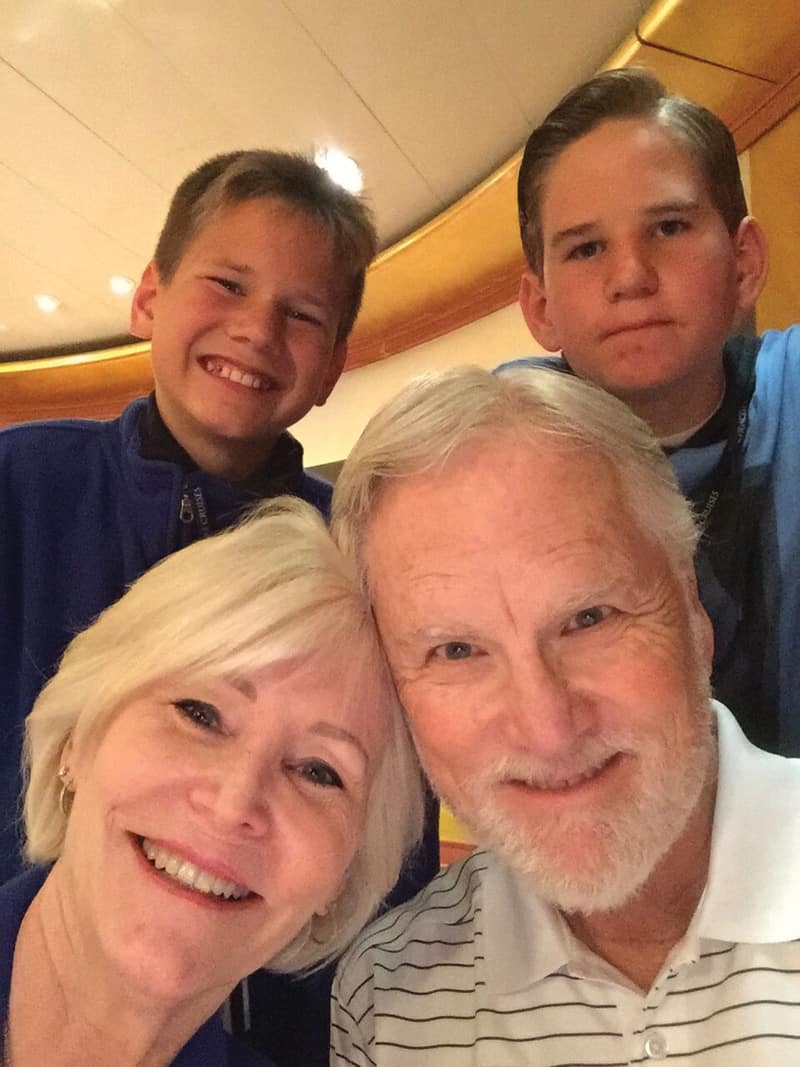 Retirees Jill and Ron Bondy have eight grandchildren ages 1-17 but have traveled with only the two oldest, Connor and Logan, so far. They waited until they were 14 and 12, then took them on a cruise. "We felt they were old enough for us to trust and would be good companions for each other," says Jill Bondy, a California resident. "The other grandchildren will travel with us when they reach the magic ages of 12 and 14. We want them to travel in pairs," she says.
Some families plan trips around milestones. Phoenix residents Neoma and David Osburn, who have five grandchildren, planned a trip to New York City as a graduation present for their two oldest grandkids – college grad Faye, 23, and high school grad Tommy, 18.
"This trip was planned for two years prior to leaving. All of us took part in planning the trip … We all agreed that the trip was complete and enjoyed by each of us," says Neoma Osburn.
Traveling with their grandparents was a different experience from trips with their parents, says Tommy. "We were able to decide which attractions we wanted to see and which ones we could skip. We decided to skip visiting the Statue of Liberty and instead take a cruise around the statue. This ended up being one of my favorite things we did on the trip."
The best part of the trip, says Faye, was spending quality time with her grandparents. "Traveling with my grandparents allowed me to get to know them better and have them know me better."
Dos and Don'ts
Before jetting off, know your grandkids' likes and dislikes. Knowing in advance one of his granddaughters was a vegetarian and a grandson had a fear of flying enabled Riguzzi to plan accordingly. Still, some things are unpredictable. One trip to New York was a flop when his 9-year-old granddaughter complained of boredom.
Bondy recommends giving grandkids responsibilities. Put them in charge of little things like carrying maps, planning an outing and ordering their own meals. But be playful, too. "Grandparents need to be willing to play basketball, pingpong or whatever to connect with the kids," she says.
Bend the rules a bit. "Don't let their lack of neatness bother you. You are not their parents keeping a tidy home," says Bondy. "We had no rules. Staying up late, eating whatever we wanted whenever we wanted was fabulous."
Guides and Games
Not a planner? Tour operators such as family-owned Austin Adventures can help. "We know the lay of the land and we plan the details so you get the most out of the trip," says Dan Austin.
Groups are capped at 18 and organized by similar demographics so kids can connect with peers. Guide ratio is one to six. "That's important because guides set the pace and tempo of the entire trip," says Austin, who recommends Yellowstone National Park for a first adventure trip.
A more low-key, local option is Stratford Hall's annual Grandparent/Grandchild Summer Camp (StratfordHall.org). During the three-day camps, participants re-create 18th-century life on a Virginia plantation with activities like an afterhours flashlight tour of the Great House and shark tooth hunting on the beach.
Reaping the Rewards
Whichever road you take will be life changing. "These trips have allowed our grandchildren to see us as people, not just Nana and Pops," says Bondy.
---
A Los Angeles-based journalist and mom of three, Mimi Slawoff writes about family travel for regional and national publications. Twitter @Mimitravelz, Instagram @Mimitravels, PlanetFamilyTravel.com
---
FOCUS ON THE FUN, NOT THE DRIVE
A smattering of nearby Skip-Gen destinations
SMITH MOUNTAIN LAKE
Choose from lakefront vacation rentals to houseboats for comfortable, casual lodging with easy access to water recreation. Find shopping, recreation and dining at Bridgewater Plaza or take a short drive to Lynchburg or Roanoke. VisitSmithMountainLake.com
THE HISTORIC TRIANGLE
Visit Virginia's earliest towns – Historic Jamestowne, Colonial Williamsburg and Yorktown – all of which serve up costumed interpreters, museums and history lessons geared to kids as well as adults. Add other family activities like ghost tours, Schooner Alliance cruise, Busch Gardens and Water Country USA. VisitWilliamsburg.com/explore-the-area
GAYLORD AT NATIONAL HARBOR
Like a waterfront resort encircled by endless urban opportunities, the Gaylord National Resort, with its 19-story glass atrium overlooking the Potomac River, provides numerous amenities and creative activities for kids of all ages. Stay onsite, explore adjoining National Harbor or venture out to Northern Virginia, Maryland and D.C. NationalHarbor.com/gaylord-national
GRANDPARENT/GRANDCHILD CAMPS AT STRATFORD HALL
Programs and activities both fun and educational that re-create 18th-century plantation life. The three-day camps are designed to appeal to kids and grandparents and bring them together through fun-filled bonding experiences. StratfordHall.org
VIRGINIA STATE PARKS
From the mountains to the ocean, Virginia State Parks offer outdoor recreation, programs and lodging for all ages. Besides the obvious (hiking, boating, fishing, swimming, etc.), you can participate in the two park programs that provide a little extra fun – and structure – to your visit. DCR.virginia.gov/state-parks
Virginia State Parks TrailQuest
Explore the trails at Virginia's state parks and earn TrailQuest pins as you go or participate in the annual Geocache Adventure. DCR.virginia.gov/state-parks/contest
Nature Backpacks
Available for checkout at more than 100 local libraries, the backpack has Virginia State Park essentials: parking pass, plant and animal field guides, a magnifying lens, a dip net and laminated activity sheets.