Hiking the Appalachian Trail in Style
| October 25th, 2018
Five slackpacking adventures pairing gorgeous hikes and vistas with post-hike comfort
---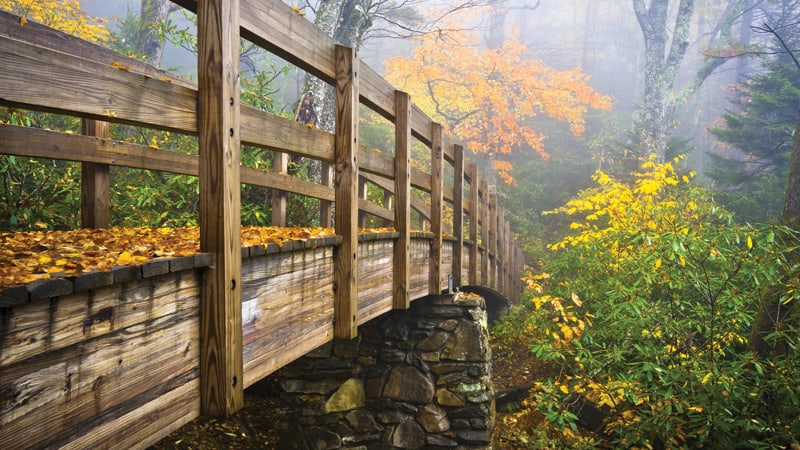 Though the Appalachian Trail passes through 14 states, Virginia is home to more than 25 percent of its total length. Spanning 550 miles, the iconic segment is celebrated for offering some of the best scenery on the trail.
Looking to explore the Blue Ridge bounty sans the grunge and grit of a thru-hike? These five slackpacking adventures couple gorgeous walks and mountain vistas with destination-worthy food, drink and lodging, plus shuttle services to take you to each trailhead.
DAMASCUS
Stay – The Old Mill Inn. Right in the heart of town and just one mile from the AT, this thoughtfully restored historical mill dates to the early 19th century. Rooms are nicely furnished and feature balconies overlooking a dam and Laurel Creek. Expect the charm and warmth of a rural bed and breakfast. From $139. DamascusInn.com
Hike – North from Low Gap in Shady Valley, Tennessee, to the Old Mill Inn, 16 miles. This scenery-rich trek carries you past Double Spring Gap, McQueens Knob, and Abingdon Gap into downtown Damascus. Relatively easygoing, the walk proceeds along a lengthy, view-rich ridgetop and descends steadily from there.
Dine – The Old Mill Inn has a full-service restaurant and pub on site that offers Americana cuisine and craft brews in a casual setting. Serves breakfast, lunch and dinner. Expect Southern classics with a farm-to-table twist.
Shuttle – Mount Rogers Outfitters offers shuttles to trailheads within 100 miles of Damascus. From $20. MtRogersOutfitters.com
PEARISBURG
Stay – The Inn at Riverbend. Perched along a mountainside just 2 miles from the AT, the view from Riverbend is a destination in and of itself. Seven spacious rooms open onto terraces or decks overlooking a horizon of pristine, forested hills cut through by the New River. From $200. InnAtRiverbend.com
Hike – North from USFS 103 at Big Horse Gap to the crossing at state route 793, 12.6 miles. Starting near Dismal Falls in Giles County, this walk carries you over the ridgeline of Pearis Mountain. Three miles in, a rocky cliff provides excellent vistas of Sugar Run Mountain. From there, you'll pass the Doc's Knob Shelter and ascend to the 3,555-foot summit of Angel's Rest. Views of the New River Valley and Peters Mountain abound.
Dine – The Palisades Restaurant, Eggleston. Located 10 miles from the inn in a fabulously renovated 1900s general store, this fine-dining-quality, New American farm-to-table gem is casual enough to offer stone oven pizza. Menus change daily and chef's creativity is given free reign. ThePalisadesRestaurant.com
Shuttle – The inn provides a Hoofer Shuttle Service for hikers, offering drop-off and pre-arranged pickups to and from the AT. Best of all, it's complimentary with your stay.
SHENANDOAH NATIONAL PARK
Hike between the park's two lodges – Skyland and Big Meadows – or continue along the trail north or south then shuttle back.
Stay, option 1 – Skyland Resort, Skyline Drive milepost 41.7. Established in 1885, the 178-room resort rests atop a 3,680-foot peak and features some of the best bedside views on the East Coast. Book a "premium" room, where the rustic décor has been recently and tastefully renovated. And be sure to ask for one with a private balcony. From $105. GoShenandoah.com/lodging/skyland
Hike – North from Big Meadows Lodge to Skyland Resort, 8.3 miles. Highlights include the historical Rock Spring Hut and 3,070-foot overlook of Fox Hollow at Fishers Gap. Be sure to take the shortish side-trails to the 4,050-foot summit of Hawksbill Mountain and Crescent Rock. The eye-candy will not disappoint.
Dine – Pollock Dining Room. Serves solid surf and turf options with some interesting local-sourced twists in a setting that lets the view take the lead. Additional beer and wine, pub-fare and nightly entertainment are available in the Mountain Taproom. For menus, visit: GoShenandoah.com/dining/skyland
Stay, option 2 – Big Meadows Lodge, Skyline Drive milepost 51. Positioned at the edge of a 3,500-foot-high meadow, expect unobstructed views of the Shenandoah Valley and points west. Skip the main lodge and spring for a cabin rental – they're newer, have working fireplaces and are sure to please a more exacting clientele. From $98. GoShenandoah.com/lodging/big-meadows-lodge
Hike – North from the South River Picnic Area at milepost 63 to Big Meadows Lodge, 14 miles. A nice smooth walk with little elevation change. Along the way, you'll catch big 3,500-plus-foot views from the summit of Hazeltop and Big Meadows, and pass the historical Pocosin Cabin and Bearfence Mountain Hut.
Dine – Spottswood Dining Room. Expect quality Southern comfort food like barbecue, ribs and fried chicken. The Mountain Taproom provides nightly live entertainment and cocktails, as well as Virginia craft brews and wine. For menus, visit: GoShenandoah.com/dining/big-meadows-lodge
Shuttle – Open Arms at the Edge of Town Hostel & Inn. Owner Allison Coltrane is a trail legend – she left a career in teaching to pursue her dream of opening a hostel and shuttle service for AT hikers. Shuttles between $30 – $35. 540-244-5652. OpenArmsLuray.com
PARIS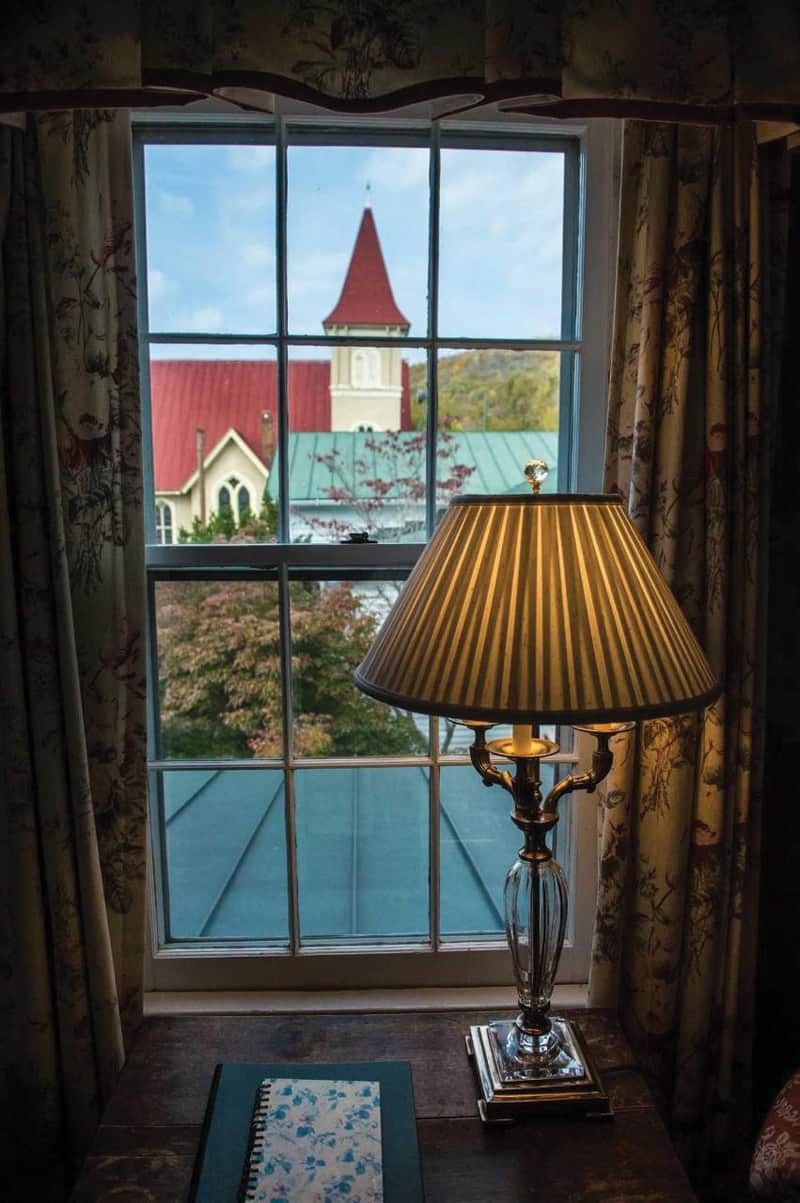 Stay – The Ashby Inn. A chic historical inn in the tiny 200-person village of Paris that sits less than a mile from the AT. Rooms vary in size and décor, and each is furnished with 19th-century pieces – including hand-painted wardrobes, four-post beds, Oriental rugs, quilts and blanket chests. For an extra special touch, ask for a room with a wood-burning fireplace. From $160. AshbyInn.com
Hike – North from the trailhead parking lot off of Fiery Run Road, just south of Linden, to the AT crossing at U.S. 50, then east to the inn, 14.6 miles. Enjoy points of interest like Manassas Gap, Trillium Trail, the Whiskey Hollow Shelter and segments of Sky Meadows State Park. If you can, extend your journey by 3.7 miles and hike into the SMSP. The park's visitors' center is located in the Mount Bleak Mansion, a tour-worthy antebellum-era plantation home. Better still, the mansion abuts a working historical farm museum with 23 buildings dating from 1780 to the early 1950s.
Dine – The Ashby's in-house restaurant is the love child of executive chef Tom Whitaker. Offers world-class cuisine with an award-winning wine, beer and spirits list to boot. Whitaker describes the eatery as "a destination for those who appreciate the interplay of local cuisine fashioned specifically for a marriage with wine." Menus are seasonal and change weekly. Indulge the four-course pre-fixe – your taste buds will thank you.
Shuttle – Nina's Shuttle Service. Based out of nearby Front Royal, the owner has intimate knowledge of the AT and is known among hikers as one of the area's true Trail Angels. Shuttle is $25 and should be scheduled in advance. Call or text, 703-946-9404. Facebook.com @ Nina's Shuttle Service