Sleepy Lago di Como
| April 12th, 2022
Where Italians honeymoon
---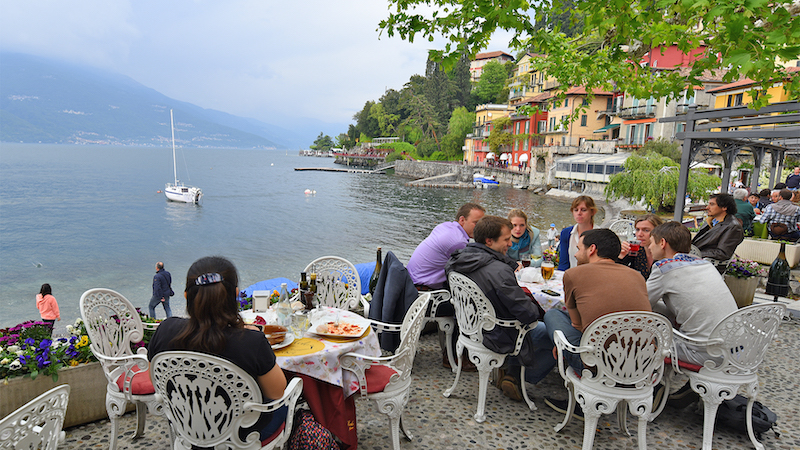 Rick Steves transports readers to sleepy Lago di Como – aka Lake Como, or Lario – in Italy. The suggestive location of this quiet resort town with an inspiring view just happens to be a romantic destination as well as a place to relax.
---
Stretched over two chairs atop the skinny passenger deck of a 10-car ferry as it shuttles across Lago di Como, I look south into the haze of Italy. I'm savoring the best of my favorite country with none of the chaos and intensity that are generally part of the Italian experience. Looking north, into a crisp alpine breeze, I see snowcapped Alps.
I'm just minutes from Switzerland … but it's clear I'm in Italy. The ferry workers are Italian, with that annoying yet endearing and playful knack for underachieving. Precision seems limited to the pasta: exactly al dente. Rather than banks and public clocks (which inundate nearby Swiss lake resorts, such as Lugano), the lanes that tumble into this lake come with lazy cafés, and hole-in-the-wall shops, brimming with juicy fruits and crunchy greens.
In this romantic Lakes District in the shadow of the Alps, wistful 19th-century villas are seductively overgrown with old vines that seem to ache with stories to tell. Stunted palm trees look as if held against their will in this northern location. And vistas are made to order for poets. In fact, it was Romantic-age nature lovers who wrote and painted here that put this region on the tourism map in the 1800s.
The million-euro question: Which lake to see? Little Orta has an offbeat, less developed charm. Maggiore has garden islands and Stresa, a popular resort town. Garda is a hit with German windsurfers. But for the best mix of scenery, old aristocratic romance, and wisteria charm, my choice is Como.
Sleepy Lago di Como, just an hour north of Milan by convenient train, is a good place to take a break from the obligatory turnstile culture of Italy. It seems half the travelers I meet have tossed their itineraries into the lake and are actually relaxing.
Today, the hazy, lazy lake's only serious industry is tourism. Many lakeside residents travel daily to nearby Lugano, in Switzerland, to find work. The area's isolation and flat economy have left it pretty much the way those 19th-century Romantics painted it.
The self-proclaimed "Pearl of the Lake," Bellagio is the leading Lago di Como resort, a classy combination of prim tidiness and Old World elegance. If you don't mind feeling like a "tramp in the palace," it's a fine place to surround yourself with the more adventurous of the posh travelers. Arcades facing the lake are lined with shops. The heavy curtains hanging between the arches keep VIP visitors and their poodles from sweating. While the fancy ties and jewelry sell best at lake level, the locals shop up the hill.
Lago di Como is famous among Italians for its shape: like a stick figure of a man with two legs striding out. Bellagio is located where the two legs come together (which makes it the subject of funny, if crude, local rhymes you can learn when you visit). I wander from the town right on out to the crotch, following the view of the lake. At Punta Spartivento (literally, "the point that divides the wind"), I find a Renoir atmosphere, perfect for a picnic while gazing north and contemplating the place where Italy is welded to the Swiss Alps.
Another chill destination near sleepy Lago di Como
I head to the town of Varenna (another 10-minute hop on the ferry). Narrow-stepped lanes climb almost invisibly from the harbor to the ancient arterial road that runs across the top of town. Varenna packs its 800 residents into a compact townscape – tight as 50 oysters overloading a too-small rock. Individual homes are defined only by their pastel colors.
With Varenna's dwellings crowding the lake, the delightful passerella (boardwalk) arcs from the ferry dock to the tiny harbor past private villas guarded by wrought iron and wisteria. Two centuries ago, the harborfront was busy with coopers expertly fitting their chestnut and oak staves into barrels, stoneworkers carving and shipping prized black marble, and characteristic wooden boats heading out to catch the lake's unique missoltino – freshwater "sardines" still proudly served by local chefs. Today, the harbor's commerce is little more than the rental of paddleboats and a gelateria run by a guy named Eros.
Other than watch the ferries come and go, there's wonderfully little to do in Varenna. At night, it whispers luna di miele – honeymoon. And strolling its passerella, passing by those wisteria-drenched villas where caryatid lovers are pressed silently against each other, I'm reminded of the importance of choosing the right travel partner.
---
PHOTO CAPTION, ABOVE: Romantic lakeside dining in Varenna. CREDIT: Cameron Hewitt, Rick Steves' Europe.
Rick Steves (www.ricksteves.com) writes European guidebooks, hosts travel shows on public TV and radio, and organizes European tours. This article was adapted from his new book, For the Love of Europe. You can email Rick at rick@ricksteves.com and follow his blog on Facebook.
Explore more of Rick Steves' Europe in Boomer
© 2020 RICK STEVES
As an Amazon Associate, Boomer Magazine earns from qualifying purchases of linked books and other products.