Sweat, Tractors, and Technology
September 20th, 2018
Snapshots of Virginia farming through the centuries
---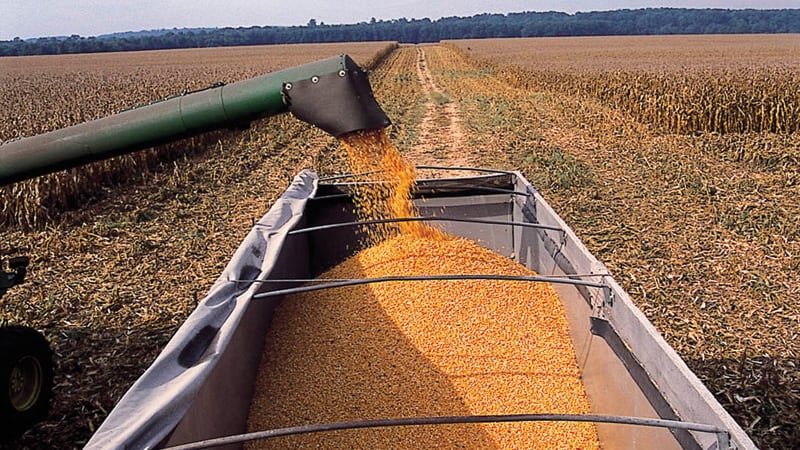 Virginia foods, farming techniques and equipment have changed over the centuries – some elements more than others.
VIRGINIA AGRICULTURAL PRODUCTS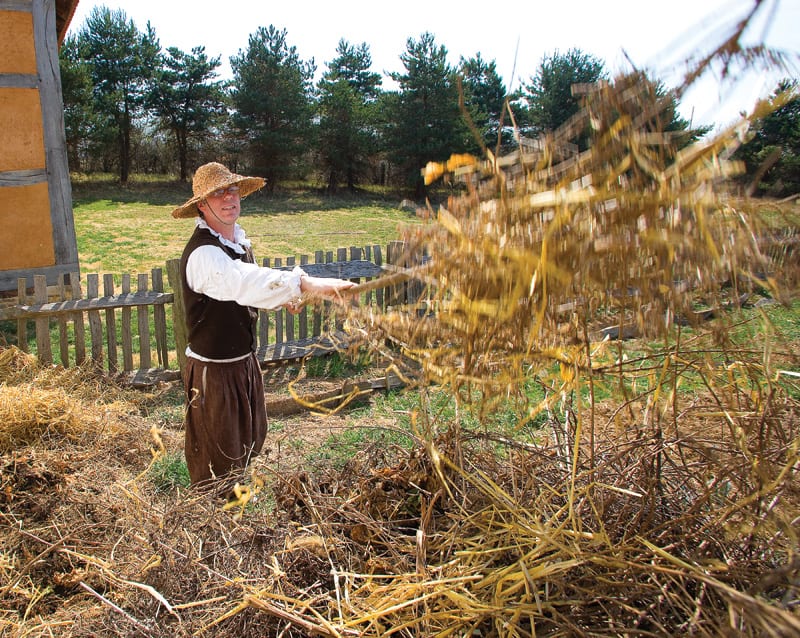 Before Europeans set foot on American soil, the native people gathered and raised plants that we take for granted today, including maize (i.e., corn), squash, sunflowers, beans, nuts, blueberries, strawberries and tomatoes – and a few that have slipped off everyday tables, such as pawpaws and persimmons.
As settlers settled in, they cultivated native crops and introduced others to the mild Virginia climate and fertile soil. Notable historic agricultural products include:
Apples. Jamestown settlers brought seeds, cuttings and plants for their New World gardens and orchards. Apples were among the fruits that prospered and spread. Varieties best suited to the region were used primarily in making cider, since fermented beverages were safer for drinking than impure water. Many orchards died during Prohibition, leaving behind trees grown for mass-market fruit. Contemporary attention to craft cider and heirloom produce has resurrected some of the best historic apples.
Tobacco. Virginia's native people grew a dark, bitter tobacco, unpalatable to Europeans. In 1612, John Rolfe planted Spanish tobacco seeds in rich soil near the James River. The resulting Virginia tobacco soon became the European standard and an important cash crop.
Peanuts. Peanuts first popped up in South America and then made their way to North America. Peanuts rose in importance after the boll weevil ate into the South's cotton crop and Dr. George Washington Carver led important research on the legumes. Southeast Virginia grows nearly all of the state's peanuts. Planters Nut and Chocolate Co. came to Suffolk in 1913, making it "peanut capital of the world." Remember Mr. Peanut
Smithfield ham. The town of Smithfield's reputation for producing hams and meats dates back to the late 1700s. By 1926, the Virginia General Assembly mandated that the salty country "Smithfield Ham" be "cut from the carcasses of peanut-fed hogs … [and] cured, treated, smoked, and processed in the town of Smithfield." The peanut-fed stipulation has since been removed.
The Hanover tomato. The sandy, coastal-plain soil of eastern Hanover and its lower pH make for juicy, just-right tomatoes.
TRACING THE PROGRESS OF FARM LABOR
Historic Virginia venues provide insight into equipment and methods of days gone by.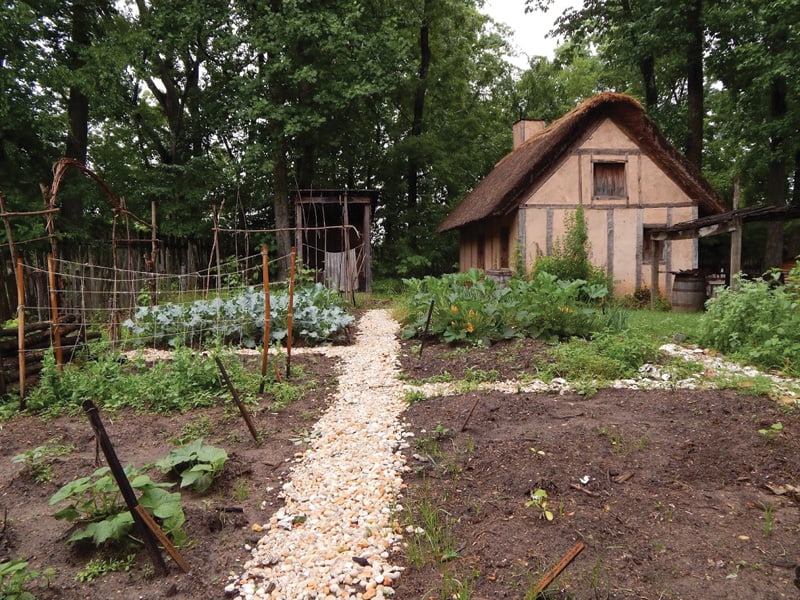 Henricus Historical Park, Chesterfield
Exhibits such as an Arrohateck Indian village, John Rolfe's tobacco farm and Mt. Malady's medicinal herb garden recreate the beginning of Virginia's agricultural history and 17th-century farming. (Photo credit: Henricus Historical Park) Henricus.org
Frontier Culture Museum, Staunton
Outdoor exhibits of farmhouses, gardens and other structures tell the story of early U.S. immigrants – farmers, craftsmen and families who arrived from England, Germany, Ireland and West Africa during the 1600s and 1700s. (Photo credit: Nathan Beck, Virginia Tourism) FrontierMuseum.org
Colonial Williamsburg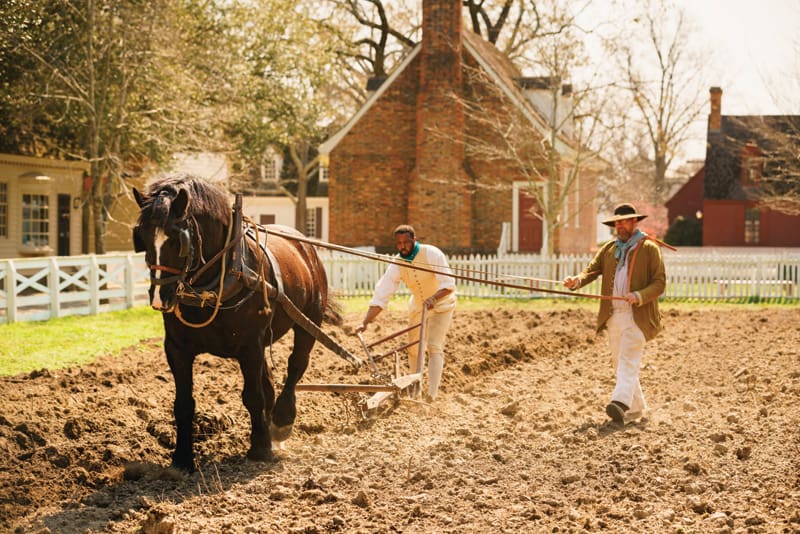 Interpreters use historic methods to work heirloom crops, including corn, tobacco and wheat. Interpreters in Prentis Field, a farming interpretive site in Colonial Williamsburg's Historic Area, demonstrate the backbreaking manual labor involved in working fields during the 18th century. (Photo credit: Colonial Williamsburg Foundation) ColonialWilliamsburg.com
Keystone Truck & Tractor Museum, Colonial Heights
Wander through this 65,000-square-foot museum filled with pre-1960 tractors, collectibles and antique trucks. You'll see Henry Ford's Fordson Model F, the world's first lightweight mass-produced tractor. Farmers disliked the tractor because it was hot and hard to start and it slipped and flipped – and it was a heartless substitute for beloved horses. You can also see a 1917 Model R Waterloo Boy – the first John Deere. KeystoneTractorWorks.com
MORE HISTORIC VENUES
Jamestown Settlement, Jamestown
The re-created village tells the story of 17th-century Virginia, of the English colonists and Powhatan tribal members. HistoryIsFun.org
American Revolution Museum at Yorktown, Yorktown
The Revolution-era farm illuminates the life of the Edward Moss family and the six enslaved men, women and children who lived and worked there. HistoryIsFun.org
Monticello, Charlottesville
Tour Thomas Jefferson's home and re-created gardens showcasing myriad flowers, vegetables and fruits. Exhibits explore the life of the slaves who provided much of the labor that kept the plantation ticking. Monticello.org
Meadow Farm Museum, Glen Allen
The 1860 living history farm and museum presents the culture of the rural South. On select weekends, interpreters demonstrate activities in the farmhouse, barn, blacksmith forge, kitchen and fields. Henrico.us/rec/places/meadow-farm
Frying Pan Park, Herndon
A working demonstration farm re-creates a family dairy operation of the 1920s to 1950s. FairfaxCounty.gov/parks/fryingpanpark
INTO THE FUTURE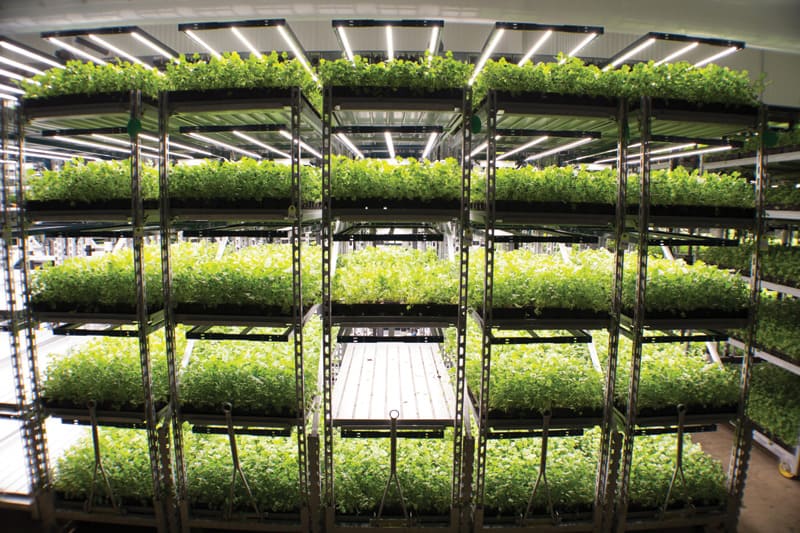 Farming is still a tough job, but advancements have made the tasks easier, more efficient and safer.
Vertical farming and other innovations. From a family-owned herb farm founded in 1989 to one of the leading U.S. providers of fresh herbs (look for the "THAT'S TASTY" label at grocery stores). Shenandoah Growers in Harrisonburg uses innovative, sustainable and organic farming practices that result in a 25 percent improvement in crop yield and protect the environment. Techniques include indoor, LED growing towers that cut down on water, energy and carbon fuel usage; in-house creation of organic nitrogen nutrient; and closed-loop irrigation systems. FreshHerbs.com
Reincorporating agriculture in everyday life. From early-20th-century zoning restrictions separating residences and agriculture to a return to integration. Urban gardens set aside land in city and neighborhoods for growing crops, typically for consumer use. "Agrihoods" design communities with residential, agricultural and commercial elements, like Ashland's new Chickahominy Falls, designed by a pioneer in the concept, Agriburbia.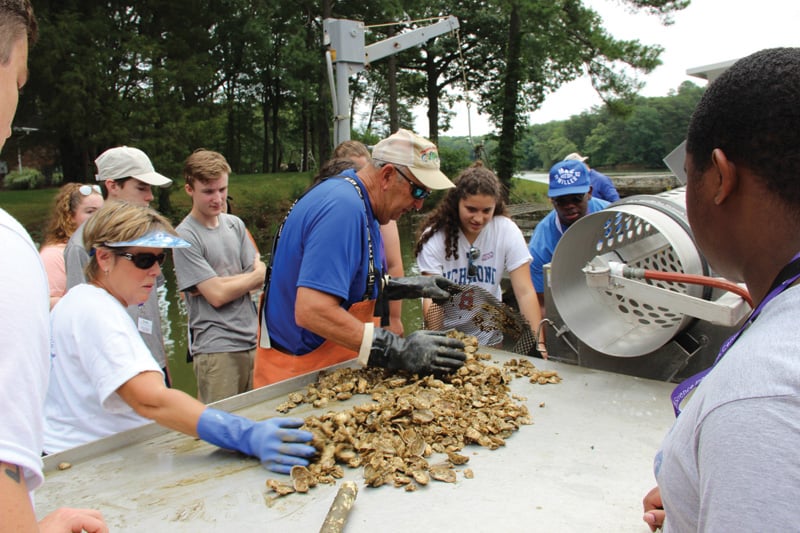 Utilizing horsepower. From horses to powerful engines and efficient systems, improved safety and comfort. Farm machinery manufacturers have added rollover protection, cushioned backrests, closed cabs with climate control, stereo sound systems, dust filtration and satellite guidance. Advanced technology enhances operators' immediate knowledge of crop quality and other essential data and provides hands-free steering guidance.
Picking cotton. From one-boll-at-a-time handpicking to nonstop harvesting. Today's cotton harvesters combine picking and stripping, ending with a formed and wrapped bundle. (Photo credit: Virginia Farm Bureau Federation)
Milking cows. From labor-intensive hand milking to milking machines to robotic milking systems. The new DeLaval Voluntary Milking System cleans, milks, cleans again, feeds and monitors each individual cow and her milk and lets the cow decide when she's ready to be milked. (Photo credit: Virginia Farm Bureau Federation)
Baling hay. From Little Boy Blue reclining against a pile of hand-harvested hay to square bales tossed up on a trailer to automated harvesters and balers that add wrap to protect hay from moisture. (Photo credit: Virginia Farm Bureau Federation)
Passing the baton. From learning in the fields as a child to formal agricultural education. Students at the MathScience Innovation Center can participate in Tank 2 Table, hands-on lessons in aquaculture: an eco-tour of crab pots, hand tonging on oyster farms, exploring aquaculture systems at Virginia State University and exploring oyster research at the Virginia Institute of Marine Science.