Spending: Choosing a Smart Lock
| August 9th, 2018
Using technology to keep your home safe and sound
---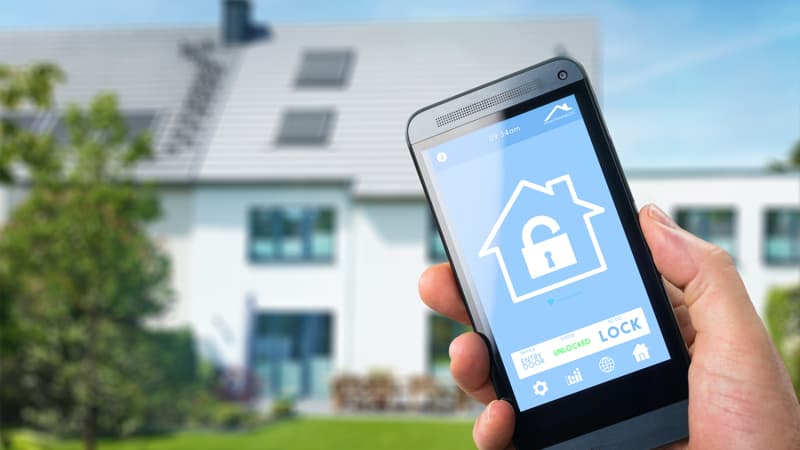 Smart locks are slowly becoming a smart-home staple. Install one of these devices on your entry door and you'll be able to lock and unlock the door with a smartphone app or a keypad.
Smart locks are available with a variety of features. You can choose a lock that either works with the existing hardware or replaces it. Many smart locks don't have a slot for a traditional key, but you may want one that does if you have a family member who isn't comfortable with technology. Do-it-yourselfers can install smart locks on their own; professional installation will likely cost $50 to $200.
If you already have an Alexa or a Google Home smart speaker, you'll want a lock that's compatible with the system. Some smart locks have features that work only when your smartphone is within about 300 feet, but others allow you to check on the status of your lock from anywhere. To get a smart lock with the most-robust features, look for one that uses Wi-Fi – or comes with a hub that ties in to your Wi-Fi network – instead of relying only on Bluetooth.
August's Smart Lock Pro + Connect ($279) packs a lot of features into a small unit and gets strong reviews from tech sites. The hockey-puck-shaped smart lock sits on top of the deadbolt you already have in your door. Use your key, or use the August app (which works with Apple and Android systems) to lock and unlock the door remotely, create virtual keys for others (by sending them an invitation to use the app) and see a list of who has used his or her smartphone to enter.
If you're ready to ditch your key, consider Yale's Real Living Assure Lock SL Key Free Touchscreen with network module ($219). The lock replaces your existing deadbolt with a slim touchscreen keypad outside and a box with a deadbolt. You lock the door with a quick tap and unlock it by entering your four- to eight-digit code. Apple users can ask Siri to unlock the door, or they can use the Yale Secure app to lock and unlock the door remotely. You can also control the lock with Alexa or via the Amazon Home app.
To minimize the possibility of giving a hacker access to your home, choose a smart lock from an established company that's up front about its security and encryption policies. You'll also want a lock that has received a rating of 1 or 2 from the American National Standards Institute, which grades locks on a scale of 1 (highest) to 3 (lowest) for physical strength and ability to withstand vandalism and heavy use. Also use a custom password on your home's Wi-Fi network and your smartphone and run regular app updates.
---
Kaitlin Pitsker is a staff writer at Kiplinger's Personal Finance magazine.