Spending Time with the James
| June 22nd, 2018
Taking advantage of our state's legendary waterway
---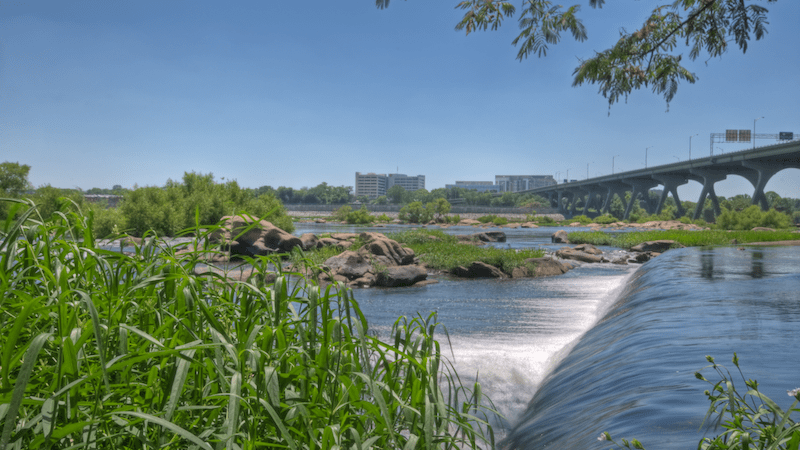 The James River is more than just a pretty face, you know. It has a rich history, contains a multitude of wildlife and even boasts some class III, IV and V rapids. This natural Virginia waterway winds through the state, making its mark on the dozens of towns fortunate enough to claim it.
BOOMER has some suggestions on how you can take advantage of the James' aquatic splendor, from near the headwaters to the mouth.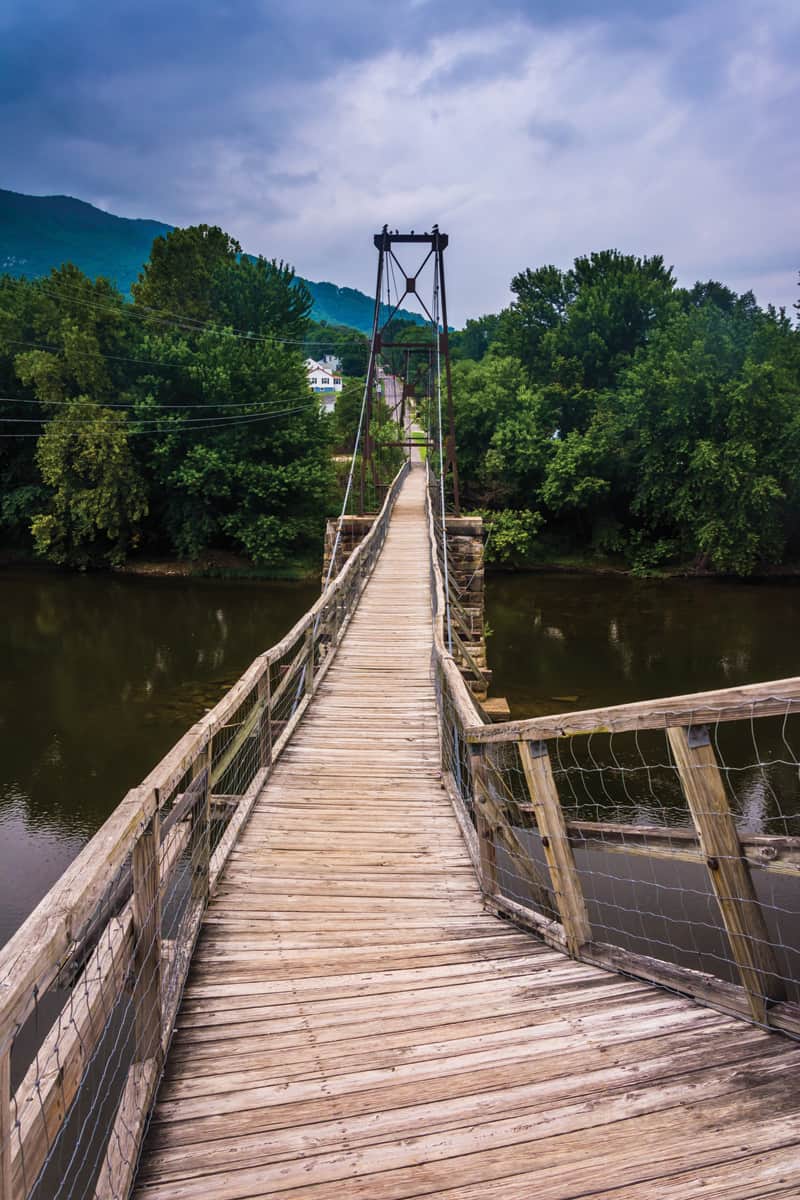 Buchanan
During an outdoor-focused trip to Buchanan (say "buh-CAN-on"), Twin River Outfitters is going to be your Sacagawea. They have all of the equipment and assistance needed for day trips and multiday trips, including gear rental, tours and camping information. Oh, and while you're in Buchanan, don't forget to visit the town's most famous architectural structure, the Buchanan Swinging Bridge. Original portions of this bridge date back to 1851, and there's a strict three-person limit at all times.
On second thought …
Otter Lake Waterfalls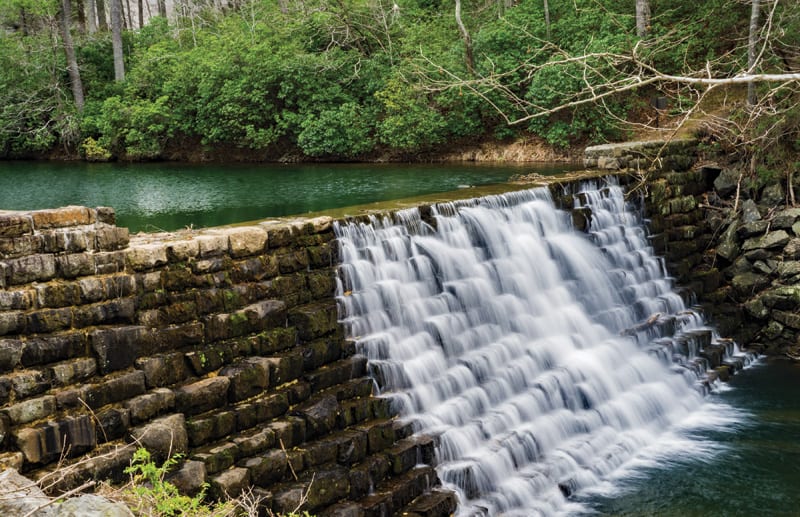 If there was a Seven Natural Wonders of Virginia list, Otter Lake Waterfalls would very likely land on it. This small-but-mighty waterfall is admittedly less of a waterfall and more of a dam, but it's a scenic treat nonetheless. Bonus: it's surrounded by hiking trails.
Lynchburg
With the James River running through town, you'll never be at a loss to find water-related activities like kayaking, canoeing and fishing – and plenty to do in town when you're done. Meander across the river – but only halfway – to Percival's Island Natural Area, a narrow, mile-and-a-half-long park-slash-island. To get there, take the James River Heritage Trail, a 9-mile hiking and biking trail for … hikers and bikers. And if you find yourself in Lynchburg on June 16, you're in luck: it's the launch of the annual James River Batteau Festival, an eight-day event with swarms of historic boats sailing down the James over 100 miles to Maidens Landing in Goochland.
James River State Park
What's a write-up of the James River without mention of the James River State Park? This serene oasis, situated along the base of the Blue Ridge Mountains, contains all of your classic outdoor favorites: scenic hiking trails, lively bike trails, leisurely fishing and camping – both tent and cabin. Plus, the park has facilities in which to rent canoes, kayaks and tubes, along with the all-important shuttles for pickup. It continues to make its namesake look good.
Scottsville
Scottsville is one of those small towns you've seen in the movies but didn't know still existed. Its streets are dotted with public spots like restaurants, businesses, a community theater and, of course, the classic small-town coffee-bookstore combo. Even a brewery, the aptly named James River Brewery, has nestled itself into the enchanting blend of establishments. Just a warning: the local charm may prevent you from ever wanting to leave. Which is fine, thanks to the handful of B&Bs eager to show off their Southern hospitality.
Powhatan State Park
Campers, this is the place for you. Find dozens of campsites, with accommodations for a variety of needs and sizes. Camping canoers can try the primitive canoe-in campground, accessible only from the river. Or for a more modern form of camping, reserve one of three yurts (think: a perfect mix between a tent and a cabin). And in between all those camp-related activities, enjoy hiking, fishing and a local wildlife habitat. Oh, and the James River.
Richmond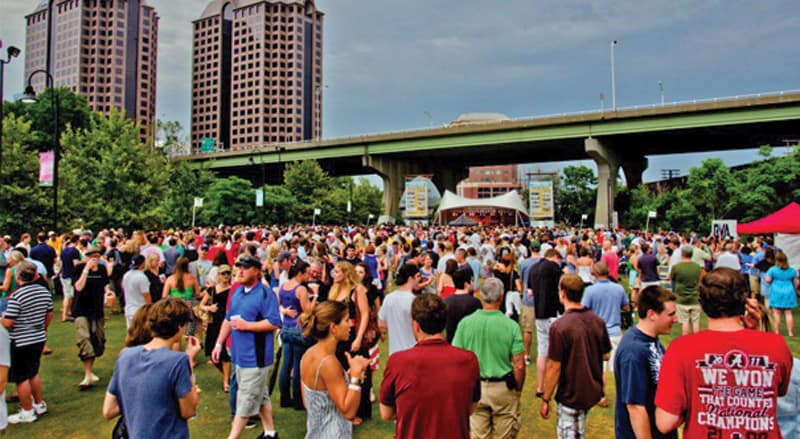 Things to do around the James River in Richmond? Oh, boy … where to begin. There's kayaking, canoeing, stand-up paddleboarding, hiking, biking, geocaching, sunbathing, fishing, swimming, rafting and tubing. There are breweries, restaurants and historical monuments. There are rocks to picnic upon, islands to explore and pipelines to walk down. There's the weekly Friday Cheers Festival (through June 29), the Festival of the River (June 8-10), and the Dragon Boat Festival (July 29).
They really should just call Richmond the River City.
Oh, wait…
Shirley Plantation
Soak up the scenic views of the James River surrounded by the flowers, trees and sunsets of the 700-acre Shirley Plantation. Tour the nearly 300-year-old home seeped in history and in immaculately detailed architecture. Then amble next door to Upper Shirley Vineyards, for a glass – or, hey, bottle! – on the river. Everyone knows the James looks even better through wine goggles.
Berkeley Plantation
Established in 1619, this estate is said to be Virginia's most historic plantation. So it's no surprise that it may have witnessed America's first official Thanksgiving, housed two presidents (the Harrisons) and was occupied by the Union Army during the Civil War. And did we mention the view?!
Westover Plantation
Built by William Byrd III (you know, the son of the founder of Richmond), Westover Plantation is said to be a premium illustration of Georgian architecture. But you don't have to be an architect to appreciate the intricate design and impeccable details of the mansion. And you definitely don't have to be an architect to appreciate the expansive gardens and trails of this 600-acre property.
James River National Wildlife Refuge
Just like the Great Valley in the Land Before Time, the James River National Wildlife Refuge serves as a sanctuary for Virginia birds and wildlife. Grab your canoe or hiking shoes and explore for bald eagles, osprey, woodpeckers and some bird species you may not have even known existed. The area is also home to a variety of mammals, such as beavers, red foxes, rabbits and white-tailed deer. But just a heads up: park entrance requires reservations to be made at least 72 hours in advance.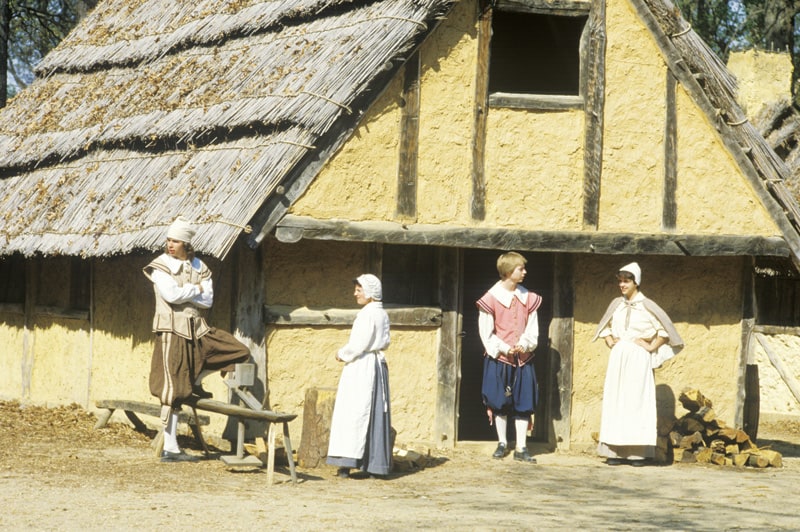 Jamestown
Park yourself here for hours – days! – of history and discovery. Take a guided tour across the settlement or grab a map and explore it on your own. Learn the stories of early settlers and their struggles for survival in the New World. See swamps, fort replicas and unearthed artifacts, and imagine the way Jamestown looked in 1607. Learn about our country's roots and how it all started with – you guessed it – the James River.