Andrew Alli and Josh Small at 'Legends on Grace'
April 6th, 2022 | Sponsored Content
An evening of harmonica, banjo, blues, and chewing the fat
---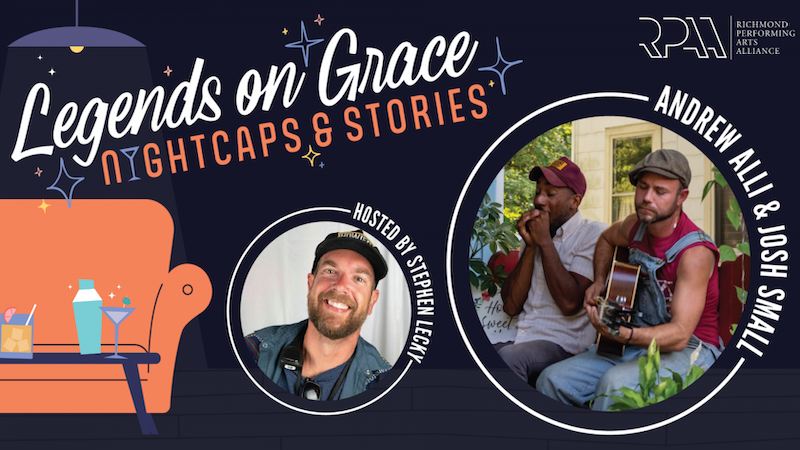 Andrew Alli and Josh Small will be sharing music and dialogue as part of 'Legends on Grace,' the Nightcaps & Stories Series from Richmond Performing Arts Alliance in Richmond, Virginia.
Virginia natives Andrew Alli and Josh Small have taken the Blues scene by storm, bringing their unique harmonica and reso-guitar and banjo playing talent to Richmond for decades. This very special duo has also toured internationally, developing a worldwide following. In this up-close-and-personal evening, they share their legendary journey and passion for music with the audience, hosted by Stephen Lecky, musician and director of events at Venture Richmond.
The 90-minute, up-close-and-personal, cabaret-style 'Legends on Grace' series honors a diverse line-up of Virginia musical artists as they share their legendary journeys and passion for their craft, accompanied by their songs. Alli and Small will be interviewed in the intimate setting of Rhythm Hall at Dominion Energy Center, chatting with Lecky onstage, with favorite beverage in hand.
Listen to the Andrew Alli and Josh Small conversation in person or virtually.
The April 23, 2022 event will be presented in person at Rhythm Hall in Dominion Energy Center as well as online.
In-person tickets, at cabaret table seating for four, range from $42.50 to $52.50 per person.
The virtual on-demand option goes for $32.50 per person. A private link to each performance will be sent to ticket buyers by email within 48 hours after each performance and can be viewed for one week.
Learn about the venue's COVID safety measures at the Dominion Energy Center website.
Get your tickets and more information at RPAAlliance.com.
April 23, 2022
Dominion Energy Center
600 East Grace Street , Suite 400, Richmond