Caring for Parents During the Holiday Season
November 11th, 2019
Looking out for signs of aging and decline
---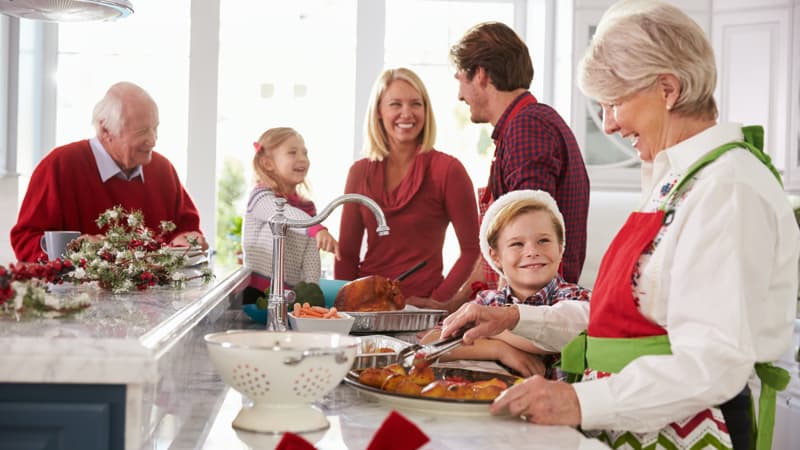 The holidays are a magical time of year. Family and friends re-unite to share stories, enjoy home-cooked meals, and celebrate the season. The holidays are also a great opportunity to check in on loved ones' wellbeing. This is especially important if you are the child of an aging parent. Older adults often don't want to burden their children with their problems, so they won't speak directly about any challenges or ailments they are experiencing. Before you visit your parent(s) this holiday season, know and understand the signs of decline. Also, take a little extra time to sit down with them to listen as to how things are going. Here are some important tips:
Don't Jump to Conclusions
If things in your parent(s)' home seem amiss, don't jump to conclusions. The holidays are stressful on everyone – including them. There are some warning signs that are unmistakable like cleanliness, unsafe living conditions, or a lack of food in the home. These signs taken separately might just indicate that your parent has not had time to visit the grocery store or clean up properly. However, taken together they can indicate that the daily responsibilities of maintaining a home might be too much for them. That is why it is important to sit down and talk with your loved one about things you see that concern you. Get their perspective on why something is not getting done. It will provide you with a clearer picture of what remedies are available.
Monitor Activities of Daily Living
There are six activities of daily living (ADLs) as defined by healthcare professionals. They include eating, bathing, dressing, toileting, transferring, and maintaining continence. An individual must be able to do each of these things every day without assistance in order to be considered safe in their own home. The holidays present a perfect time to monitor a parent to see if they are having difficult with any of these ADLs. How is their personal hygiene? Are they bathing regularly and taking care of the normal day-to-day activities like brushing their teeth? A very important ADL to watch is eating. As we age, we tend to eat smaller portions which leads to some natural weight loss. However, significant weight loss could signal a serious problem such as depression, malnutrition, inability to eat, memory loss, or even cancer. Adult children should actively monitor their parent's ADLs during holiday get-togethers.
Check on Emotional Wellness
Emotional well-being is something that we all should monitor but is particularly important for seniors. As we age, we tend to be more prone to depression or anxiety. This is natural, especially if a parent has lost their significant other. The key is to ensure that parent is given the emotional support they need during difficult times. Everyone needs a strong support network of friends and family they can talk to about life's ups and downs. Where things get more complicated is when a parent begins withdrawing from social settings, becomes agitated quickly, or loses interest in things that once gave them happiness. This could be a sign of cognitive decline like dementia or Alzheimer's Disease. If you notice that you parent is not acting like their normal self this holiday season, encourage them to visit a physician for a more thorough examination. Sometimes there is an easy explanation, but it is better to address it early rather than wait.
The holidays are supposed to be a joyous time and we understand that monitoring a parent for signs of decline is not easy. However, research demonstrates that addressing warning signs early on can help an aging parent live a more fruitful and happy life. Even if both of your parents still live together, there is increased risk of not getting the type of social interaction, nutrition, intellectual stimulation, and exercise needed to avoid long-term complications. Take some time this year to sit down with your parent(s) and really listen to how things are going for them. You might be surprised by what you hear.
---
Commonwealth Senior Living is an award-winning assisted living and memory care provider with three communities in the Greater Richmond area, located in Henrico County's West End, the City of Richmond's Fan District, and North Chesterfield County. For more information on the communities and resources for caregivers, visit www.commonwealthsl.com. A free assessment can be found here.