'Dear Jack, Dear Louise' from Virginia Rep
March 10th, 2022 | Sponsored Content
A lot of laughs, a lot of love
---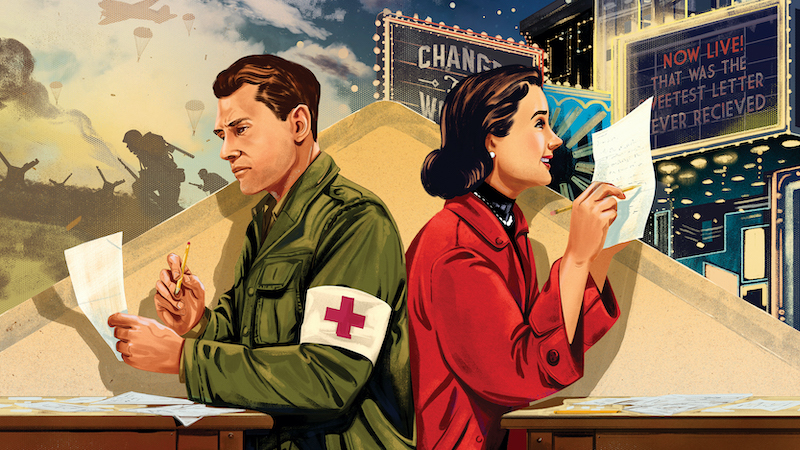 Sure, the plot of "Dear Jack, Dear Louise" sounds like fiction – like a sweet wartime love story, predictable, even, though nothing is predictable in wartime except tragedy. Two strangers meet by letter during the war, and a love story begins. U.S. Army Captain Jack Ludwig, a military doctor stationed in Oregon, begins writing to Louise Rabiner, an aspiring actress and dancer in New York City, hoping to meet her someday if the war will allow. But as the war continues, it threatens to end their relationship before it even starts.
But the story behind "Dear Jack, Dear Louise" is very real. The love letters-style romantic comedy is based on comic playwright Ken Ludwig's parents and their correspondence during World War II. Not the actual letters, mind you, which Ludwig heard about when growing up but never had the chance to read.
"I had to recreate the actual correspondence because my mother actually burned all of the letters," Ludwig told Rob Weinert-Kendt of American Theatre Magazine. "She thought they were too personal and didn't want anyone to see them! I had to do some imagining."
But, like Jack and Louise, his parents hadn't met before they began writing to each other. The correspondence was suggested by their fathers – like a blind date across thousands of miles.
Two-time Olivier Award-winning playwright Ludwig has landed six shows on Broadway and seven in London's West End. Virginia Rep previously produced Ludwig's Lend Me a Tenor (2011) and The Game's Afoot or Holmes for the Holidays (2019).
Ludwig's comic bent adds fun to Dear Jack, Dear Louise. His comic inspiration draws from classic like She Stoops to Conquer and Shakespearean comedies like Much Ado About Nothing.
The Virginia Rep production of 'Dear Jack, Dear Louise'
In this cast of only two, Neal Gallini-Burdick plays Jack Ludwig, in his Hanover Tavern debut. Gallini-Burdick recently performed on tour with Virginia Rep in several shows including I Have a Dream, Buffalo Soldier, Hansel and Gretel, and A Christmas Carol. He is a recent graduate of the University of Mary Washington, where he received a B.A. in theater.
Lydia Hundley plays Louise Rabiner. Hundley graduated from the University of Mary Washington with a B.A. in theater. She serves as the director of education and outreach at Swift Creek Mill Theater.
Debra Clinton returns to Virginia Rep at Hanover Tavern as director. Clinton is a long-time member of the Richmond, Virginia, theater community and has contributed artistically to many local theaters. This year marks her 15th anniversary as artistic director of the Jewish Family Theatre at the Weinstein JCC and her sixth year as a teacher in Hanover County.
Just the facts
Dear Jack, Dear Louise
March 18 to April 17
Hanover Tavern, 13181 Hanover Courthouse Road, Hanover, Virginia
Check the Virginia Repertory Theatre website for updated Covid safety precautions.
Enjoy dinner before the show at Hanover Tavern Restaurant and Pub, serving up Southern hospitality, unique drinks, and exquisite cuisine.