Robbie Schaefer Comes to 'Legends on Grace'
January 14th, 2022 | Sponsored Content
Nightcaps & Stories Series features in-depth discussions as well as music
---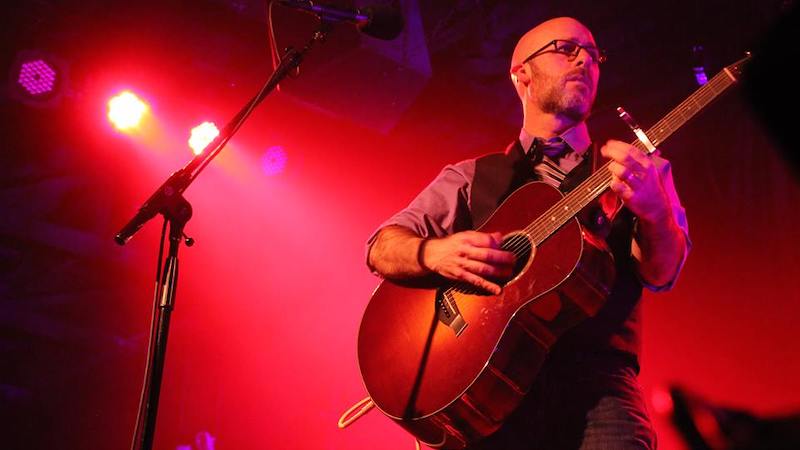 Musician, songwriter, and playwright Robbie Schaefer is coming to Richmond, Virginia, sharing music and dialogue as part of 'Legends on Grace,' the Nightcaps & Stories Series from Richmond Performing Arts Alliance.
This 90-minute, up-close-and-personal, cabaret-style series honors a diverse line-up of Virginia's music artists as they share their legendary journeys and passion for their craft, accompanied by the songs of their pasts. Schaefer will be interviewed in the intimate setting of Rhythm Hall at Dominion Energy Center. He and host Daniel Clarke, an accomplished Richmond musician, will chat onstage with their favorite beverage in hand.
Yes, THAT Robbie Schaefer
Richmonders may recognize Robbie Schaefer as the guitarist and songwriter for the indie folk band Eddie from Ohio, which has performed in the city and the region. Richmonders may know that Schaefer and his three Eddie from Ohio band mates are all natives of Virginia (no, not Ohio), and that the band has recorded many songs influenced by the commonwealth.
Eddie from Ohio began in 1991, with Schaefer, Julie Murphy Wells, Eddie Hartness, and Michael Clem. Initially, the band's performances featured mostly covers, but Schaefer and Clem soon began writing originals that helped the group achieve its success. Since then, they have released nearly a dozen albums, all on their own label, Virginia Soul Records.
Richmonders might also recognize Robbie Schaefer's solo albums, including his most recent, 2017′s Sounds Like Home: Songs From the Musical, Light Years. As a solo performer Schaefer has shared the stage with Sara Bareilles, Jason Mraz, Josh Groban, Michael McDonald, Keb' Mo, and Emmylou Harris, among others.
Or locals may know about his gig as a playwright, with his stage musical, Light Years, which is currently in development as a feature film.
But wait, there's more!
Certainly, Schaefer and Clarke will talk about music, about Eddie from Ohio as well as Schaefer's solo work. But there's another aspect, a deeper aspect, to this musician that will probably come up, and that is his devotion to service through the arts.
In 2011, Robbie Schaefer founded OneVoice, an international nonprofit devoted to uniting and empowering youth through music and the creative arts. The organization has completed and has ongoing projects in Tanzania, Kenya, Uganda, Nicaragua, India, and a Pikpa refugee camp in Lesvos, Greece. So far, the creative voices of kids have built a school in Tanzania, provided heart surgeries in Kenya, bridged religious differences in India, and built a community performance stage in Nicaragua.
Listen in on Schaefer and Clarke's conversation, in person and virtually
The Feb. 5, 2022 event will be presented in person at Rhythm Hall in Dominion Energy Center as well as online.
In-person tickets, at cabaret table seating for four, range from $42.50 to $52.50 per person.
The virtual on-demand option goes for $32.50 per person. A private link to each performance will be sent to ticket buyers by email within 48 hours after each performance and can be viewed for one week.
Learn about the venue's COVID safety measures at the Dominion Energy Center website.
Get your tickets and more information at RPAAlliance.com.