Legends on Grace: Desirée Roots
June 5th, 2022 | Sponsored Content
Get up close and personal with the Richmond legend
---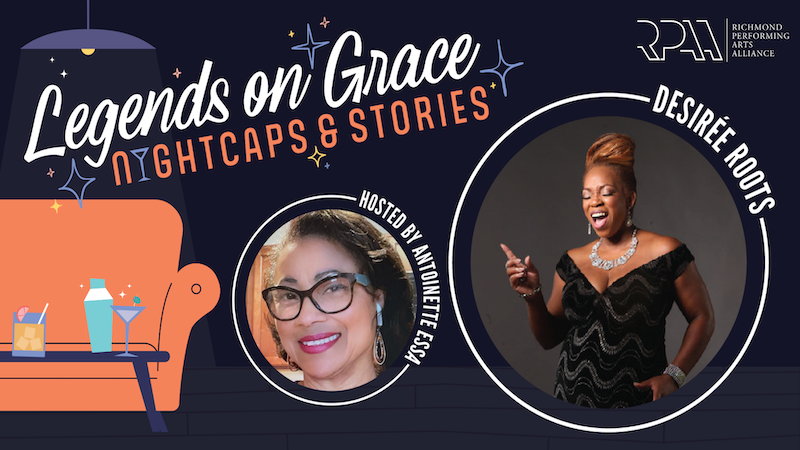 Desirée Roots is truly a Richmond legend. The award-winning singer and actress has touched so many lives in her decades of living and performing in her hometown of Richmond, Virginia, and beyond. She performs regularly in theatrical productions, concerts, and festivals, in operatic, R&B, gospel, and jazz genres. Her versatility within different genres of music keeps her busy, but her favorites are classical, gospel, and jazz. Desirée grew up in a musical family and continues to carry the torch.
A graduate of Virginia Union University with a concentration in performance and education, Desirée has shared the stage or been the opening act for many renowned artists, including Kenny Garrett, Bobby Watson, the late Phyllis Hyman, Shirley Horne, Boney James, and Brian McKnight. She has performed with the world-famous Glenn Miller Orchestra and has shared the stage with Grammy award-winning artists BB King, Buddy Guy, and Gerald Albright.
On June 25, 2022, Desirée Roots shares her songs and her story with audiences in the Legends on Grace Series, presented by the Richmond Performing Arts Alliance. The 90-minute, up-close-and-personal, cabaret-style series honors Virginia musical artists as they share their legendary journeys and passion for their craft, accompanied by their songs.
Desirée Roots will be interviewed by a local favorite media personality, Antoinette Essa, in the intimate setting of Rhythm Hall at Dominion Energy Center.
Besides the up-close-and-personal event, guests can take in the conversation and music in the virtual follow-up event. So whether you're in Richmond and want to see this Richmond legend in person, or in Richmond and beyond and want to soak in her story and music from afar, Legends on Grace: Nightcaps & Stories has your ticket.
Legends on Grace: Desirée Roots
June 25, 8 p.m.
At Rhythm Hall at Dominion Energy Center
Or on demand