Legends on Grace: René Marie
September 19th, 2022 | Sponsored Content
Get up close and personal with the jazz legend with Richmond roots
---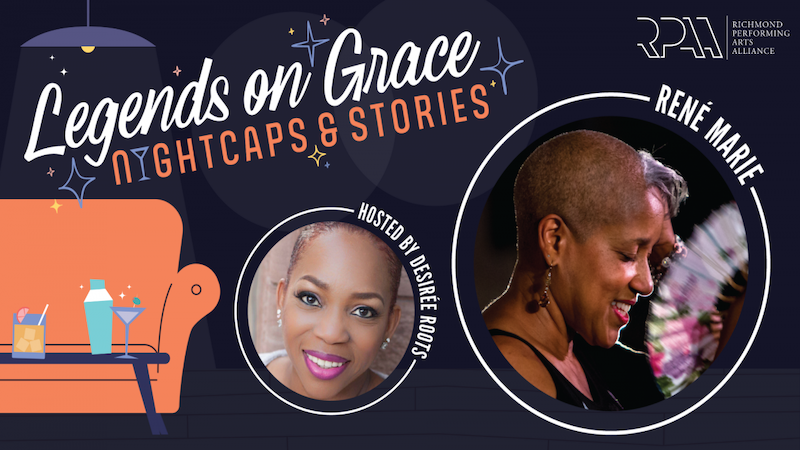 Jazz vocalist and songwriter René Marie will be sharing her music and her experiences as part of the Legends on Grace Series, presented by the Richmond Performing Arts Alliance, on Oct. 1 in Richmond, Virginia.
In a span of two decades, 11 recordings and countless stage performances, vocalist René Marie has cemented her reputation as not only a singer but also a composer, arranger, theatrical performer, and teacher. Her music includes elements of folk, R&B, and even classical and country to create a captivating hybrid style. Her work is an exploration of the bright and dark corners of the human experience, and an affirmation of the power of the human spirit.
René Marie was born in Warrenton, Virginia, surrounded by a diversity of musical recordings – blues, folk, bluegrass, and classical. She sang in R&B bands in her teens and composed and performed her first piece when she was 15, but she set aside her musical aspiration for marriage and motherhood. Then, two decades later, her older son urged her to begin singing professionally again.
The immediate path forward wasn't smooth, personally or professionally, but with plenty of tenacity, she embraced a full-time career in music. She moved to Richmond, Virginia, produced her first CD, and took the title role in the production of Ella and Her Fella, Frank at the Barksdale Theatre.
Her discography grew. Renaissance, was released in 1999, followed by How Can I Keep from Singing? (2000), Vertigo (2001), Live at Jazz Standard (2003) and Serene Renegade (2004). She moved to Denver, where she recorded and co-produced Experiment in Truth (2007). She also focused her musical and acting talents on a one-woman stage show, Slut Energy Theory: U'Dean, a play about overcoming abuse and incest, and released the soundtrack (2009).
Other releases include Voice of My Beautiful Country (2011), Black Lace Freudian Slip (2011), I Wanna Be Evil: With Love to Eartha Kitt (2013), which earned a Grammy nomination in the Best Jazz Vocals category, and Sound of Red (2016).
Of Sound of Red, Marie says, "I wanted to make a record that people could go back to again and again to excavate their emotions. We cover things over every day. We have to in order to move through the day and move through our lives. We can't always afford to be vulnerable to things like pain, loss, confusion, hurt and frustration. I want this record to provide some kind of architecture to provide support in those moments when our emotions are not necessarily happy ones."
Of her body of work and performances, René Marie says, "I have never forgotten the early lessons learned about the power of music. Today, I try to imbue that feeling of emotion into every song I write and every song I sing – every time. I am very happy to be alive today, doing the things I love to do – singing, composing, writing, teaching, and arranging."
René Marie will be hosted by Desirée Roots, another local legend. The award-winning singer and actress performs regularly, in Richmond and beyond, in theatrical productions, concerts, and festivals, in operatic, R&B, gospel, and jazz genres. Her versatility within different genres of music keeps her busy, but her favorites are classical, gospel, and jazz. Desirée grew up in a musical family and continues to carry the torch.
On Oct. 1, 2022, René Marie shares her songs and her story with host Desirée Roots, artistic director of community for Virginia Repertory Theatre, and with the audience as part of the Legends on Grace Series, presented by the Richmond Performing Arts Alliance. The 90-minute, up-close-and-personal, cabaret-style series honors Virginia musical artists as they share their legendary journeys and passion for their craft, accompanied by their songs.
Besides the up-close-and-personal event, guests can take in the conversation and music in the virtual follow-up event. So whether you're in Richmond and want to see this Richmond legend in person, or in Richmond and beyond and want to soak in her story and music from afar, Legends on Grace: Nightcaps & Stories has your ticket.
Legends on Grace: René Marie 
Oct. 1, 8 p.m.
At Rhythm Hall at Dominion Energy Center
Or on demand