'Making Merry with Grey Garrett'
November 18th, 2022 | Sponsored Content
Get in the holiday spirit with a local singer and actress
---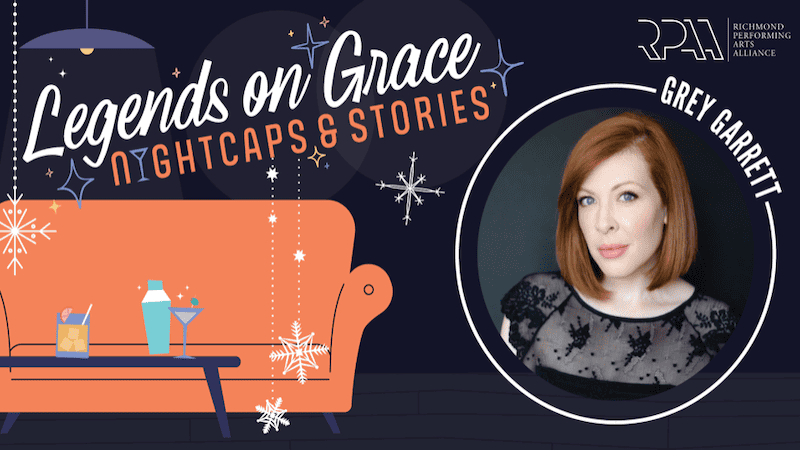 Embrace the holidays with Richmond musical theatre star Grey Garrett on Dec. 3 in Richmond, Virginia.
As part of the Richmond Performing Arts Alliance Legends on Grace series, "Making Merry with Grey Garrett" will feature favorite holiday songs inspired by televised holiday specials from the Golden Age of television. This show is sure to warm your heart and fill you with joy, hope, and nostalgia.
Grey Garrett
Grey Garrett was born in Atlanta, Georgia, and raised primarily in Amelia and Mechanicsville, Virginia. She moved to New York City at the age of 17 to attend The American Musical and Dramatic Academy. After graduation, she became a singer on a cruise ship for nine months. She returned to New York City, where she worked as a stand-in on the Denis Leary TV show "Rescue Me" and appeared alongside Edith Gonzalez, a Mexican telenovela star, at Madison Square Garden.
Other film productions include "Art House" (2018, which Garrett also co-wrote) and "Night of the Forgotten" (2019).
Since returning to the Richmond area, she has appeared several productions, including the Cadence Theatre Company's 2017 performance of "Rabbit Hole," Swift Creek Mill Theatre's production of the Steve Martin bluegrass musical "Bright Star," Richmond Triangle Players' musical "Grey Gardens," Virginia Rep's performance of "A Gentleman's Guide to Love and Murder," and the cabaret-style "A Night with Grey Garrett" at Swift Creek Mill Theatre.
On Dec. 3, Garrett performs as part of the Legends on Grace Series, presented by the Richmond Performing Arts Alliance. Each performance of the 90-minute series honors Virginia musical artists as they share their legendary journeys, passion for their craft, and songs.
Legends on Grace: Grey Garrett 
Dec. 3, 8 p.m.
At Rhythm Hall at Dominion Energy Center