'Miracle on South Division Street'
November 10th, 2022
Tears and laughter as a revelation threatens a family's sense of faith
---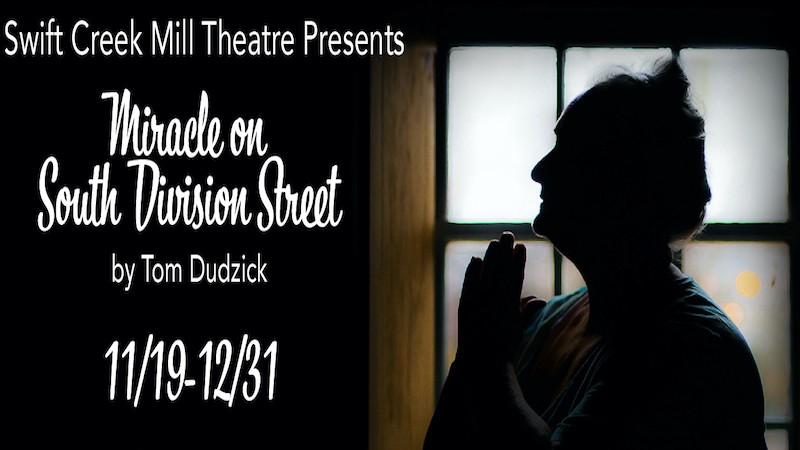 The Nowak family homestead sits amidst the urban rubble of the East Side of Buffalo, New York. "Maybe the neighborhood is depressed, but not Clara, the family matriarch," say playwright Tom Dudzick on his website. "She happily runs her soup kitchen and tends to the family heirloom – a 20-foot shrine to the Blessed Mother which adjoins the house." According to family lore, the Blessed Virgin Mary appeared in Clara's father's barbershop.
The family gathers at the old home to commemorate the family "miracle." During the course of the family meeting, the entire family's faith is shaken to the very core when a deathbed confession causes the family legend to unravel.
The results are both heartfelt and hilarious.
Reviewers of previous performances said:
Peter D. Kramer, The Journal News: "A rollicking comedy where one revelation builds on another to an unexpected and thoroughly satisfying conclusion."
Peter Filichia of Theatremania.com: "Utterly delightful while delivering a solid message on faith, the lack of it, why we believe what we believe, and how we can, or must, adjust to life's surprises."
Daniel M. Gold, The New York Times: "Relatives who are a little too close; a suffocating sense of limits; secrets that, once shared, undo the precepts that defined a way of life: If these sound like elements in a family's deconstruction – the stuff, say, of a Sam Shepard play – they certainly could be. But Tom Dudzick's "Miracle on South Division Street" … is a sprightly, gentle comedy, where revelations that might remake a family's sense of itself are each rolled out in service of laughter."
The Swift Creek Mill Theatre production of "Miracle on South Division Street" runs Nov. 19 through Dec. 31, offering a feel-good holiday event. There will be a New Year's Eve party following the closing night performance.
Swift Creek Mill Theatre
Swift Creek Mill Theatre opened in 1965 inside one of the oldest landmarks in the nation. The 300-plus-year-old grist mill, while repurposed for the theater, retains its historic charm and character. The building is ADA accessible.
The Mill offers pre-show dinner, too, with menus inspired by the performances, for an easy pleasing evening of dinner and a show.
"Miracle on South Division Street"
Swift Creek Mill Theatre, 17401 Route 1, South Chesterfield, VA 
Nov. 19 to Dec. 31
To purchase tickets, go to SwiftCreekMill.com or call 804-748-5203.