Presented by Emergency Essentials
February 24th, 2020
The national industry leader in disaster preparedness
---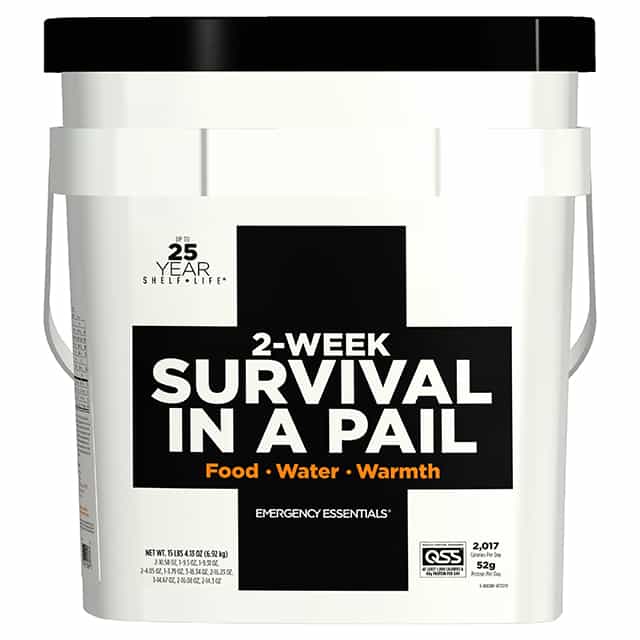 As 'patriarchs' and 'matriarchs,' grandparents are often the ones the entire family turns to in times of need. Weather-related disasters, earthquakes and even civil unrest are among those times when parents and grandparents alike need to take charge. Being prepared with adequate nutritional food, water and emergency gear, including an AM/FM radio for communications, a powerful flashlight, first aid kits, water filtration and water accessories, a hand crank generator, power failure emergency lights, blankets, body warmers and sleeping bags – are vital when unforeseen events arise.
FEMA (Federal Emergency Management Agency) advises that the best way protect your family in a disaster is NOT rely on the agency as a primary emergency resource – at least not for the first couple weeks, which is how long it takes for FEMA to fully mobilize. That's why as recently as 2017, FEMA's head administrator warned: "I can't guarantee that we can be right on time to backfill everything you need." In other words, in a severe disaster, the federal cavalry will not be riding in on a white horse to save you. You need to be self-sufficient and protect yourself and the people you love.
Emergency Essentials (the company behind www.beprepared.com) is a national industry leader in the all-important area of disaster preparedness. Steve Conlee, a senior executive with the company, reports that grandparents are among Emergency Essential's biggest customers.
"Grandparents have been protecting and providing for the people they love most of their lives – and their role often continues when disaster strikes. When emergencies hit, grandparents' first thought is to their kids and grandkids – and our products fully support their ability to be a safe haven in times of trouble," says Conlee.
In business for well over three decades, Emergency Essentials has burgeoned into the largest dedicated online retailer of emergency products in the world. Their online emergency supply marketplace, beprepared.com, receives millions of visitors a year. For 50-plus consumers, Emergency Essentials has developed a robust line of product offerings specially crafted to safeguard themselves and their families, all with an eye towards flexibility, variety, healthy nutrition, and long shelf life.
Emergency Essentials delivers virtually every variety of duration kit possible – enough to properly feed every family size for as long as needed, from kits with adequate food supplies to last 30 days to 12 months and every duration in between. Moreover, Emergency Essentials' kits can be fully customized to share and divide among families of all sizes and for all durations.
Then there's the vast variety of Emergency Essentials food offerings, designed to satisfy every taste, diet, and picky eater in the family, including all types of meats, vegetables, entrees, fruits, grains, pastas, beans, rice, dairy, eggs, baking goods, deserts, drinks – you name it.
One of the biggest shortcomings of many other emergency food suppliers is that the food they provide simply does not deliver the critical survival nutrients that count in an emergency: protein and calories. Emergency Essentials takes a different approach and backs it with its own set of certified Quality Survival Standards with a minimum 1,800 calories and 40 grams of protein per person, per day.
As for shelf life, Emergency Essentials keeps grandparents prepared with hand-picked, chef-crafted food that stays nutritious and flavorful for up to 30 years.
Grandparents appreciate how easily, affordably and quickly they can make simple, one-time purchases of Emergency Essentials products on beprepared.com. The best part is, those purchases (often gifts) help keep them and their families safe and secure. "Many of our grandparents love to gift our super-affordable 72-hour, one-week, and two-week kits to their children. These kits are totally affordable and are sized to conveniently fit into homes, cars, dorm rooms, cabins, and RVs," adds Conlee. 
Emergency Essentials runs special weekly deals for members of their community to make their products even more affordable, with discounts ranging from 20 percent to 80 percent off practically every category of emergency product offered. One of Emergency Essentials' most popular purchase options is its Prep as You Go program, where you receive monthly shipments of the company's chef-crafted emergency foods delivered right to your door until you've built a complete year supply. The Prep As You Go program breaks up the cost into easy monthly payments and lets you save hundreds with free shipping. Plus, there's no contract, no fees, and you can cancel at any time. Joining the membership program is easy – simply visit the BePreapred.com for details. 
Among the many emergency events families need to be ready for are flooding, wildfires, earthquakes, and severe power outages resulting from storms and blizzards. According to the FEMA, flooding is the number one disaster in the US. And wildfires, as we know, are currently exploding in frequency and severity. These disasters require that you vacate your home immediately – any delay can put you at risk.
In scenarios such as these, Emergency Essentials recommends kits that include an "eat-on-the-go" option, such as its popular 2-Week Survival in a Pail filled with super-nutritious, delicious meals that you can sit down and cook quickly with one pot. The 2-Week Survival Pail also contains 24 hours-worth of Emergency Essentials' special high-protein, high-calorie meal shakes that can literally be prepped with some water while you're moving and provide 480 calories and 29 grams of protein per pouch. Satisfying and delicious, the shakes contain the fat and carbs you need to help you stay full.
Emergency Essentials continues to keep your family prepared with water storage options, reflective sleeping bags, stormproof matches and an unmatched array of shelter-in-place foods that store easily and are simple to prepare. Protected by sturdy, industrial-grade buckets that stack easily in a closet or garage, Emergency Essentials' foods stay delicious and nutritious for decades – and will be there to help keep you safe and fed, sitting tight while others are out frantically searching for food in dangerous conditions.
Even though there are more severe hurricanes now than ever, there are far fewer casualties compared to times past due, in part, to a technology and communication infrastructure that warns people ahead of time and provides everything from evacuation orders to instructions on places to gather. For families on a budget, Emergency Essentials' best communication tool is its hand-powered radio and flashlight that features an AM/FM radio for staying up to date on conditions and instructions from authorities – and requires no batteries to operate.
FEMA does offer important resources available to help you prepare before disasters hit, including resources aimed at helping create an emergency plan for your family, focused on:
Where to meet after a disaster
How to get your hands on the food, water, gear, and information you need to survive
How to provide for the special needs of children, or the sick and the elderly
FEMA resources are available at fema.gov, and more insightful information can be found on beprepared.com/blog.
For your entire family's emergency preparedness needs, the website to remember is www.beprepared.com.