Sleeping Beauties
| July 25th, 2018
Bedrooms this stylish are sure to guarantee sweet dreams
---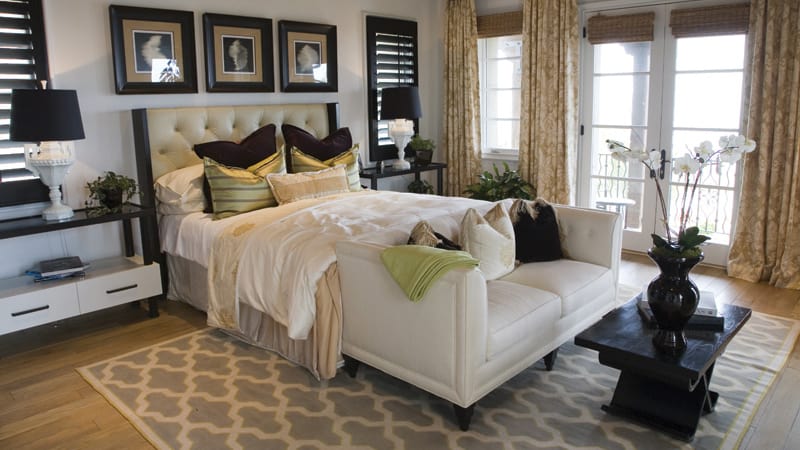 Making your bed doesn't feel quite so much like a chore when you've outfitted it in lovely linens and dreamy duvets. It takes more than pillow talk to design a beautiful boudoir.
For a space that invites stylish slumber and cozy cocooning, think beyond the bed and consider the rest of the room's furnishings.
Bedside tables, flooring, lighting and artwork can make or break a restful retreat. Carefully chosen pieces, thoughtful design and little luxuries are the things designers' dreams are made of.
STYLISH SUPPORT
The bed is the star of the show, but don't sell the rest of the furnishings short.
When considering the bedside table, Dallas designer Emily Johnston Larkin says form and function are equally important. "The bedside table should be about the same height as the mattress," she says, adding that 30 inches is the ideal height for both.
And the nightstand should offer storage, "whether that is one drawer, a shelf or both," she says. And if you're short on space, chests as nightstands can substitute for a dresser.
For those with bedrooms big enough to place furniture at the foot of the bed, a bench doesn't have to the only option.
"Think outside the box," Larkin says. "A desk, chaise lounge and settee are great alternate options."
LAYERED IN LUXURY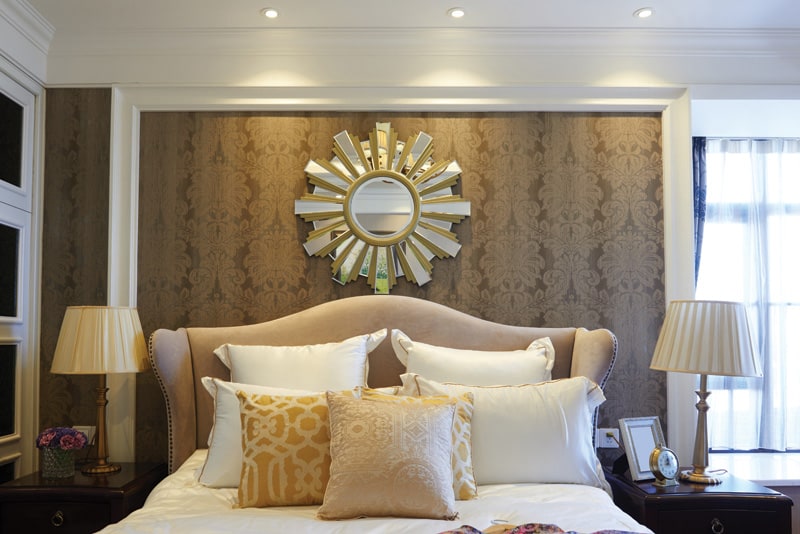 A bed with loads of layers is just begging you to dive in. Richardson designer Tara Lenney often relies on a fluffy white duvet for hotel-like luxury and starting point. She packs in personality with pillows, patterned linens and textured throws.
"You want just enough pillows for it to feel full and welcoming, but not so many that making your bed feels like a chore every morning," says Lenney.
For a king bed, that means three Euro shams; for a full or queen, it's two.
Don't be afraid to change things up: swap out bedding to better reflect your personality – or the season.
Complete the layered look with a contrasting throw at the end of the bed. Consider something lightweight for summer and cozy, like faux-fur, in the winter.
And one crucial layer that Lenney never forgets: the floor. "Nobody wants to get out of bed on a cold morning and put their feet on an icy floor," she says. Adding a rug adds warmth and can be another avenue to introduce pattern and texture. "Be sure not to wimp out on the size," she warns. "For a king bed, you'll likely need an 8-by-10 rug to keep it from feeling dwarfed by the bed."
FLUFFY AND FULL
Dallas designer Emily Sheehan Hewett has a no-fail formula for compositing a beautiful bed.
Start with a crisp white sheet set and layer with a textured coverlet. Complete the look with duvet and a handful of decorative pillows, she says.
Ever wonder how to get that "fluffy" duvet look at the foot of your bed?
"Stuff the duvet with two inserts instead of one," the Well Dressed Home founder says.
PATTERN PLAY
Who says big, bold patterns don't have a place in the bedroom?
Abbe Fenimore loves to make a serious style statement by mixing multiple prints. But when doing so, "Keep the main pieces of the room classic and simple," she says. "This keeps the room from being overpowered by the mixing and matching."
Mixing patterns isn't the only way to keep things interesting. "Use a mix of cottons, velvets and silks to keep the textures from falling flat," Fenimore says.
---
© 2018 The Dallas Morning News; Distributed by Tribune Content Agency, LLC.