The Beloved Flowers of the Virginia Daffodil Society
| March 16th, 2020
Cultivating bursts of yellow spring color
---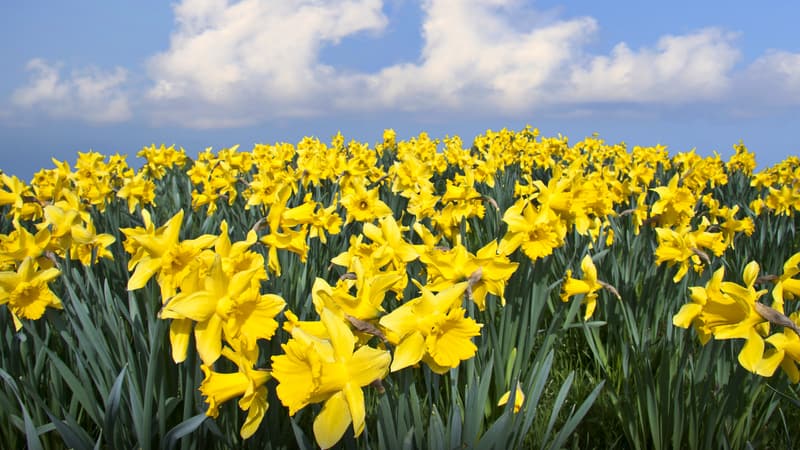 If you happen to wander into the Lewis Ginter Botanical Garden Kelly Educational Complex during the Virginia Daffodil Society Show [postponed date TBA], you're in for a fantastic surprise: The large, window-lined Azalea Room will be filled with floral displays containing upward of 1,000 varieties of daffodils.
Grown by top gardeners competing in the 28th annual show, specimens mark the pinnacle of floral perfection. The array of shapes, sizes and colors is astounding.
THE VARIETY OF THESE PERKY LITTLE FLOWERS
Of course, there are your classic, bright yellow, trumpeted harbingers of spring. But these are surrounded by oddities like, say, a 5-inch miniature with tiny, pink-hued petals intercut with white, tissue-paper coronas. Elsewhere are big, fragrant, ivory-white blossoms reminiscent of roses. Still elsewhere, heirlooms like the Spiky Rip Van Winkle, which was standardized around 1884 and looks like a starburst made of narrow, spiky, yellow petals.
"I attended my first show around 2008, and the diversity of flowers was absolutely mind-blowing," says Jennifer Potter, 51, who joined the VDS that same year and is now the show's chairman. "Back then, I thought there were two types of daffodils – yellow trumpets and jonquils; that was the extent of my knowledge. So, for me, to encounter such an overwhelming variety of a flower I loved, but had come to consider sort of mundane? I was totally intrigued."
EXPLORING THEIR ROOTS
Perusing the displays, she met master and amateur growers – the show features categories for each – and learned about the history of daffodils. Originating in northern Africa and southern Europe, their early blossoms, hardiness and low-maintenance beauty won the hearts of continental gardeners. Colonists carried bulbs to North America and the spring-blooming perennials have since become one of the most hybridized flowers on the planet. There are now more than 13,000 distinct varieties. The gardens of enthusiasts and show participants often contain thousands of different types – Janet Hickman, a retired dermatologist who lives in Lynchburg and is a longtime member of the VDS, grows more than 7,000.
"I had such a great time at that first event," says Potter. "I started out amazed by the flowers. But then I started talking to participants, and they were all just so nice. Their enthusiasm was infectious and, by the time I left, I was hooked."
The experience inspired Potter and her young daughter, Katelyn, then about 10, to join the VDS and take up growing daffodils as a serious hobby. Founded in 1992 by George and Patty Bragdon, the Richmond-based group had 100 members and national renown. Yet, says Potter, everyone was accessible and over-the-top helpful.
"They gave us bulbs, got us started with growing tips, invited us to gardening parties," Potter continues. "It was such a fun and nurturing community; we just sort of dove right in."
A BLOOMING HOBBY
She and Katelyn quickly became fixtures at annual and informal meetings alike. They participated in their first Lewis Ginter show in 2009. By the close of 2010, they were studying to become certified American Daffodil Society judges.
"We realized it was the quickest route to learning how to identify the different varieties and understand what makes a show-winning flower," says Potter.
Katelyn helped judge her first VDS competition at the age of 16 and has served on the panel each year since. The 22-year-old still grows daffodils with her mom; however, their Richmond garden now includes hundreds of different varieties.
"When you come to a VDS show, you'll see some amazing, world-class flowers," says Potter. "But you'll also meet some incredible human beings; all of whom are more than happy to share their passion and experience with visitors."
---
Eric J. Wallace is a career journalist whose writing has appeared in more than 40 media outlets.