The Best Upholstery Cleaners For Pets And Their Messes
| November 11th, 2021
Top cleaning ability as well as value for the money
---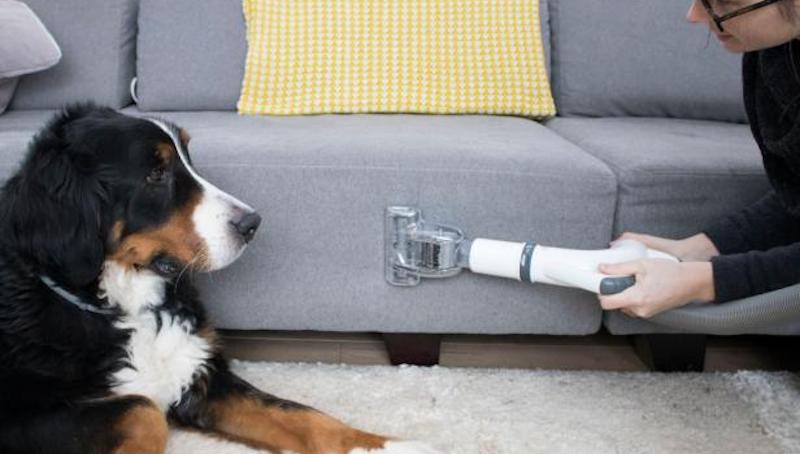 Here's a list of the best upholstery cleaners for pet owners who are looking for a tool that not only provides top cleaning ability but value for money as well.
---
Top 3 Best Pet Upholstery Cleaners For Your Home
You love your pets. But the mess they create? Not so much! Especially the dirt and stains they leave on your upholstery. Most homeowners tend to replace or throw out their soiled chair or sofa rather than deal with the problem. However, you can easily eliminate the odors and stains that have settled in your upholstery by arming yourself with the right cleaning tool.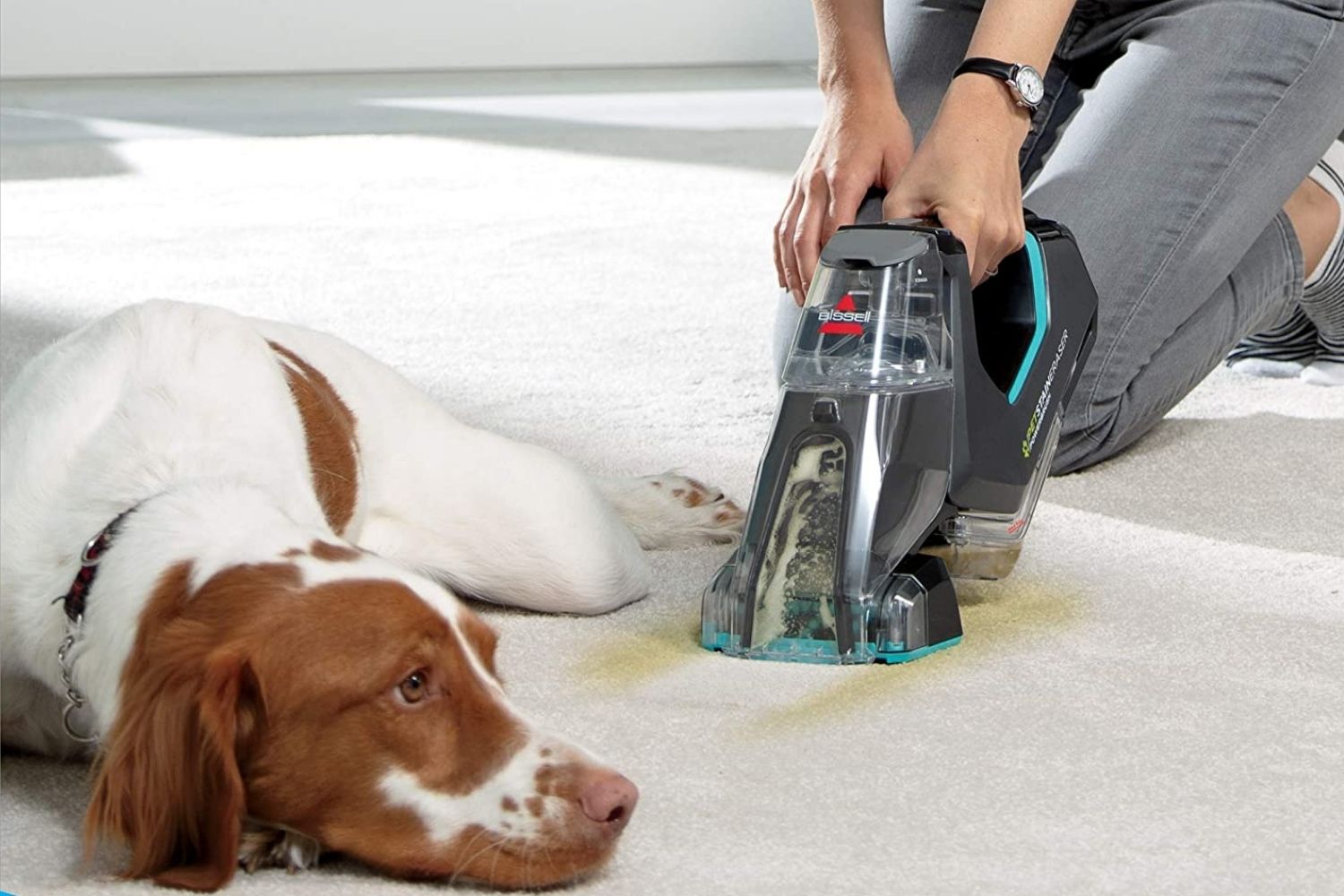 The best upholstery cleaners allow you to perform a deep clean on the surface of fabrics, removing pet messes, oil stains, dirt, and more. This, in turn, helps extend the life of the upholstery. Cleaning upholstery is trickier than carpets since it is made from various fabrics and fibers. While most products can take care of synthetic microfiber, you can damage silk damask when applied with a water-based technique.
In this article, we've listed down the best upholstery cleaners for pet owners out there. You can use these around your house, even in your den and dining room. You can safely use these cleaning devices on your upholstered furniture. Hence, you don't have to worry about damaging its fabric.
Top-Rated Pet Upholstery Cleaner For Your Home
Best Overall Upholstery Cleaner: Bissell Little Green Portable Carpet and Upholstery Cleaner
Best For Removing Pet Hair: Bissell SpotBot Pet Hands-Free Spot and Stain Portable Deep Cleaner
Best For Odor and Bacteria Removal: PurStream Chemical-Free Pressurized Steam Cleaner
How An Upholstery Cleaner Cleans Upholstered Furnishing
The extraction method of most upholstery cleaners is similar to that of steam cleaners for carpets. Also, the majority is basically a handheld version of a carpet cleaner. The difference here is you will need to apply an upholstery cleaner solution and water on your upholstery. This combination is enough to loosen the dirt and stains that have set in. The machine has an extractor that will vacuum up both the grime and water in a separate container. Simply discard the murky water down your kitchen drain afterward.
Pets create stains unique to them. And some of these need specific treatments. The cleaning system of an upholstery cleaner is a highly effective way of loosening and removing even the most stubborn of stains your pet leaves on your furnishings.
Best Overall Upholstery Cleaner: Bissell Little Green Portable Carpet and Upholstery Cleaner
The Little Green Cleaner from Bissell boasts the Green Good Housekeeping Seal. Because of its compact size, you will have no problem storing and carrying it around from one room to the next. There are many reasons why this model is one of the best on the market today. Do not be fooled by its size. This little cleaning machine is powerful and does an excellent job at getting rid of pet stains.
Flaunting a sleek and lightweight design, Bissell's upholstery and carpet cleaner come with a hydro rinse mechanism. The unique feature helps the machine take care of spills from your carpets and furnishings combined with the company's cleaning formulas.
Furthermore, operating is pretty simple. Once you turn your unit on, run its nozzle over the spot you want to clean, and it will emit the solution out. Then, its soft brush will wipe the problem away gently. All the murky water it will accumulate will go to a separate tank. Thus, it will not consolidate with the clean water tank. Aside from being powerful enough to wash fabrics, the Little Green also has a strong suction power. This will give you peace of mind knowing that you can use it on your beautiful carpet without ruining it.
But according to some users, they have to run it over odors and pet stains a few times. Overall, if you want an upholstery cleaner that's both compact and long-lasting for your home, the Bissell Little Green should be on top of your list. It will not only pick up stains on fabrics, but you can also use it on different types of surfaces.
Best For Removing Pet Hair: Bissell SpotBot Pet Hands-Free Spot and Stain Portable Deep Cleaner
Any pet owner will love the hands-free SpotBot Pet vacuum from Bissel, which you can use on various types of upholstery, including cushions. You can also use it on just about all fabric-coded types. It comes with a durable stain brush along with a powerful cleaning cycle that can get rid of a variety of messes, grubs, and spills. On top of that, it can even remove those annoying hairballs.
One of the standout features of the SpotBot is its automatic spot cleaner. You can activate it by simply placing your equipment over any residue, and its brushes will do all the work for you. They can tackle set-in stains and filth without harming the upholstery and carpet fibers.
However, the unit does have some problems with picking up excess moisture. So expect your furnishings to be a bit damp after cleaning. Still, the automatic Bissell SpotBot Pet upholstery cleaner is a useful tool for any pet parent. It will remove pet hair from your upholstery with ease and give it the deep cleaning it deserves without damaging it.
Best For Odor and Bacteria Removal: PurStream Chemical-Free Pressurized Steam Cleaner
Weighing at only 2.2 pounds, PurSteam is a budget-friendly low-profile upholstery cleaner. What's more, in its box, you'll find nine different accessories that can help you tackle even the tightest spots of your furnishings. Additionally, you don't have to wait long to clean the spills made by your pet because heating up this machine only takes 3-4 minutes.
But what makes the PurSteam Handheld stand out is that it does not need any chemical cleaner to function, making it a friend to the environment. Instead, it uses the power of heat and water to eliminate odors and the toughest of stains without sacrificing durability. It will sanitize your surfaces and destroy bacteria which are the main culprit of most odors and stains. Plus, it can also eradicate organic proteins, mold, dust mites, and viruses.
If you're after a handheld, eco-friendly option that you can use to clean dog beds, mattresses, and furniture, this is the one for you. You can also use this upholstery cleaner for pet owners to remove odor from hardwood, as long as it is waterproof, along with granite, ceramic tiles, and laminate tiles.
Factors To Consider When Looking For the Best Upholstery Cleaners For Pet Owners
Cleaning Performance
The best pet upholstery cleaner can eliminate tough stains of all forms on all types of fabric without ruining the material. Along with that, it should efficiently take out the cleaning formula for quicker drying to prevent bacteria from growing.
Ease of Use
It is beneficial to choose an upholstery cleaner that you can operate without the need to look at the manual every time. Additionally, its interface should be intuitive with easy to spot and read labels. This is especially true for labels on its tank. That way, you will not have trouble knowing the amount of cleaning solution and water required for your cleaning session.
Compact
Keep in mind that a larger unit does not always mean you'll get a better cleaning performance. The majority of models from reliable brands come with a compact design and can outperform most larger ones. Moreover, you will not have storage problems with a compact cleaner.
Lightweight
Opt for a cleaner that you can easily carry around from room to room. A good upholstery cleaner should weigh at least under 14 pounds. Heavier devices are much more difficult to move around the home.
Attachments
Every pet upholstery cleaner comes with at least one cleaning attachment. Still, it is better if your unit provides you with more choices, especially for a variety of upholstery.
Cleaning Formula
Some cleaners come with a cleaning solution, while some don't. If possible, buy a unit that comes with one.
---