The Bubbly, Historic French City of Reims
| July 25th, 2023
The toast of France's Champagne country
---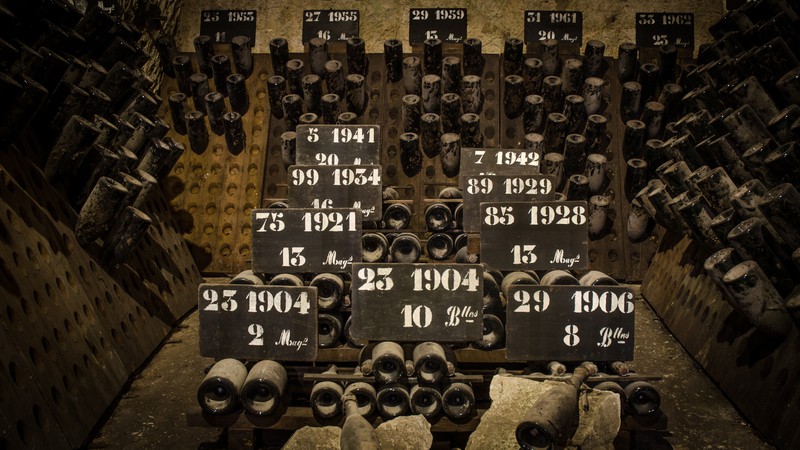 With its Champagne history, Gothic cathedral, and Art Deco style, the French city of Reims feels both historic and youthful. Rick Steves explains.
---
Imagine that happy day around 1700 when the monk Dom Pérignon, after much fiddling with the double fermentation of his grape juice, stumbled onto a bubbly delight. Having tasted the very first glass of Champagne, he ran through the abbey shouting, "Brothers, come quickly … I'm drinking stars!"
The drink he invented ultimately put the region of Champagne in northeastern France on the map. Visiting the area and its delightful capital Reims (pronounced "rance") is easy, with frequent high-speed TGV trains connecting central Paris with the city in just 45 minutes.
You can tour several interesting Champagne cellars, or caves, right in Reims. Most include a walk through the chalky cellars, where literally millions of bottles are stored; a tour of a museum featuring old Champagne-making contraptions; and, of course, a ritual tasting. All charge a fee for guided visits that take about an hour.
Beyond the bubbles
But there's far more to Reims than bubbly. Reims has a turbulent history. It was one of many cities essentially destroyed in World War I – by 1918, there was barely a building standing. Reims was rebuilt in the next decade during the Art Deco age. Today this lively workaday town boasts a fun Art Deco flair without the glamour of tourism, while its sights give you an interesting peek at its past.
Standing on the town's main square, it's hard to see anything that wasn't bombed and then rebuilt – mostly in the 1920s. All around you'll see stylized Art Deco features – geometric reliefs, motifs in iron work, rounded corners, and simple concrete elegance. The only hints of the Middle Ages are the narrow lots upon which they're built. In a patisserie a lady hands out samples of Biscuits Roses, the favorite local munchie – light, rose-colored egg and sugar cookies dating from 1756 – to accompany a glass of Champagne.
At the Museum of the Surrender, World War II buffs can visit the actual room where the Germans signed the document of surrender. In this building, General Eisenhower received the unconditional surrender of all German forces in the early morning of May 7, 1945. The surrender was announced the next day, turning May 8 into Victory in Europe (V-E) Day. Anyone interested in World War II will be fascinated by the extensive collection of artifacts (like the ticker tape with the happy news), photos, and video. The signing room still has the maps with troop positions on the walls and the 13 chairs with name tags in their original spots.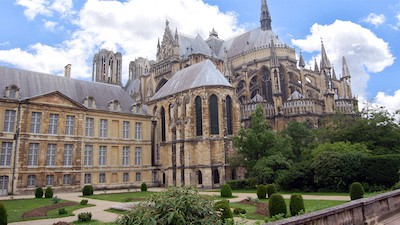 The cathedral of Reims is a glorious example of Gothic architecture, and one of Europe's greatest churches. Clovis, the first king of the Franks, was baptized at a church on this site in AD 496, establishing France's Christian roots that hold firm today. Since Clovis' baptism, Reims' cathedral has served as the place for the coronation of 25 French kings and queens – allowing it to play a more important role in France's political history than Paris' Notre-Dame cathedral. Severe bombing during World War I devastated the church, which was later restored (just in time for the start of World War II), thanks in large part to John D. Rockefeller.
Flying buttresses soar from the sides of the church. These massive "beams" are critical to supporting this structure. The pointed arches inside the church push the weight of the roof outward, rather than downward. The "flying" buttresses support the roof by pushing back inward, creating a delicate balance between the two forces. Gothic architects learned by trial and error – many church roofs caved in as they tested their theories and strove to build ever higher.
Contemplate the lives of the people who erected this huge building, starting in 1211. Construction on a scale like this required a wholesale community effort – all hands on deck. Most townsfolk who participated donated their money or their labor knowing that neither they, nor their children, nor their children's children, would ever see it completed – such was their pride, dedication, and faith. Master masons supervised, while the average Jean did much of the sweat work. Labor was something even the poorest medieval peasant could donate generously.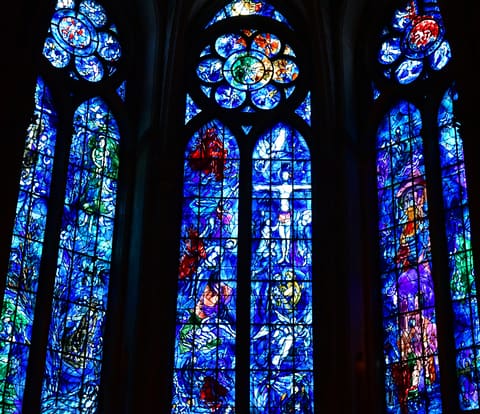 In the apse glows a luminous set of Marc Chagall stained-glass windows from 1974. Chagall's inimitable style lent itself to stained glass, depicting scenes from the Old Testament and the resurrection of Christ. The Tree of Jesse is extended to symbolically include the royalty of France, both affirming the divine power of the monarchs but also stressing the need to rule with wisdom and justice.
With its Gothic cathedral, venerable Champagne caves, playful Art Deco style, and vibrant pedestrian zone, Reims feels both historic and youthful at the same time.
---
PHOTO CAPTION, TOP: Champagne maturing in bottles in cellars of the Pommery Champagne house of Reims. It was founded as Pommery & Greno in 1858 by A. Pommery and N. Greno. CREDIT: Es70photo.
Rick Steves (www.ricksteves.com) writes European guidebooks, hosts travel shows on public TV and radio, and organizes European tours. This column revisits some of Rick's favorite places over the past two decades. Read more European adventures in his book, For the Love of Europe. Other books include numerous destination-specific travel guides and Travel As a Political Act. You can email Rick at rick@ricksteves.com and follow his blog on Facebook.
Explore more of Rick Steves' Europe in Boomer
©2023 RICK STEVES
As an Amazon Associate, Boomer Magazine earns from qualifying purchases of linked books and other products.