The Overseas Highway
| January 21st, 2019
Traveling the Florida Keys is the drive of a lifetime – and worth taking over and over
---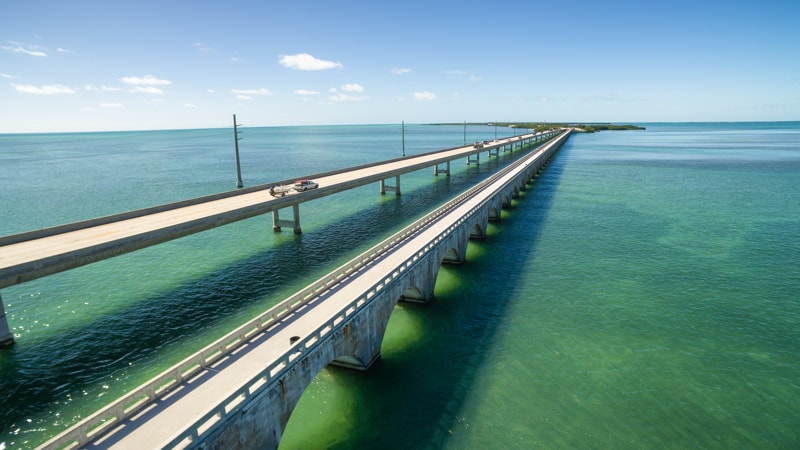 KEY WEST, Fla. – Pretty cool dateline, isn't it?
I'm hardly the first to write here. Everyone from Harry S. Truman to Jimmy Buffett has called this place home at some point, as have Robert Frost and Tennessee Williams and even Shel Silverstein, and countless others. Some impressive scribblings have come out of their stays.
The writer most associated with Key West, however – indeed, the person most associated with Key West – remains Ernest Hemingway, who lived here on and off from 1928 to 1940, with Pauline, the second of his four wives. This was the most prolific period of his career. In terms of writing, I mean.
We happen to be here now, in late October, by accident. We committed long ago to something called the Bogart Film Festival, to be held on Key Largo. Largo is one of the islands to the north in this tropical island chain, the Florida Keys, and Key Largo is the second most famous of Bogey's movies named for an actual place (and a lot easier to get to than Casablanca).
But the threat of hurricanes caused the festival to be canceled – even though our son had bought us airline tickets and a car rental for Christmas and birthday presents.
Could no one have consulted with us?
SO WE CHANGED PLANS …
… and what a change. Forget Key West. Just driving there is fantastic. Driving the Keys to get to Key West was never on my bucket list, but it should have been. (Never had a bucket list either, so maybe getting a bucket list should be on my bucket list.)
You can get there by boat or cruise ship, though that almost seems cheating. Certainly it would deprive you of driving the 120-mile-long island chain, which hopscotches from one "key" to another. It is quite a trip.
First, though, let's detour for a bit of history. This astounding piece of asphalt, which traverses countless bridges, wasn't intended as a highway at all. At least not at first.
A long-ago tycoon/visionary named Henry Flagler, having built the Florida East Coast Railway – you can probably guess its location – set about extending it from Miami to Key West. The railroad extension took seven years, finally finished in 1912. It worked fine … until a 1935 hurricane wiped out more than 30 miles of track. By now, a highway was underway, though. So the railroad bridges were converted, and new ones built, for cars.
Giant arches of steel and concrete now glide over the water or rise well above it, including the famed Seven Mile Bridge (it's actually only 6.765 miles long, though that doesn't work as well for a name), which offers spectacular views that have appeared in James Bond, Mission Impossible and Fast and Furious movies. It seemed to be blown up in True Lies but, fortunately, that was a stand-in bridge.
NOTHING QUITE LIKE THIS DRIVE …
… at least not that I've seen. I've driven coastal routes but this is literally at sea much of the time, with the Gulf of Mexico on one side merging into the Atlantic Ocean on the other. The Pacific Coast Highway and Highway 12 on North Carolina's Outer Banks have always been my favorites, but let's say I have three favorites now. And I'm not sure this isn't No. 1.
So we glided down the Florida Keys to get here, the seas on either side and below, the slowly setting sun ahead of us, glistening off the waters on its way to rest. Warm breezes and sun rays enveloped us – did I mention we had a convertible? The vistas mesmerized us.
Down the keys we went, one after another – Key Largo, Islamorada, Long Key, Conch Key, Marathon, Big Pine Key, Sugarloaf Key and so many others – whoever was in the passenger seat snapping cell phone pictures as we went.
We would get to Key West in time. But for the longest time, the time didn't matter.
---
For photos and stories from Key West, visit www.RayMcAllister.com/blog/keywest.
---
Ray McAllister, former Richmond Times-Dispatch columnist and former Boomer editor, is the author of four award-winning books on the North Carolina islands of Topsail, Wrightsville Beach, Hatteras and Ocracoke, as well as a history of The Richmond Forum. He is also the publisher of other books, most recently this fall's The Senator's Son: The Shocking Disappearance, The Celebrated Trial, and The Mystery That Remains a Century Later, by Charles Oldham. RayMcAllister.com.