The Tall Lithe Brunette
| August 18th, 2022
One boomer's running tale
---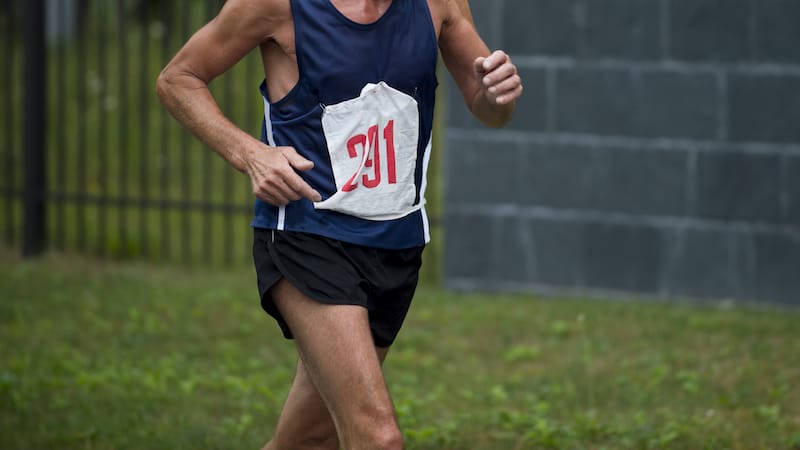 As baby boomers, we may recognize our limitations and modify our expectations. That does not mean we don't continue to strive, learn, and feel a sense of competition. Writer Wesley Shennan tells of an unexpected "competitor" in a 10k race – a young, tall lithe brunette!
---
I'm a leading-edge boomer. For about 15 years, up to my late 60s, I was running 10 kilometres, three or four times a week; and the last couple of years, just before I turned 70, I cut it down to around 7 klicks. I'd also enter 10K races. Why? Basically, to stay in shape as I don't participate in a sport any longer like downhill skiing. And, after I started running, my blood pressure dropped back to normal.
Running was difficult when I first began. My knees hurt, my hips hurt and the constant rain (I did a lot of my running in Vancouver, Canada) was initially annoying. But after a while, I liked the rain and learned to run like an African; and surprise, surprise, no more pain.
But running like an African? Yes. I've attended many races, including the Boston Marathon, and who wins? I'd say 90% of the winners are guys from Kenya or Tanzania. When I watch them, they glide by to the finish line and look like they could keep going. Most Caucasian guys thump by and if they win, they are completely spent. Internet research helped explain it to me. Africans run on the balls of their feet as they did, running barefoot as children. You can't slam your heels into the ground running barefoot. So … I taught myself to run like an African.
Races are very individual … well, in most cases. I remember being in a 10K race the University of British Columbia campus around 2008. There weren't many of us, probably under 100, and I quickly fell into my pace … almost like a steady heartbeat, with my mind completely in the moment … like I'm not running at all. About three klicks into the race, I heard 'the driving heels into the pavement pace' of a runner about to pass. She was a tall lithe brunette, about half my age, and she couldn't resist giving me the look: I guess I won't be seeing you again, as she passed. I didn't pay much attention, but did observe her awkward style and breathing – she had minimal running experience, and very laboured breathing for only three klicks into the race.
I fell back into my 'in the moment state' until I saw the finish line about one kilometre ahead … okay, time to wake up and sprint. I immediately doubled my heartbeat pace, but wasn't sprinting. About half a kilometre from the finish line I began to sprint, and who do I see? The tall lithe brunette. I roared past her but that wasn't the only roaring I heard … she cried out (with as much breath as she had left), NO, NO, NO!!! I couldn't believe it.
People watching the race started chuckling, so I probably sprinted a little faster, as the race wasn't quite 10K, more like 9.4, and I had lots of gas in the tank.
While enjoying the freshly cut oranges at the finish line, the tall lithe brunette walked by. Often spectators and runners come up to me and say something like: "You really turn it on at the end, good for you." Not the lithe brunette. She glared at me, with poorly disguised anger in her eyes, and I saw her making a mental note of my running number. I thought, okay, I'll look up your time on the internet too, and made a note of the number pinned to her chest.
The secure after-race internet is an interesting trip. You not only get to know race times, but you can immediately compare yourself to others of the same age. You also learn their names, places of employment and other pertinent details. To my surprise and disbelief, the overly competitive, immature, tall lithe brunette was a young professor at the University of British Columbia.
---
Wesley Shennan, a member of the Michel First Nation, Treaty 6, in the area currently known as Alberta, Canada, is a community planner and has been working with First Nations in British Columbia for the past 22 years. His education in both the physical and social sciences, and work experience, has led him to share his understandings and encourage others to take action. He lives with his wife, Elena, in the now smoky and scorching hot Okanagan valley in southern British Columbia – the traditional unceded territory of the Syilx Nations. He is the author of "Indigenous Reconciliation and Environmental Resilience" (FriesenPress, July 24, 2022). 
© Wesley Shennan, 2022