The Virginia Axe Company: Like Darts on Steroids
| December 19th, 2019
Tomahawks, axes, and knives – oh my!
---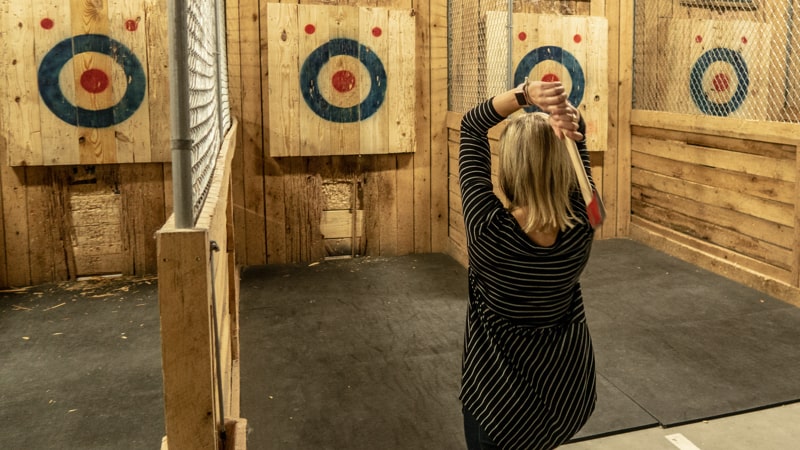 Once largely the domain of the nearest Norseman, Algonquin Indian or Wild West Showman – axe throwing and tomahawk hurling are finally coming into their own. And if not exactly "going viral," at least it's becoming unexpectedly "Avant Garde" … and the Richmond area is no exception.
The Virginia Axe Company, which opened in Rockville in May 2019, is only an axe throw from Short Pump. It is locally owned and family run by – are you ready? – two women: long-time friends Kathy Ullmann and Tami Pegg.
SPORTING AXES
I showed up expecting a couple of guys with full beards and flannel shirts – and wound up realizing how unisex this sport has actually become. The husbands were the initial "throwers," but it was these two savvy businesswomen who "opened the shop." Tami's husband Dan has competed in the bladed sports arena for several years. He has placed in both national and international competitions; but it was the ladies who decided this sport needed to come to Richmond. They are both moms who do routine things like volunteer at Moody Middle School – but hand them an axe and watch out!
In fact, it turns out that their clientele is evenly split between male and female. Folks come not only for date nights and boys' nights out, but also for sorority events and bachelorette nights. Parties and anniversaries are also big draws; you can even cut the cake with an axe (appropriately sanitized) if requested!
LIKE DARTS ON STEROIDS
Axe-throwing is the biggest draw (no open-toed shoes and you must sign a waiver). After being cordially greeted at the door you are assigned an Axe Coach, and are on your way to quite an innervating experience! The effect is visceral as you are coached in throwing style, correct positioning, and safety. Then begin throwing in one of six pits at 24-inch diameter tree "rounds" with bark still intact. These may be poplar, pine, or gum (not oak – too hard), and give a most satisfying "thunk" when hit – not the jangling "whack" you get from throwing at mere plywood!
It is like playing darts on steroids. Only regionally repurposed trees cut naturally or already downed are used, and they are recycled responsibly.
It is a true adrenaline rush, with throwers as young as 10 (accompanied by a parent or responsible adult) or as mature as 70 taking their turns. You begin with "One Rotation Axe Throwing" – then move into more complicated venues with tomahawks or knives. The facility is ADA compliant and wheelchair-friendly, and if large groups desire they may serve moderate alcohol with an ABC banquet license, and full catering options may be arranged. The average stay is 1.5-2 hours, but corporate events can go longer.
NOTHING NEW HERE…
League competition will begin in early 2020. Throwing is already a big sport in countries such as Germany, Sweden, and Canada, and it is trying for Olympic status. Can this happen? Perhaps! But just for now, as Kathy and Tami so well put it:
"This is something that builds relationships and fosters camaraderie. In a very real way we see people bond together over the experience. It feels good to help change people's lives, even a little, and to find others who are passionate about what they do. Sometimes it truly is the 'unexpected' that can make the difference."
The Virginia Axe Company
2305 Commerce Center Drive, Rockville
---
Dr. Mark Davy practiced family medicine for 35 years in Richmond, but he tells us writing has always been his first love. A William and Mary graduate and frequent contributor to Richmond publications, he will be teaching an Osher Scholar class this spring at the University of Richmond, "Painting with Words."