Todd "Parney" Parnell
| December 13th, 2015
Cheryl Miller interviews Parney, ringleader of RVA's favorite baseball team.
---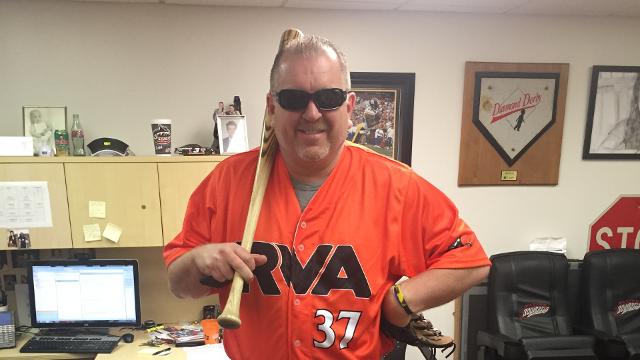 The Richmond Flying Squirrels have put "FUNN" in baseball for the Metro Richmond community, and the ring leader is the man known to all as "Parney," the team's vice president and chief operating officer, Todd Parnell. This 2011 Baseball America Minor League Executive of the Year says he lives and breathes baseball 365 days a year and loves every minute of it – and people are his passion. The team is involved with more than 100 charities, and Parnell, (49 and thus an "honorary boomer," born one year after the youngest baby boomers), is also director for Flying Squirrels Charities, which raises money to help inner-city kids and renovate baseball fields in the city."
WAS THERE AN "AHA MOMENT" WHEN YOU REALIZED YOUR PURPOSE IN LIFE AND WHAT YOU WANTED OUT OF LIFE?
"I always knew from my childhood that if I could get paid, make a living, working in sports that I'd be happy. I pinch myself every time I drive into The Diamond. I get to walk into a minor league ballpark every day of my life. So many people would love to do that and I get to live it. I never quit, never gave up and that still drives me every day. I don't want anyone, anywhere to say they work harder than me."
WERE THERE ANY SPECIAL CHALLENGES YOU HAD TO OVERCOME TO GET WHERE YOU ARE TODAY?
"Coming to Richmond was a big risk, the team wasn't even approved when I quit my previous job … [but] I felt in my heart Richmond was a special place and we could do special things here in RVA and that has proven true."
IS THERE SOMETHING YOU'RE WORKING ON NOW THAT IS INTERESTING, MOTIVATIONAL OR INSPIRATIONAL?
"Everyone is always focused on the [proposal for a] new ballpark and while that is indeed long-term very important, I cannot lead this franchise by being focused on that. I have to put the fans first and work hard on next year. I truly believe that if we focus on fans the rest will take care of itself."
WHAT ONE PIECE OF ADVICE WOULD YOU GIVE YOUR YOUNGER SELF?
"Don't take the life defeats as hard personally. I have had in the past to expect victory in every phase of life – and when a defeat comes along, take the defeats [negatively] a lot worse than I took the victories positively. So as I have gotten older, I have become a lot more even keel. Comes with age, ha, ha, ha."
WHAT'S SOMETHING ABOUT YOU THAT PEOPLE WOULD BE SURPRISED TO KNOW?
"I act like a tough guy – but I cry a lot when watching TV. Totally ridiculous. But if there is a sentimental story on ESPN or something, I will cry. Also, I enjoy arts and theater. I look and act like a total jock but am totally inspired by talented people, no matter what it is [they do]."
Cheryl Miller is celebrating her 31st year as news anchor at WTVR-CBS 6, and is co-host of Virginia This Morning, and hosts the Battle of the Brains high school academic quiz show.