Travel to Guzelyurt, Beautiful Turkish Town
| March 16th, 2022
Rick Steves' Europe
---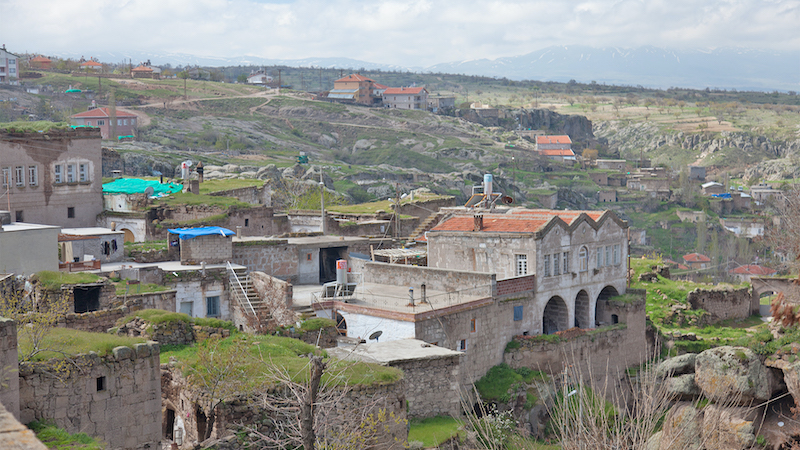 Travel writer Rick Steves takes us to Guzelyurt in Turkey, a community like many on Earth – "humble, yet filled with rich traditions, hardworking people, loving families, and its own village-centric view of our world" – where the beauty is richest with understanding.
---
Guzelyurt, in the region of Cappadocia in rural Turkey, is a town that has changed little over the centuries. Exploring it, I hike steeply down into a ravine, winding through a community in the rough – where the chores of daily life seemed stuck in the Middle Ages. Then, climbing up to a hilltop perch marking the end of town, I survey the view and marvel how the honey that holds this architectural baklava together is the community of people who live here – and the traditions they hold dear.
I sit silently to take in the sounds of the village. It's an ancient soundtrack – the timeless white noise of daily life: Children laugh, birds chirp, roosters crow, shepherds chase goats, and mothers cackle.
Averse to change, small towns like this are cultural humidors – keeping fragile traditions moist and full of local flavor.
Beautiful traditions, loving traditions
The last time I was here, Guzelyurt was all decked out for everybody's favorite festival: a circumcision party. It's a wonderful celebration. Turks call it "a wedding without the in-laws." The little boy, dressed like a prince, rode tall on his decorated horse through a commotion of friends and relatives to the house where a doctor was sharpening his knife. Even with paper money pinned to his fancy outfit and loved ones chanting calming spiritual music, the boy looked frightened. But the ritual snipping went off without a hitch, and a good time was had by all … well, at least, by everyone else.
On a different trip, I was a special guest at a Guzelyurt wedding. The entire community gathered. Calling the party to order, the oldest couple looked happily at the young bride and groom and shared a local blessing: "May you grow old together on one pillow." At any family festival, village Turks turn on the music and dance. Everybody is swept onto their feet – including visiting tourists. It's easy: Just follow the locals as they hold out their arms, snap their fingers, and shimmy their shoulders.
The father of the groom came over to me – the foreigner – and wanted to impress me. Waving me to a quiet corner, he said, "Here on my wall, the most sacred place in my home, is my Quran bag, where I keep my Quran. And in my Quran bag I also keep a copy of the Bible and a copy of the Torah – because I believe that we Muslims, Christians, and Jews are all 'people of the Book' … children of the same good God."
Leaving those memories behind, I continue wandering. As I do, the town becomes cluttered with ugly unfinished concrete buildings bristling with rusty reinforcement bars. I used to think, "Why can't these people get their act together and just finish these buildings?" That was before I learned that in Turkey, there's an ethic among parents – even poor ones – that you leave your children with a house.
Historically, Turks have been reluctant to store money in the bank because it devalues with inflation. So instead, they invest bit by bit by constructing a building. They leave the rebar exposed until they have another hundred bucks, when they make another wall, put on a window, frame in another door … and add more rebar. Now, looking at that rusty rebar, I remember that Turks say, "Rebar holds the family together." It's no longer ugly to me.
Continuing on, out of town, I come upon a little boy playing a flute as his mother cooks. It's carved out of an eagle bone, just like in biblical times. Listening, I hear another flute, out of sight, coming from over the hill. Hiking farther, I see his dad tending the sheep. As boys like him have done for centuries, the son stays with the mom and plays the eagle-bone flute. The dad plays his flute, too, so the entire family knows that all is well.
Cresting the shepherd's bluff, I come to the grandest view yet. On the hillside, I see the letters G-U-Z-E-L-Y-U-R-T spelled out in white rocks. Guzelyurt means "beautiful land." While few visitors would consider it particularly beautiful, that's how the people who call it home see it. They'd live nowhere else. And for them, it truly is a guzel yurt.
I think about how there are countless Guzelyurts – including my hometown – proud communities scattered across every country on Earth. Each is humble, yet filled with rich traditions, hardworking people, loving families, and its own village-centric view of our world.
---
PHOTO CAPTION, ABOVE: Guzelyurt (which means "beautiful land") is a Turkish town that has changed little over the centuries. CREDIT: Dominic Arizona Bonuccelli, Rick Steves' Europe.
Rick Steves (www.ricksteves.com) writes European guidebooks, hosts travel shows on public TV and radio, and organizes European tours. This article was adapted from his new book, For the Love of Europe. You can email Rick at rick@ricksteves.com and follow his blog on Facebook.
Explore more of Rick Steves' Europe in Boomer
© 2020 RICK STEVES
As an Amazon Associate, Boomer Magazine earns from qualifying purchases of linked books and other products.