Travel to the Swiss Alps in Search of Edelweiss
| June 21st, 2022
The pursuit is as glorious as the goal
---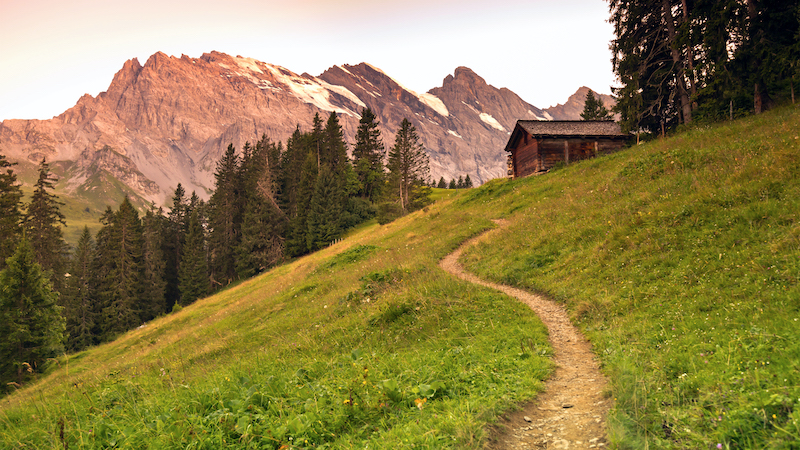 Travel writer Rick Steves takes us with him as he wanders in search of Edelweiss, on a glorious alpine walk through the Swiss Alps.
---
It's a glorious Swiss Alps morning. I'm spending my day walking with my schoolteacher friend, Olle, exploring the alpine landscape high above his home in Gimmelwald.
We come to a bluff and pause to look down at his village. It's a pastoral setting – a zigzag in the narrow paved service road lined with traditional wood homes, many of them two centuries old. In this peaceful community, nearly everyone has one of two last names and the children don't play house … they play barn. A mighty gondola connects it – like an iron-cable umbilical cord – with the valley floor a mile below and the summit of the towering Schilthorn mountain a mile above.
As we continue our walk, a pastel carpet of flowers trims the scene: golden clover, dandelions, bellflowers, and daisies. "For me, it's like meeting old friends when the flowers come out again in the spring," Olle says. All but abandoning me for the flowers, he rummages through his rucksack and pulls out a weathered handbook describing the local flora. "My bible," he says. "When the cows eat this grass with all these flowers, it's a good mix for the milk."
"OK, Rick, you will now risk your life for a flower." He leaves the trail and creeps over an edge and out of sight to find an edelweiss. Loose rocks, huge drop, no helicopter in sight … I don't really care about finding edelweiss.
Then I hear Olle holler, "Yes, I found some! Come around."
Feeling fat and clumsy, I leave the trail. Pulling gingerly at weed handholds, I work my way around a huge rock and across a field of loose shale. Olle comes into view, looking younger than he did a moment ago. "There are three edelweiss here. But this is a secret for only you and me. This spot must not go in your guidebook." At this point I am not concerned about my guidebook, only my survival. Olle grabs my hand with hands that have grown strong and tough after 14 years of high-altitude village life.
As if to pump up the drama, he whispers, "For me, it would not be a hike without a little danger."
"That's why your school is so small," I whisper under my breath.
"Edelweiss. It means 'noble white.' In the valley, it's noble gray. Only at high elevations do they get this white. UV rays give all flowers brighter colors at this altitude." Creeping with me to the ledge, Olle gently bends three precious edelweiss toward the sun. Pinching off a petal, he assures me, "This will not affect reproduction."
Petting a petal gently, I note that it feels like felt.
"Yes, like felt," Olle agrees. "This protects the plants from dehydration. I collect and press flowers but have never pressed an edelweiss. Edelweiss has been picked nearly to extinction."
As we struggle back to the trail, Olle talks on. "Here in Switzerland we are getting serious about our environment. Twenty years ago, our rivers and lakes were very polluted. Today you can nearly drink out of Lake Thun. Now we understand. You don't pee in your living room, do you?"
I assure him that I do not.
Finally reaching the safety of the trail, we walk more quickly, with ease. "Do farmers mind if we walk through their property?" I ask.
"This is a human right – to walk through the land," Olle says. His environmental passion crescendos with his voice. "When I was in Boston, I asked, 'How can I get to the lake?' They told me, 'You can't, it is private.' That is for me perverse. This is unthinkable here in Switzerland. We are guests of this Earth." Like welcome guests, we make ourselves at home, stopping at a peak that stands dramatically high above Gimmelwald. Olle shares a snack as we sit quietly to savor our perch.
Switchbacking steeply back down, we pass through a thick forest and step out at the top end of Gimmelwald. We're cheered on by a fragrant finale: a field vibrant with flowers, grasshoppers, bees, crickets, moths, and butterflies.
Olle says, "This year farmers obeyed tradition and not their eyes. They waited too long and had to take cows directly to the high Alps. They skipped this lower field. For these flowers, it is a fine year – no hungry cows."
Switzerland embraces its traditions with such gusto that locals like Olle fear visitors think it's an underdeveloped nation. It's certainly not. And the good news: The traditional alpine culture survives most heartily – like edelweiss – in its most remote corners.
---
PHOTO CAPTION, ABOVE: A winding path in Switzerland's Berner Oberland region. CREDIT: Dominic Arizona Bonuccelli, Rick Steves' Europe.
Rick Steves (www.ricksteves.com) writes European guidebooks, hosts travel shows on public TV and radio, and organizes European tours. This article was adapted from his new book, For the Love of Europe. You can email Rick at rick@ricksteves.com and follow his blog on Facebook.
Explore more of Rick Steves' Europe in Boomer
© 2020 RICK STEVES
As an Amazon Associate, Boomer Magazine earns from qualifying purchases of linked books and other products.