Support Recovery Efforts on Your Vacation
March 5th, 2019
Look beyond playtime preferences to support post-disaster destinations and areas that need help
---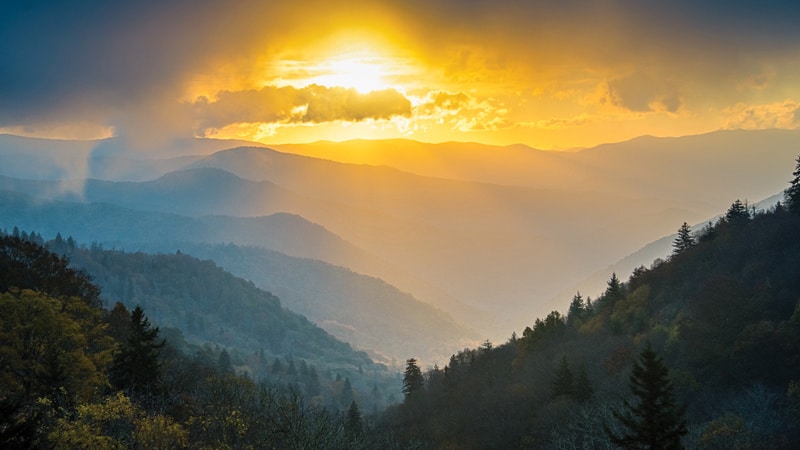 Travel doesn't have to be a selfish activity. Big-hearted travelers are increasingly looking beyond personal pleasure when planning a trip, asking: Does my presence make a positive difference? Do I leave more than tourist dollars? By choosing destinations that tickle your fancy and also need your support – as after hurricanes, wildfires, economic slumps and other issues – you can ensure that the answer is a resounding "Yes!"
If you're planning a trip to a recovering area:
Call ahead to confirm the area is ready to host visitors
Don't rely on websites for updates. One of the most reliable sources for information is a destination's official tourism agency; these organizations are on-site and eager to help.
Spend your dollars with local tour operators, restaurants and lodging.
Look for volunteer opportunities that can boost your impact.
WILMINGTON, NORTH CAROLINA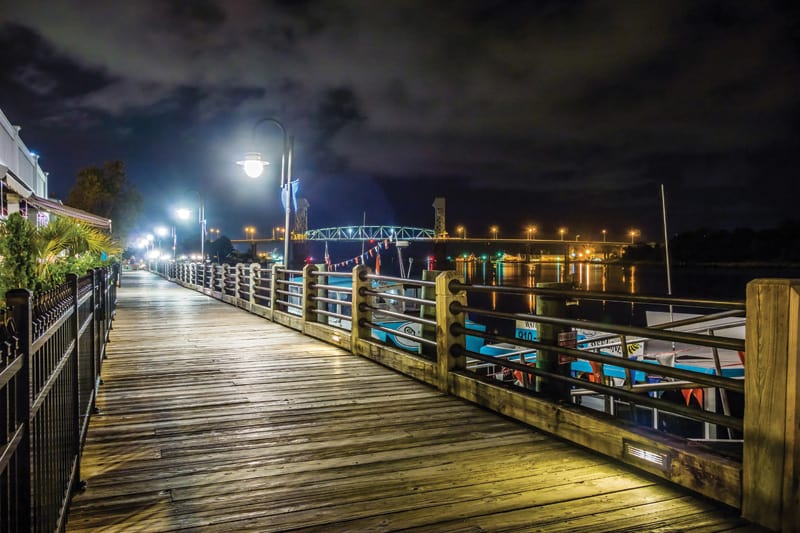 In October 2018, a month after Hurricane Florence swept mercilessly over eastern North Carolina, officials estimated that the damage from excessive flooding and high winds hit $450 million. Besides supporting the area's tourism industry, visitors can engage in recovery "voluntourism," assisting with repairs and other service opportunities through organizations such as Habitat for Humanity, SupPORT the Port and Cape Fear Volunteer Center.
This coastal town, located along Cape Fear River, embraces its proximity to the water. Wilmington is flush with shops, businesses, galleries, restaurants and breweries in the lively walkable river district or along historic, brick-lined streets.
Take a quick drive to reach the barrier island beaches: Wrightsville Beach (abundant amenities catering to adventure and social sets), Carolina Beach (busy and family friendly), Kure Beach (a natural playground) and Masonboro Island Reserve (a protected coastal habitat showcasing natural habitats and animals).
Even Wilmington's history reflects its proximity to the water. Today, visitors can tour the memorial Battleship North Carolina and the Civil War-era Fort Fisher.
GREAT SMOKY MOUNTAINS
In November 2016, a one-acre fire on the Chimney Tops trail in the Great Smoky Mountains National Park became a massive firestorm that burned more than 16,000 acres, damaged or destroyed more than 2,500 homes and businesses and claimed 14 lives. Several of the impacted towns, including Gatlinburg, depend upon tourists for their livelihood. "If you really want to do something for Gatlinburg, come back and visit us," said Gatlinburg's mayor, Mike Werner.
No matter the time of year, each season in the Great Smoky Mountains brings its own unique natural extravagance. Hike along the dozens of park trails, for postcard-perfect views. The vast acres of the Great Smoky Mountains harbor hidden waterfalls, host flora both common and rare, and provide a critical sanctuary for more than 400 protected mammals, birds, fish, reptiles and amphibians.
For modern vacationing, head to the nearby quaint-but-bustling towns of Gatlinburg, Pigeon Forge and Sevierville. Each town offers its own version of urban mountain life, with enduring tourist attractions, mountain crafts, dining, entertainment, outdoor adventures, good times, plenty of log cabins – and the ultimate hub of amusement, Dollywood parks and resorts.
PUERTO RICO
This U.S. territory was pummeled by Hurricane Maria in September 2017, with 155 mph winds and a deluge of rain. The loss of property was surpassed only by the loss of lives. The road to recovery still has its potholes, but the resilient Puerto Rican people are eager and ready to greet visitors. "Tourism is very important to our recovery efforts," said Ricardo Rosselló, Puerto Rican governor.
This not-so-secret gem is brimming with vibrancy, boasting its own unique culture covered with colors so vivid you didn't even know they existed in real life. Puerto Rico proudly embraces its exotic jungle side and its active city side, both interlaced with rich heritage and surrounded by shockingly blue waters and white sand (not to mention year-round beach weather).
Though it's easy to explore solo, the best way to get immersed is through the eyes of a local, says ViaHero (ViaHero.com). This service recruits local guides to serve as the Sacagawea to visitors, helping to plan personalized trips and provide insider tips and spots for a more fully immersive experience that simultaneously benefits the local economy.
While there, volunteer to plant trees, repair homes, clear trails and more. To explore ways you can help, visit PLN.org (Para la Naturaleza) or AllHandsAndHearts.org.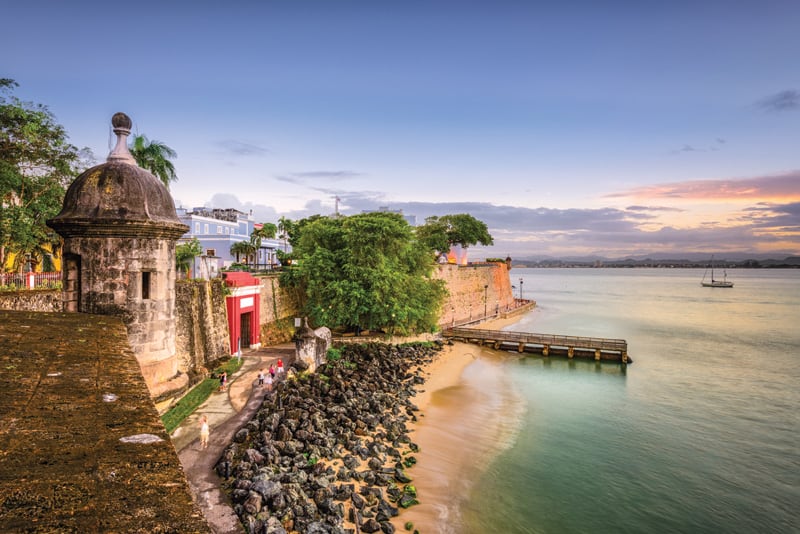 NAPA VALLEY
When October 2017 wildfires burned in well-known Napa County, outsiders immediately envisioned flames engulfing vineyards and wineries. The truth was a bit different, as the fires raged predominantly on forested hillsides, barely touching the Napa Valley floor.
"The majority of Napa Valley's more than 400 wineries were open and hosting guests just days after the fires started," explains Angela Jackson, director of media relations for Visit Napa Valley.
It hardly seems benevolent to unwind and uncork in Napa Valley, packed with rolling hills, idyllic scenery and unrealistically breathtaking sunsets. Its name has become synonymous with wine, with hundreds of vineyards and wineries a result of the area's fertile soil and exemplary terroir. "Cabernet Season, November through April, is one of the best times to visit the Napa Valley," says Jackson. "It's a time when the pace slows down; lodging rates are usually a bit lower, since its considered the shoulder season; and securing that coveted restaurant reservation at one of Napa Valley's more than 150 restaurants, or experiencing one of Napa Valley's six Michelin Star rated restaurants is a bit easier."
But Napa Valley has more than just grapes. Besides great cuisine, the art and culture scene has burgeoned over the years, boasting abundant access to galleries, theater, concerts and museums.
DETROIT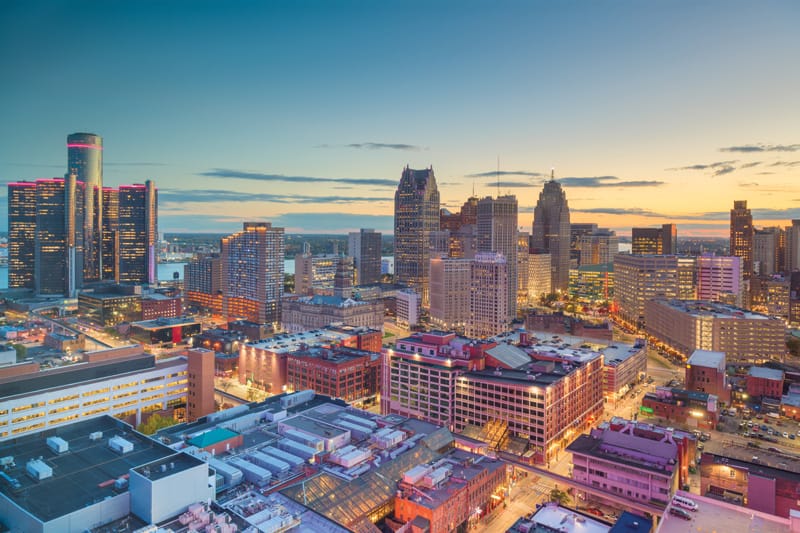 Problems in the auto industry, dwindling population, crime and abandoned buildings hurt Detroit and its reputation as a tourist destination. But that's changing: the local economy is rebounding, and tourism is up. Lonely Planet even named Detroit as a top city to visit in 2018.
"Visitors, whether here on business or for leisure, play a major part in helping boost the local economy," said Deanna Majchrzak, media relations manager for the Detroit CVB. Not only do they support local businesses financially, she explained, they also help mold changing perceptions when they tell friends and family about the city's renewal.
From a city known largely for its role in the auto industry, Detroit has become a well-rounded and spirited kind of place. "Detroit continues to transform, with new hotels, restaurants, businesses and retail opening every day," says Majchrzak. "Historic buildings are being rehabbed into hotels, restaurants and residential units."
Art and culture are sprinkled throughout the city, in the form of murals, museums, theatrical performances, festivals and live music. Detroit is also a hub for sports lovers, boasting the Red Wings, Tigers, Lions and Pistons professional sports teams.
Stroll down the RiverWalk and the revitalized riverfront; take the Q Line streetcar down Woodward Avenue; fulfill your car fantasies at The Henry Ford and other automotive gems; and soak up history and song at Motown Museum. Then, of course, there's the legendary Greektown, dedicated to food, drinks and late-night entertainment. Opa!
---
For even more destinations, consult with Responsible Travel.
Some of those worth looking at are Haiti post 2010 earthquake, Umbria, Italy post 2016 earthquake, Mexico post 2017 earthquake, New Orleans post Hurricane Katrina, Montserrat post volcanic eruption in 1995, Japan post earthquake and tsunami in 2011, the UK's Lake District and Cumbria post 2015 floods, and as mentioned above, Nepal, post 2015 earthquake and Dominica post Hurricane Maria in 2017. Travel with small, responsible vacation companies that ensure your money is directed to locally owned accommodation, restaurants, local guides, conservation groups and so on. Not to privately owned islands or all inclusive resorts, which rarely make any difference to the people whose lives were turned upside down.