Talking with Bill Bevins and Shelly Perkins: River City Ukulele Society
October 5th, 2017
Sharing music and teaching skills at a fall festival and throughout the year
---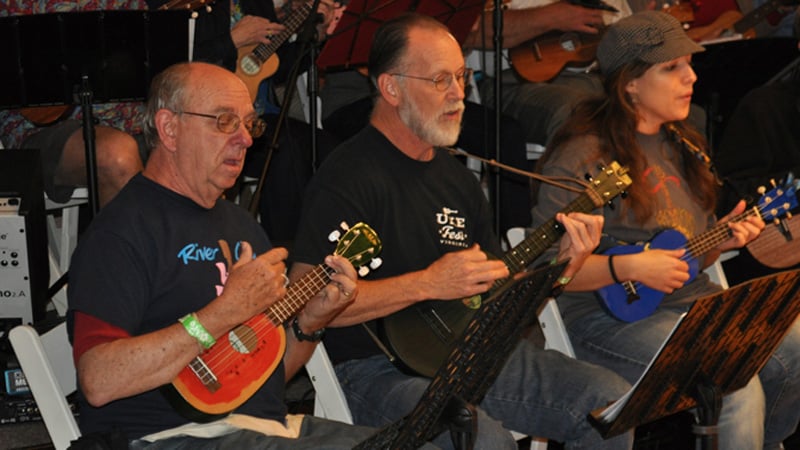 ---
The ukulele, a four-string musical instrument, was developed in Hawaii in the 1880s, inspired by Portuguese instruments. It became popular stateside in the early 20th century, in part through early adopters such as Tin Pan Alley songwriters and vaudevillians. Boomers may recognize the instrument from Tiny Tim's memorable falsetto/vibrato hit, "Tiptoe Through the Tulips." Recognizing that they weren't the only Central Virginia fans of the instrument, Richmond musicians Ron Gentry and Sandy Stoddart founded the River City Ukulele Society.
Shelly Perkins: This morning we welcome River City Ukulele Society, which sounds like a secret society. We have Ron Gentry and Sandy Stoddart. Sandy, let's talk about the Ukulele Society. What is that really about?
Sandy Stoddart: Good morning, Shelly. When Ron and I met years ago, playing some old-time music, he approached me about starting a ukulele festival, [which required having a nonprofit] organization. We use [River City Ukulele Society] to promote and celebrate the ukulele and songwriting and singing in the community.
SP: You guys don't just do this for the uke festival – you have events that happen throughout the year with people playing ukuleles.
SS: Yeah, twice a month.
Bill Bevins: Ron, when you started this, you'd been somewhere else and heard people playing the uke. You're a musician, as Sandy said, playing old-time – what some people call porch music or mountain music – and the uke seemed like the next step to take.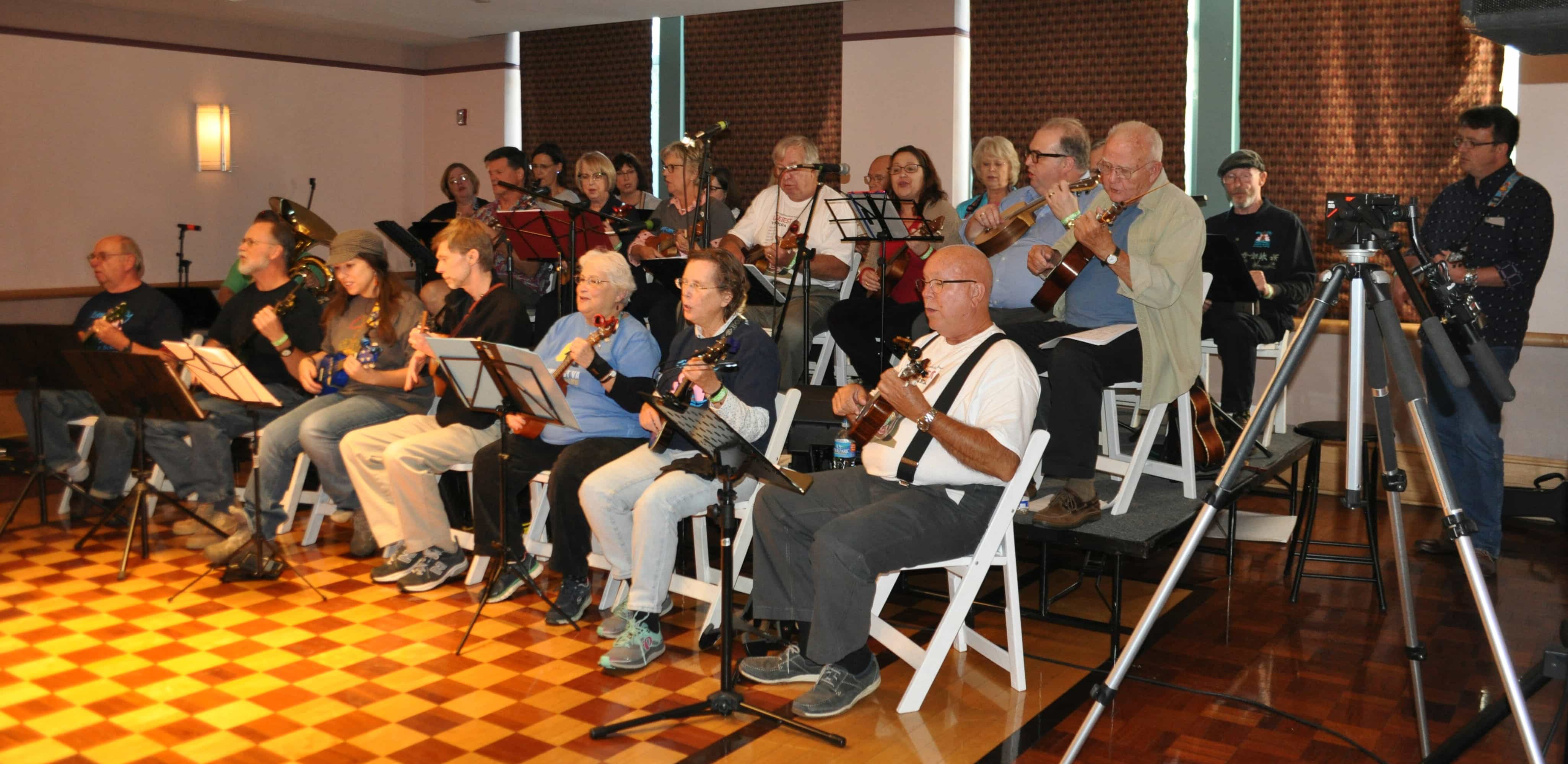 Ron Gentry: Yes, I had gone to a ukulele festival in Northern Virginia at Strathmore. I guess this was in the spring of 2011, and I said, "Wait a minute – that's a long drive. We've got a lot of people here in Richmond. Why don't we try to create something similar in Richmond?" So that's what really started the whole effort to have a ukulele festival.
BB: And it's done quite well. Let's talk about the actual UkeFest and what will happen there and how people can get involved, or pick and grin along with you.
RG: Sure. It's really kind of exciting. [The festival is the first Saturday in November] at the Cultural Arts Center in Glen Allen.
BB: That's Nov. 4.
RG: Nov. 4. And we'll start around 9 in the morning. It'll be three different concerts, nine workshops. If you're trying to learn ukulele, you can take three beginner's workshops. We've got things for the intermediate player, like finger picking or certain kinds of strumming or different types of music and licks. And we've got advanced that just takes it to the next level. And we'll have a community stage, where we bring in ukulele groups from throughout Virginia that come in and play and have a chance to show what they've been doing.
BB: Shelly and I have seen Samson Trinh start his uke with kids and stuff like that; it's a massive class he turns out.
RG: Exactly. He played, I believe, in our first ukulele festival; he brought his kids in and played on the community stage.
BB: It obviously is a fun instrument. Is that part of the appeal, that it's so much fun to play?
RG: Well, I started off playing guitar, and then I went to upright bass, and then I started playing banjo uke in an old-time string band. It got me hooked on the ukulele. Then when I found out about the jam group, I got a different kind of uke that wasn't a banjo uke, and it opened up a whole different world. I very rarely now play my upright bass and guitar – I'm usually just playing ukulele.
SP: The festival's about celebrating the ukulele but also the education side of it, so I'm just kind of curious. Like, playing a guitar: I tried to take guitar lessons and it was dismal. So, I mean, they're teaching kids to do it – I guess grownups could probably get involved.
SS: Ron mentioned he's a musician, and he comes from a history of music and playing. I didn't. I played a mountain dulcimer, which has three strings, and when he said he wanted to have a ukulele festival, I said, "I don't know how to do anything else," and he said, "It's one more string! Come on, I'll show you how to play it!" It is such a forgiving instrument. It's very easy to pick up a ukulele, which is affordable, portable and easy to play. We don't have many children at our UkeFest – I think it competes with soccer and a lot of fall things – but we did have some children's programs through the Cultural Arts Center, and I had a little ukulele club at Fox Elementary School for years. Those children were wonderful. So put your guitar down and come over and we'll show you how to play ukulele – you'll be able to play it well in no time at all.
SP: So somebody comes to the UkeFest and they want to do that beginner's class. What is the fee associated with that?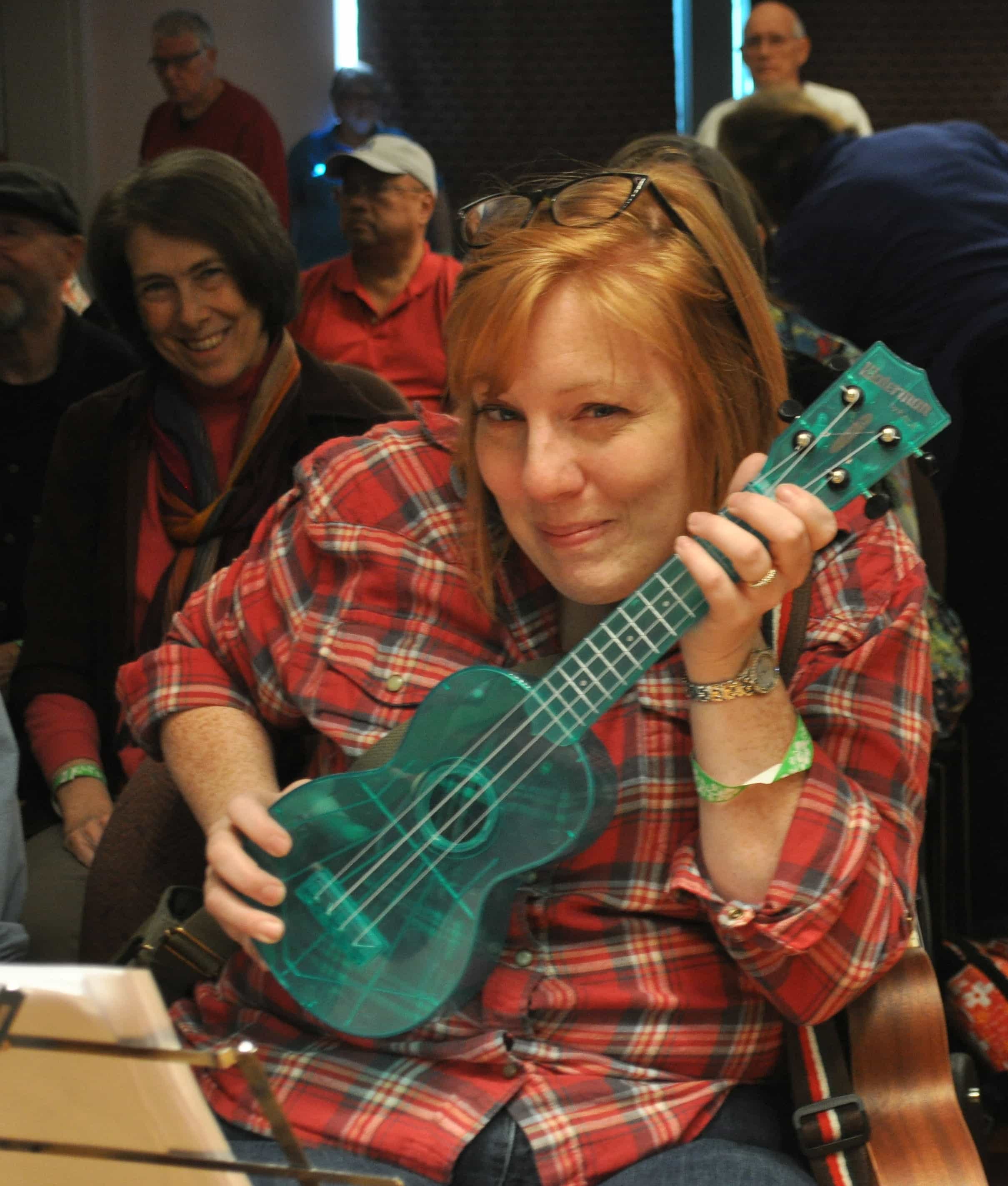 RG: If they're just going to come watch the community stage, then it's free. But if they want to take a class, then they can buy an all-encompassing ticket for the workshops. Around $114 will give you every workshop and every concert. We give the people buying the full-festival tickets the first shot at the workshops. The day of the festival, if there is any space left in a workshop, we will sell the individual ticket for $25. The problem is that we sell out, and if you don't buy a complete ticket, then your class may not be there.
SP: You seem so sad that you sell out!
RG: We're looking to expand, but that's a good problem to have.
BB: I have one more question. Do you have to be able to read music to play the uke?
RG: No, not at all. What we use is chord pictures, if you would, with four vertical lines representing each string of the ukulele, horizontal lines indicating the frets under the strings [and] black dots indicating where to place your fingers. This allows beginners and experienced players as well to see how to make each chord as needed in the song. It's really almost a paint by numbers. Unlike a lot of other jams where you play from memory, we use the sheet music.
SP: Bill's really great at playing the steel drums. How do a steel drum and a ukulele go together? I'm thinking we could do a band.
BB: Yeah! Like Hawaiian music!
RG: One of our members from Hampton actually is taking steel drum. We welcome all instruments. We've got a clarinet, tuba, washboards, kazoos, banjos, guitars, sometimes fiddles and accordions.
BB: And it's a lot easier to carry around than a bass! We are inviting everyone to UkeFest Virginia 2017, Saturday, Nov. 4, 9 a.m. till 6:30 p.m., and then the fingers will go into therapy after that. Cultural Arts Center at Glen Allen on Mountain Road. Thank you very much.