Visit Vermont
| August 31st, 2023
'Taste, Place & Grace'
---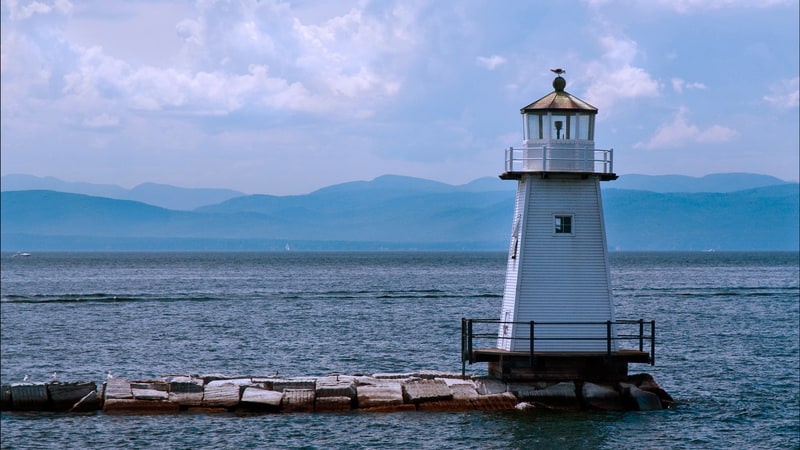 Seasoned travel writer Martha Steger takes Boomer readers along to visit Vermont, to three wonderful towns, from Burlington on Lake Champlain to Manchester to Brattleboro, with recommendations and tips for recreation, shopping, dining, lodging, and more.
---
I stole this 'Taste, Place & Grace' headline from Vermont food writer Anita Rafael, but it aptly describes the appeals of the entire Green Mountain State – which I've visited four times in the past decade, twice in the past three years. Much of Vermont's beauty lies in its vistas and richness of color – an autumn backdrop for covered bridges and for three special cities – Burlington, Manchester, and Brattleboro. (For lower accommodations prices, check out the off-season, beginning with the ski resorts' "mud season," the end of March.)
I have flown into Burlington twice and driven there twice (620 miles, 997 km), about 11 hours' drive from my hometown of Richmond, Virginia. If you're flying – depending on your point of origin and departure as you visit Vermont – check out flights into/out of Albany as well as Burlington. Amtrak also began service from New York to Burlington last year. The advantage of driving is being able to bring back Vermont-made flannel from Burlington and Manchester as well as one-of-a-kind, fine handcrafts from Burlington and Brattleboro – not to mention Lake Champlain chocolates from Burlington and maple syrup (it's a staple) from everywhere. (When flying, I've shipped items I had no room to pack for return to RIC.)
Whether or not you drive to the Green Mountain State, you'll want to try the Land Rover Driving Experience, offered daily, year-round at the Equinox Golf Resort & Spa in Manchester. I sampled the basics of expedition-style driving and off-road obstacles such as steep ascents and descents, side-tilts, log and water crossings, rock crawls and boulders – and, yes, it was fun in addition to increasing my behind-the-wheel knowledge.
I sampled all restaurants recommended in links at article's end, though space doesn't allow for coverage of individual choices. Vermont offers a lot of good local eating, with very few chains, fast-food offerings. Reservations are a must at Burlington's Essex Resort Tavern, where it's difficult to choose among house-cured duck prosciutto, roasted baby vegetables, shrimp & corn bisque, and maple bacon-wrapped salmon – and they're just the appetizers!
Visit Vermont at these three worthwhile towns
Burlington
For accommodations, I opted for Hilton Burlington Lake Champlain, newly remodeled, situated across a highway from the lake and within easy walking distance of many eateries and shops. Pizzeria Verita's wood-fired Neapolitan pizza makes a perfect arrival-night dinner.
Check out the schedule for The Flynn before arrival, as the 1930 art deco theater hosts a variety of performances from dance to readings.
For a unique breakfast and lunch, plan on arriving early at the very popular Grey Jay and The Spot, respectively; the refurbished gas station is a fun 'spot' and encourages diners to amble over to The Spot on the Dock, open at the waterfront until 10 p.m. August First bakery offers a very good breakfast (served through their lunchtime). Burlington Beer Company is a taproom, restaurant, and barrel house.
My travels are often working trips, so I was glad to find Hula, the co-working space in Burlington's historic Lakeside neighborhood, with 200 hot seats and designated desks distributed over 80,000 sq. ft. of ground floor incubation space –plus a fitness center, showers, locker rooms, bike storage and equipment to use for beach access.
I reserved several hours for artisanal shops on Pine Street – Soda Plant Factory, Rack & Ruin, Thirty Odd, ArtsRiot, Barge Canal Market, AO Glass, Alchemy Jewelry (with designer goldsmiths) – great opportunities for gift shopping. For myself, I found a vintage gown for a special occasion.
ECHO Lake Aquarium and Science Center at the Leahy Center for Lake Champlain is Vermont's innovative science and nature center on the Burlington waterfront. For campers, it's just 5.75 miles from Lone Pine Campsites.
Seeing fall color from a riverboat on Lake Champlain is a special experience. Though not running in the off-season, check out Spirit of Ethan Allen's schedule (https://soea.com) for daily scenic narrated cruises, sunset and special-events cruises as well as brunch, lunch and dinner cruises.
Burlington is a bicycle-friendly community, and seeing the fall colors on two wheels is the most intimate way to experience it. The city boasts several bike-rental outlets; area bicycle trails vary in length and difficulty.
Who wouldn't love the mid-day treat of fresh, handcrafted assorted chocolates at Lake Champlain Chocolates (https://www.lakechamplainchocolates.com)? (I was able to wrangle a tour of the factory and now order my cocoa mix from this company – which produces the best cocoa I've tried.)
Ending the day with a wine-tasting/pairing is always good; Dedalus Wine Shop, Market & Wine Bar www.dedaluswine.com. Check out its calendar for events (made special in the garden) and for deals such as half-price oysters. Info on Burlington restaurants sampled is below.
For breakfast:
Lunch:
Dinner:
Learn more at www.HelloBurlingtonVT.com
Manchester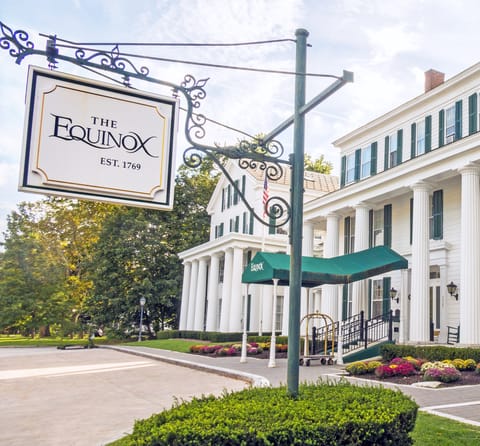 The Equinox Golf Resort & Spa (www.equinoxresort.com) — with its excellent food, service, and amenities — was my lodging spot in the quintessential Vermont town of Manchester, nestled between the Green and Taconic Mountain Range. Marble sidewalks? Yes, Manchester Village has them (I drove by an old quarry). With such natural elegance, it's no wonder the area had been a summer resort for the Gilded Age society set.
I strolled down Main Street to browse designer outlets, art, and artisan galleries (loved 'Epoch'!) and locally owned boutiques. Next to my shopping time at The Vermont Flannel Company (www.vermontflannel.com), I spent the most time at Northshire Bookstore (www.northshire.com), 4869 Main Street. The 10,000 square-feet bookstore was a continuously operating inn for more than a century before conversion to a bookstore in 1985.
The Mountain Goat, an outdoor gear and clothing store on Main Street, offers a helpful brochure on day-hikes and backcountry adventures with mileage, elevation gain and round-trip hiking time given for each.
Nearby, enjoy an evening meal or event, Thursday-Sunday, at The Wilburton Inn (www.wilburtoninn.com), which offers dinner theater and an assortment of other packages at the engaging historical property specializing in family reunions, yoga retreats and DIY weddings. It's also home to the Museum of the Creative Process, offering power-management/conflict resolution workshops described as "a concise program of emotional education" by Dr. Albert Levis, MD, whose family owns the inn.
---
Lock in Deals on a Fall Vacation
---
Don't overlook other treasures of Manchester's countryside: Route 7A offers the 412-acre working farm, Hildene (www.hildene.org), with the 1905 Georgian Revival summer home of President and Mrs. Lincoln's son, Robert Todd Lincoln, and his wife, Mary – along with a restored 1903 Pullman Palace railcar. If you're feeling heavy on history, return to Pastime Pinball, a family-friendly playable pinball museum in the heart of Manchester.
The Southern Vermont Arts Center, situated on 100-plus acres, was the perfect place to end my Manchester visit, as its exhibitions feature local, national, and international artists on relevant themes for a diverse audience. Art-lovers will be glad to know most works are for sale.
Learn more at www.ManchesterVermont.com
Brattleboro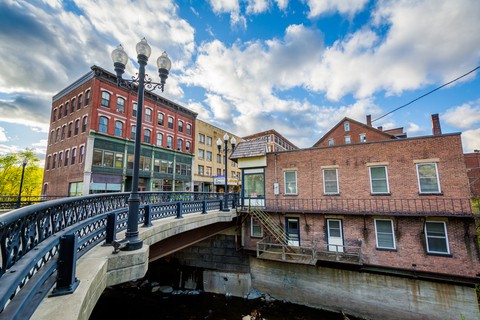 The Latchis Hotel (www.latchishotel.com), an Art Deco property in downtown Brattleboro, is centrally located for exploring the city – with its own equally historic movie theater (www.latchis.com) down the street. A former historic train station houses the contemporary Brattleboro Museum & Art Center with year-round rotating exhibits, many of which showcase the region's artistic riches.
I stepped over the New Hampshire border without leaving my lunch-stop – the Whetstone Station Brewery, where the border runs right through the bar – but then I moved along to up-close-and-personal visits to pottery and glassworks studios to watch some of the local artists at work. I finished at Putney Mountain Winery and Spirits – from which I brought home small bottles of handcrafted liqueurs including Vermont Cassis and Simply Ginger.
Saxtons River Distillery (www.saxtonsdistillery.com) was another stop before dinner. The next morning, Fire Arts Bakery & Café (www.fireartscafe.com) was the perfect place for a delectable array of baked goods – from light and airy croissants to cinnamon-nut-twirl pastry and luscious French favorites.
I was not only surprised to learn Brattleboro is home to one of the U.S.'s leading circus schools but that travelers of all ages and abilities can participate in workshops and classes at the New England Center for Circus Arts (www.necenterforcircusarts.org). After that vicarious exercise, I appreciated Superfresh! Organic Café (www.superfreshcafe.com) and its raw, organic, vegan cuisine with super-chef Jessica Weston: Men items are 100% non-GMO, gluten-free, soy-free, dairy-free, peanut-free, egg-free, vegetarian.
Back to walking, I explored Brattleboro's 10-block eclectic mix of shops and galleries, ending at River Gallery School (www.rivergalleryschool.org) and the opportunity to create my own painting to roll up and take home. The teaching artists work in a variety of visual media, including all types of painting, drawing, printmaking, and encaustics.
Ironically – considering my Chesterfield, Virginia, home – my final dinner before flying home from Albany was a gourmand's delight across the border in New Hampshire at Chesterfield Inn (www.chesterfieldinn.com) – which rests on a hillside with sweeping views of the Connecticut River Valley and Green Mountains of Vermont. Taste, place and grace indeed.
Learn more at www.Brattleboro.org
Explore more before you visit Vermont at www.VermontVacation.com/