Why I Volunteer
| March 16th, 2018
---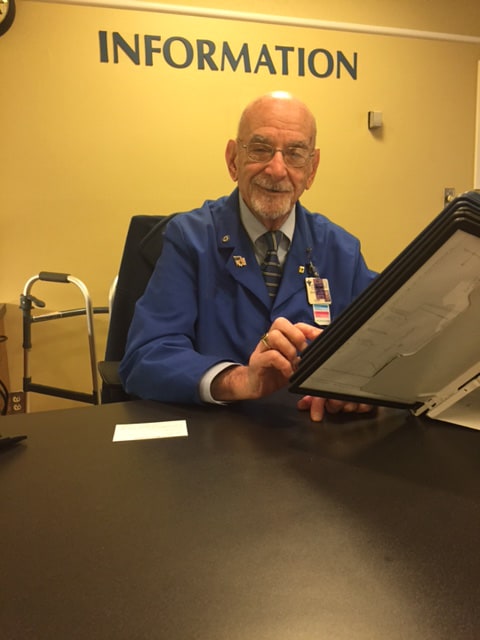 By the grace of God, I made two very important decisions in my lifetime, neither of which I regret one iota.
The first and foremost came to me from out of the blue. It was when I said "yes" to a proposal of marriage. That's right, Eleanor – my dear wife of 69 years, proposed to me. I didn't hesitate for a microsecond.
The second big decision occured 57 years later.
But before I get ahead of myself, let's take a step back.
Many retired folks have stepped up to the plate to fill a niche in society and in the lives of their fellow human beings. For some, it is a way of giving back what was given them when they were getting a start in life. I am referring to those dedicated, caring, compassionate souls who give their time volunteering in various facilities, institutions, and hospitals.
Unlike many seniors I know, I have made a sincere effort, within my limitations, to keep myself as busy as possible. I have exercised my body as well as my mind. God, in His ultimate wisdom, has seen fit to give me the necessary tools with which to write, so that I could express my thoughts and feelings. He granted me the energy so that I would not succumb to being a couch potato.
Getting back to the second big decision in my life, there was one single thing that rose above everything else: it was my ability to go out into the world and do good for others. In my case it was volunteering.
As a young enlistee in the Army in WWII, I learned the hard way, never volunteer for anything. But, that was then, and this is now.
I view volunteering as a noble profession, and a very rewarding experience. It is done without pay or coercion, but it is done willingly.
A few months shy of becoming an octogenarian, the big "R" (a.k.a. retirement) loomed on the horizon. I wasn't ready for it – physically or mentally. I felt like 60, and thought and acted like 50. I had no game plan.
So, what is one to do?
Starting the second day of my retirement (the first was spent feeling sorry for myself) my wife, Eleanor, suggested I do some volunteering – something I had not thought about doing. I was totally agreeable to the idea, and I ended up a very welcomed volunteer at a hospital.
I now volunteer two days a week, for a total of ten hours. In my over sixteen years of service to it, I have amassed over 5,650 hours. I thoroughly enjoy what I do, as well as my association with some of the most extraordinary men and women I have ever had the pleasure of knowing.
No one can fully understand or appreciate the feeling you can get by helping others, unless you have had that experience. Being caring and showing compassion for your fellow human beings is contagious.

I do believe that the visitors who have crossed my path have taught me to be more understanding, patient, compassionate, and considerate. People who approach the desk are often worried, stressed, confused, etc. Some just need a sympathetic ear or a helping hand, or maybe just a smiling face. I've learned to treat everyone equally, and ignore occasional rudeness. I am there to do just one thing, and one thing only – to help them in anyway I can.
There numerous examples of the good a dedicated volunteer can do. Here's one I witnessed:
I remember one morning, a little girl walking into the hospital holding a little suitcase. Her cheeks were flushed and her eyes were red. I said, "Yes Miss, what can I help you with today?" With a quiver in her voice she said, "I am going to have an operation and then my throat won't hurt." I asked, "Are you getting your tonsils out?" She nodded her eyes swelling up with tears. I told her that she wouldn't be allowed to leave the hospital until she'd had at least three scoops of ice cream. She looked up at her father searching his face for an answer. He nodded and said, "It's true. Eating ice cream after you get your tonsils out is part of the treatment." Her eyes went wide and she smiled revealing a toothless grin. And off they went. The next day, the little girl's father stopped by the desk and thanked us for taking the time to talk.
Volunteering has added years to my life, that otherwise might have become somewhat stagnant. It is one of the most gratifying things I have done in my life. To know that I may have helped just one person gives me a sense of pleasure and great satisfaction, and is an experience you will remember for a long time.
Volunteers come in multiple forms and wear many hats. They come from all walks of life. They don't seek glory or accolades. Their deeds are from the heart.
My advice to you is:
Volunteer! Make a difference! You'll be glad you did!
"The greatest gift you can give someone is your time, because when you give your time you are giving a portion of your life that you will never get back." – Unknown