'100 Things to Do in Richmond Before You Die'
September 5th, 2023
An Insider's Guide from Boomer editor Annie Tobey
---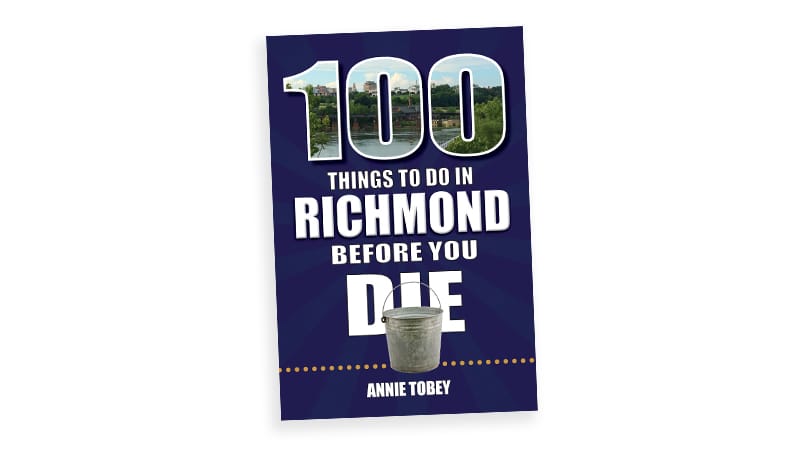 Whether you're a long-time resident, newcomer, or visitor, insider tips can help you make the most of a place. Boomer editor Annie Tobey guides readers around her hometown in her new book, "100 Things to Do in Richmond Before You Die."
While it's known for its history, Richmond, Virginia, also offers a diversity of contemporary delights: distinctive restaurants and breweries, vibrant museums, unique shops, scenic recreation, and more.
What might you want to do in Richmond?
The book covers five categories of must-see spots: food and drink, music and entertainment, sports and recreation, culture and history, and shopping and fashion.
That's 100 entries total. Some entries offer multiple experiences; others present singularly fascinating venues. The book also presents annual events and itineraries: family friendly, dog friendly, craft foodie favorites, and more. It offers established favorites as well as some lesser-known gems.
Find yourself at the quirky Edgar Allan Poe Museum. Stroll through the inspirational Virginia Museum of Fine Arts or the soul-soothing Lewis Ginter Botanical Garden. Play in the natural urban paradise of the James River Park System, take in a weekend of world culture at the Richmond Folk Festival, and savor the quirky décor and fine dining delicacies at L'Opossum.
Learn what should be on your RVA bucket list in "100 Things to Do in Richmond Before You Die."
Here's a taste of "100 Things to Do in Richmond Before You Die," with three Richmond favorites.
CONJURE A BELOVED
ITALIAN GRANDMOTHER
AT EDO'S SQUID
The dimly lit stairwell leading up to Edo's Squid is quaint and quiet — it makes you feel as if you're visiting your Nonna's apartment. When you pass through the door at the top of the stairs, though, you step into a lively dining room and are greeted by the scent of fresh garlic. If you get there early, you might even see garlic cloves spread across a table as the staff prepares for another busy night. That's the first sign of the kitchen's use of fresh ingredients. The next sign comes with your first bite of the authentic Italian cuisine. You'll have plenty of choices and hearty portions, in an everyday atmosphere. In addition to nightly specials and lots of seafood, look for ongoing selections, from appetizers, like braised fennel and fried squid, to pasta dishes with marinara and other sauces, with mixed seafood and broccoli rabe and sausage. Cin! Cin!
411 N Harrison St., 804-864-5488
edossquidrva.com
BRING YOUR
PERFECT ART HOME
FROM CROSSROADS ART CENTER
Wander the colorful, sprawling maze of galleries at Crossroads Art Center, past oodles of art lining walls, windows, and stalls. Feast your eyes and soul on the creations of 225 emerging and established mid-Atlantic artists. Take in the rich variety of media: glass, mosaics, paintings, photography, pottery, sculpture, metalwork, wood, jewelry, and textiles. Stroll the galleries simply for inspiration, to appreciate the talent and breathtaking beauty, or to look for art that beckons you to take it home. Given the range of price points, you'll want to be on the lookout for unique gifts, too. Because of the focus on local artists, you'll find an abundance of local landmarks celebrating the region through art. For a more immersive experience, attend Crossroads' special exhibitions, events, juried shows, and classes. Check out the online shop, too, for a preview of the art or to shop from home.
2016 Staples Mill Rd., 804-278-8950
crossroadsartcenter.com
DISCOVER LIBERTY
IN CHURCH HILL AND HISTORIC
ST. JOHN'S CHURCH
Taking its name from St. John's Church and from its perch atop one of Richmond's hills, Church Hill is Richmond's oldest neighborhood. Nineteenth-century homes line the streets, in a variety of architectural styles, punctuated by independent restaurants and retailers. Church Hill is home to the Chimborazo Medical Museum, educating visitors on the Civil War hospital and 1860s medicine. The neighborhood is the site of Libby Hill Park, offering a view above the James River that inspired the city's name. St. John's Church hosts the city's first public cemetery and numerous old graves, including the resting place of Eliza Poe, Edgar Allan's mother. Most notably, the church was the site of the Second Virginia Convention, March 1775, when Patrick Henry argued for revolution against the British with his fiery words, "Give me liberty, or give me death!"
Chimborazo Visitor Center and Medical Museum
3215 E Broad St.
nps.gov/rich
Historic St. John's Church
2401 E Broad St., 804-648-5015
historicstjohnschurch.org
---
"100 Things to Do in Richmond Before You Die" (Reedy Press, Sept. 1, 2023) is available through local booksellers and from online retailers, including Amazon and ReedyPress.com.
Learn more about Boomer editor Annie Tobey at her Boomer writer's page. 
Find more destination books from Reedy Press, including others in the 100 Things series as well as Oldest, Scavenger, Secret, and more