5 Fixes for Easy Outdoor Living
| June 7th, 2017
Spend time enjoying the outdoors instead of maintaining it
---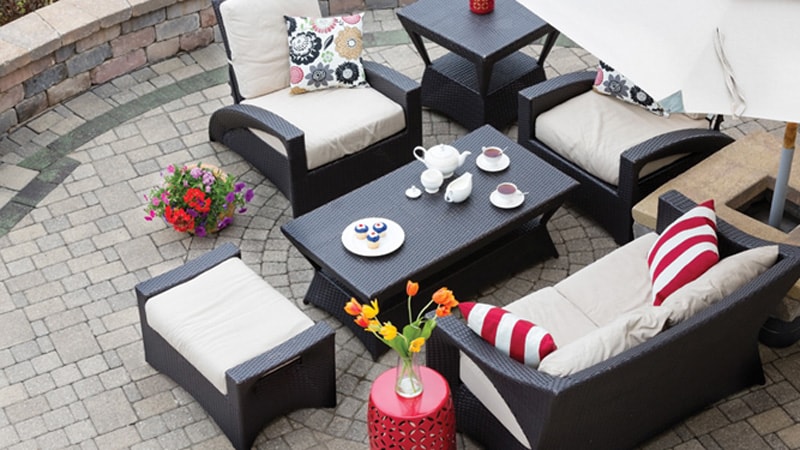 When your feet hit the floor on a Saturday morning, are you Goofus or are you Gallant? When it comes to yardwork, are you like the classic Highlights cartoon character who's incorrigible, procrastinating because you have better ways to spend your time, or are you like Momma's little angel, eager to tackle outdoor chores?
By creating a low-maintenance outdoor space, you can justify being Goofus, enjoying the lazy times outside, engaged in entertaining or simply in solitary lounging. In the long run, many of these ideas also save money and the environment.
BUILD EASY-CARE PORCHES AND DECKS
When building or replacing porches and decks, choose wood alternatives, such as wood-plastic composites or PVC. You'll avoid the maintenance and replacement of wood building materials, since these products resist fading, staining, mold, rot, splintering and warp.
Some composites, like those from Trex (a Winchester, Virginia-based company), are made from recycled material, so you can rest easy knowing your choice is better for the environment.
USE HARDSCAPING
Extended hardscapes – patio, walkways and even built-in seating – provide extra outdoor living area while reducing the amount of grass and landscaping you'll need to maintain.
Besides poured concrete or stone and concrete pavers, consider economical pea gravel (a popular California choice).
CHOOSE LONG-LASTING FURNITURE
Weather-resistant materials have made their way to patio furniture, too.
Wood-like furniture from C.R. Plastic Products, for example, won't mold, rot, splinter or crack. The material also includes a UV stabilizer to maintain the furniture's color (especially nice to know when considering the 17 colors in the company's Generation Line, including vibrant Adirondack chairs). These products are also environmentally friendly, made from approximately 580 milk jugs for each Adirondack chair, as well as millions of pounds of bottle caps and other recycled plastic.
Plastic-based outdoor rugs offer additional benefits. Unlike natural fibers such as jute and bamboo, rugs made of recycled plastics don't absorb moisture or promote mildew. If your deck is still made of natural wood, this feature is essential.
INSTALL THE RIGHT LIGHTING
Wouldn't Mr. Edison be proud? Innovations in landscape lighting have multiplied and become accessible for home use: well lights and other up-lit lamps to highlight shrubs, path lights to aid navigation, moonlighting lamps high in a tree to gently illuminate a yard, and rope lights.
When you're thinking low-maintenance, though, consider practicality as well as aesthetics.
According to the U.S. Department of Energy, "Quality LED light bulbs last longer, are more durable, and offer comparable or better light quality than other types of lighting."
Solar-powered lights offer another efficient choice – besides saving electricity, they'll conserve your energy for enjoying activities besides flipping the switch.
Speaking of conservation, some lighting choices support the "dark sky" movement to reduce light pollution while still providing practical and aesthetic choices. After all, unnatural light doesn't just keep us from seeing the stars at night, it has long-term negative effects on birds and other wildlife. When planning for a dark sky, consider light trespass (directing light only where needed), sky glow (down-lighting instead of up-lighting) and timing (using motion sensor lighting or a timer rather than illuminating your space all night long).
Long-lasting smart bulbs like the third generation LIFX BR30 bulbs are suitable for outdoor as well as indoor use. They can automate driveway lights to turn on when you drive in at night, light up the porch when you're on the way home or be turned on and off from smart devices. Take advantage of the multiple colors and shades of white to set an outdoor mood.
BE SMART IF WATERING
Although the ideal maintenance-free yard may be mulch and native plants (or even artificial turf), most contemporary homes rely on lawns and a variety of plantings for aesthetics and utility. In Central Virginia, this means frequent watering throughout the summer.
An irrigation system is the obvious solution to avoid late-night and early-morning hand-watering (when water evaporation is lowest), wandering around the yard in your pj's to move the sprinkler, getting up during overtime to turn off the water or forgetting to turn off the water until you crawl in bed and hear the water running.
For maximum savings and convenience, new and retrofitted irrigation systems can be rain sensitive, programmable and operated from a smart device. The Skydrop Self-Regulating Controller, for example, customizes watering based on current local weather data to make sure your lawn and garden get exactly the water they need. The controller also connects to smart devices.
Simple solutions like these make Goofus seem downright gallant and even genius!