56-Year-Old Becomes Oldest Person to Cycle Around the Globe
| April 16th, 2018
Retired Irish schoolteacher Dermot Higgins cycles into the Guinness Book of Records
---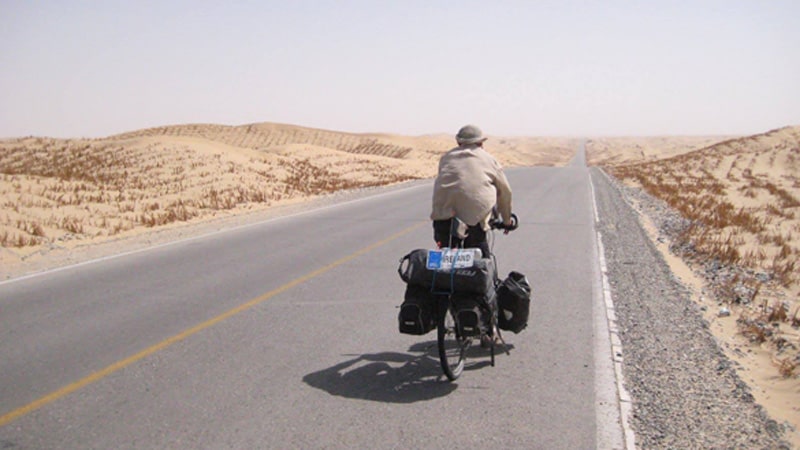 Dermot Higgins and his trusty bicycle, Karolina, started their epic journey in July 2017 and arrived back in his hometown on April 7 after 9 months and 29,000 kilometers (about 18,000 miles) of cycling over all sorts of terrain in all sorts of weather.
Higgins' journey, dubbed the Gogodermo, began the same month he retired. In addition to tackling a personal goal, he cycled to raise funds for Trócaire, an Irish nonprofit that tackles poverty and injustice around the world, with a focus on food and resource rights, women's empowerment and humanitarian response. https://www.trocaire.org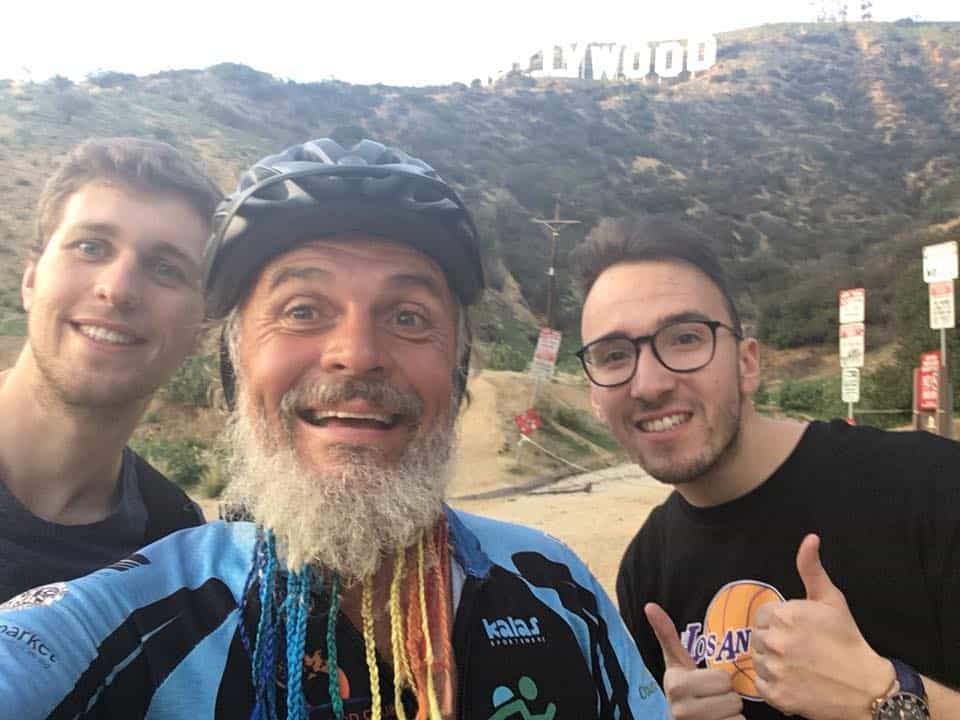 "What Dermot has undertaken is an extraordinary challenge," Reidin O'Connor, fundraising manager with Trócaire told the Irish Examiner. "Not only that, but he's using his challenge to shine a light on global poverty and social justice."
"I just want to do something different, something out of the ordinary, something extraordinary," Dermot told the Irish Examiner. "Completing the Round the World Cycle will be my life's ambition realised. Having the opportunity to promote Global Goals and to support Trócaire is the icing on the cake."
The 56-year-old father of four hails from the seaside town of Rush, County Dublin, Ireland. He began his ride across Europe, traveled through Russia, into Asia, Kazakhstan and India. He cycled the length of New Zealand and Australia.
He began the U.S. leg of his journey at the end of January.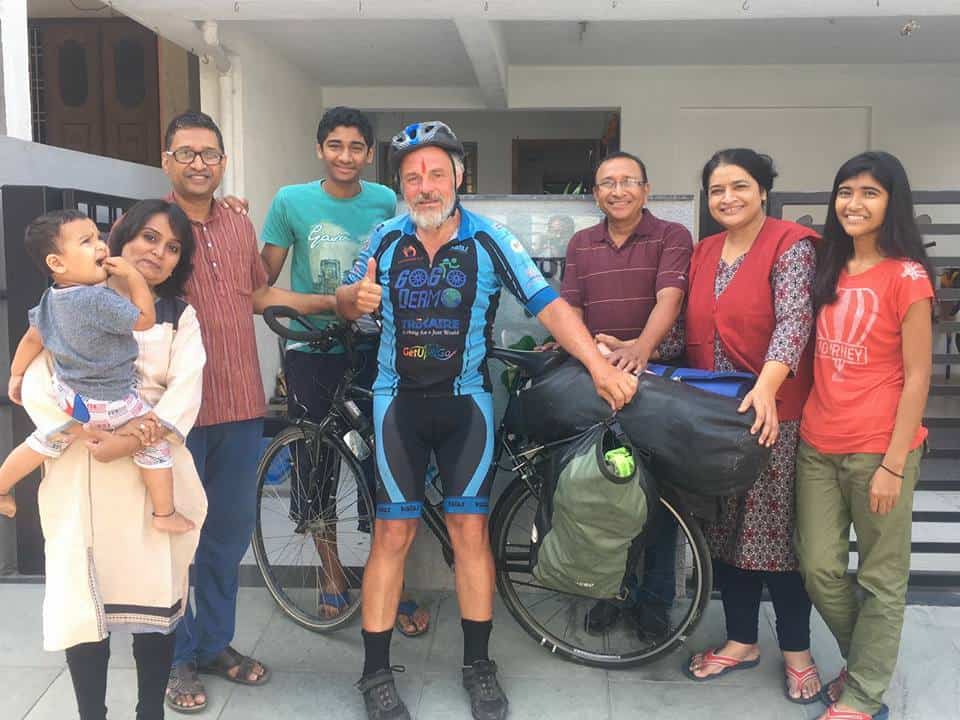 "If someone had paid me a billion dollars to say that my experience in America was going to be one of the most interesting and rewarding aspects of the Gogodermo experience, I'd have told them that they were liars and fools. But it's true! It's not called 'The Land of the Free' for nothing!" he told the Fingal Independent.
The final leg of his journey took him over the Atlantic to Portugal and Spain.
A retired Irish schoolteacher, Dermot undertook this journey to raise awareness of the UN Global Goals for sustainability. An avid environmental activist, he is passionate about educating people on ways to protect our planet.
One of Higgins' sponsors was the Freebird Club, a peer-to-peer social travel and homestay club for adults over 50. www.freebirdclub.com
In a press release celebrating Higgins' accomplishment, the Freebird Club cited some of the cyclist's Freebird Club hosts and homestay experiences: "From home-cooked meals with Lyudmila in Kazakhstan, meeting his musician heroes in Los Angeles with host Gaili, relaxing poolside with Kelly in France, to a final stop off in Washington – where he enjoyed lively chats with environmental scientist, host Dean – Dermot truly lived the ethos of the Freebird Club which encourages those over 50 to get on their bikes or into trains, planes and automobiles to explore the big wide world that awaits them."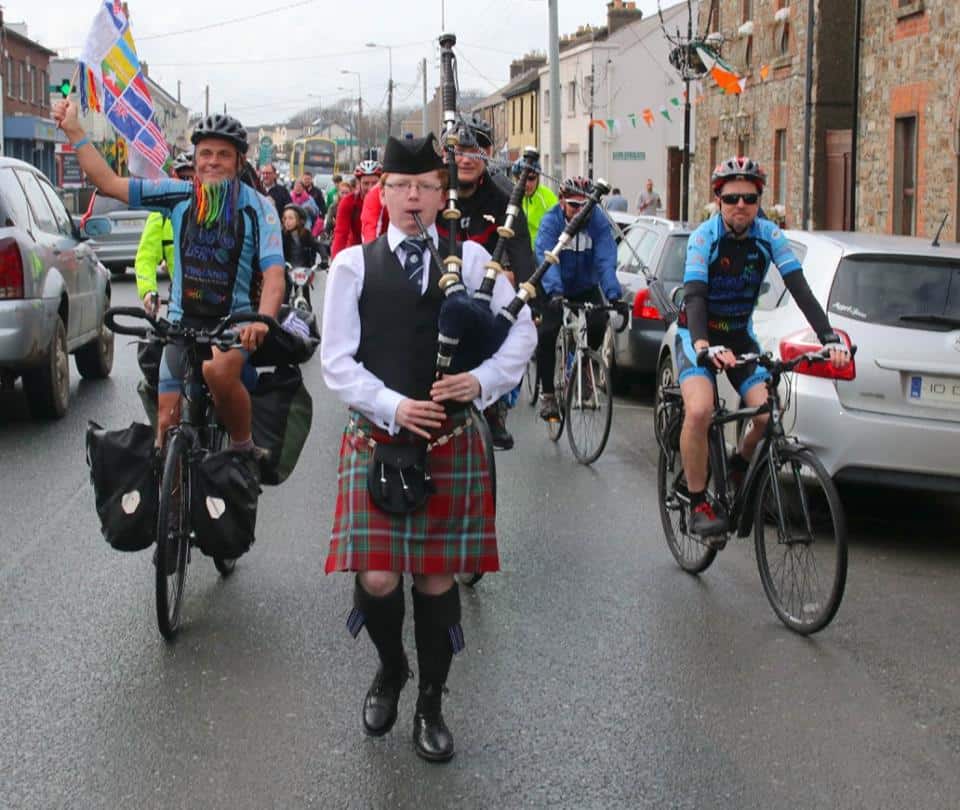 Of his retirement plans upon completing his epic journey, Higgins told the Fingal Independent that he intends to open up "the 'Gogodermo, Around the World Café and Grocery Shop,'" an environmentally friendly and healthy business. "If you're a green shopper, then you'll support Ireland's first 100% No Waste Cafe and Grocery Shop which will open in Skerries this summer," he proclaimed.
On his Facebook page, Dermot Higgins announced three additional goals: a book, Gogodemo: One Man's Bicycle Journey Around the World and to the Depths of His Soul, a film documentary about the trip and the 2020 Bipolar Bicycle Circumnavigation Challenge. For Higgins, "bipolar" refers to reaching both North and South poles.
Look out Guinness, here comes Dermot Higgins again!