6 Tips to Start Your Day Strong
| July 12th, 2023
It's easier than you might think!
---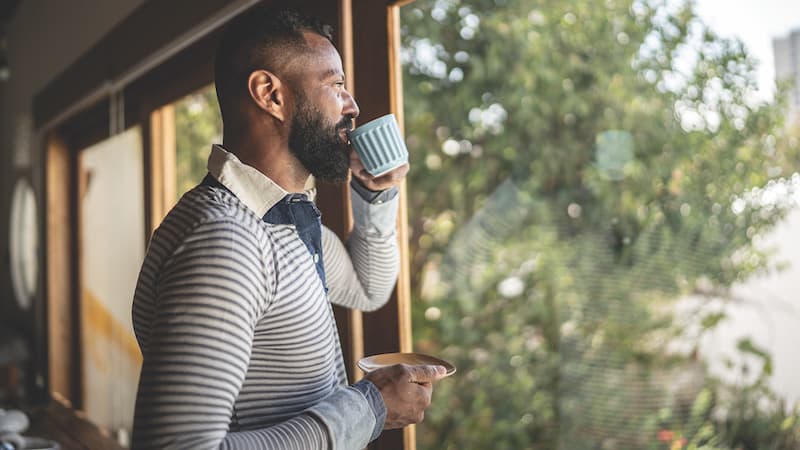 How you begin each day can set the tone for the remainder of your waking hours. Try these 6 tips to start your day strong and tackle – and enjoy – the rest of the day.
---
Pressing snooze, finally waking up frazzled, rushing through the house to leave on time, skipping breakfast – if that sounds like a typical morning for you, creating a new routine to start days on a stronger note may help you feel more refreshed and accomplished.
For many people, easy, breezy mornings may sound like a fantasy. However, instituting these simple tips from Buddha Teas can put you on a fast track toward less frantic beginnings to each day.
1. Begin a bedtime routine
A bright-eyed, bushy-tailed morning actually starts the night before. To help ensure you're getting enough sleep each night (7 hours or more for adults, according to the National Institutes of Health), make sure you're winding down both physically and mentally before heading to bed. This often means skipping caffeine, turning off devices and avoiding big meals close to bedtime.
2. Wake up at the same time each day
As part of your fixed bedtime routine, try going to sleep and waking up at the same times each day – including weekends. This may help your body create a natural rhythm to make it easier for you to rise in the morning without pressing snooze.
3. Start with something you enjoy
Whether you're a morning person or natural night owl, knowing you'll start the day with something enjoyable can help you dread that ringing alarm clock a little less, like a cup of tea, a walk with your dog, or the daily Sudoku.
4. Meditate and move
While a meditation session may sound like a quicker way to put you back in bed than get your day going, it can actually be beneficial to harness positive energy first thing. Focus on deep breathing, calm your mind and slow your heart rate prior to taking on the day's tasks. Once you're mentally motivated, move on to physical preparation with 10 to 15 minutes of light stretching to energize your body and get your blood flowing.
5. Strengthen your body
Another key aspect to a successful morning includes beverages that energize you. Healing herbs can help defend your body from free radicals, as in a beverage like Buddha Teas Echinacea Elderberry, with organic and plant-based vitamin C, antioxidants and detoxifying herbs. Echinacea, used for centuries to heal and protect, is combined with elderberry's high levels of vitamin C, which is useful for growth, development and reparation of the body.
6. Eat a nutritious breakfast
Everyone knows the common refrain: "Breakfast is the most important meal of the day." Yet, many people choose to skip a morning meal or simply run out of time, despite the many benefits of refueling before heading off to work or school. In fact, a nutritious breakfast offers a multitude of health benefits for your body, according to the International Food Information Council Foundation, including a healthier heart, better digestion, stronger bones and improved metabolism. Plus, making time to eat in the morning can provide the energy you need to tackle your to-do list.
---
---
Photos courtesy of Getty Images and Buddha Teas