81-Year-Old Open-Water Swimmer
| June 28th, 2023
He just completed his 25th Chesapeake Bay swim
---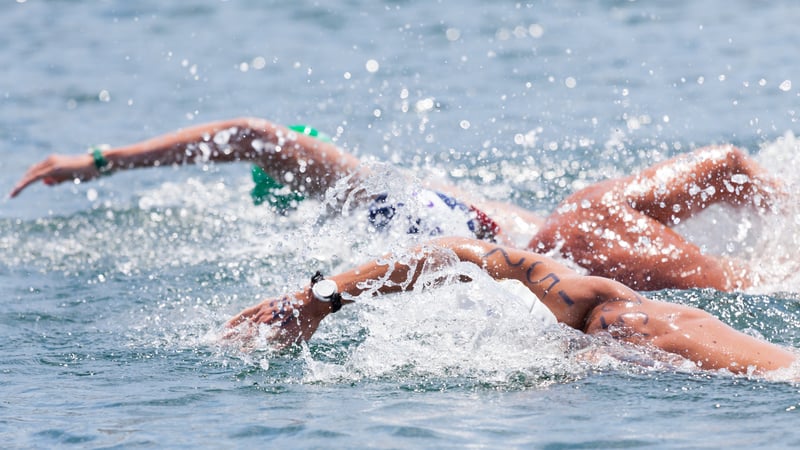 Weight-loss, a new diet, fitting into his swimsuit from 30 years ago – 81-year-old open-water swimmer Marty Wasserman had challenges to beat even before he tackled the 4.4-mile swim across the Chesapeake Bay.
---
KENT ISLAND, Md. — Swimming has long been a Zen-like experience for Ellicott City resident Marty Wasserman, the Maryland secretary of Health and Mental Hygiene from 1994-99.
"If I don't swim for a while, there's something missing inside," Wasserman said. "It's a habit."
While Wasserman began swimming at age 5, on Sunday he completed the swim of a lifetime – his 25th crossing of the Chesapeake Bay.
At 81 years old, Wasserman was the oldest participant in this year's Great Chesapeake Bay Swim, an annual 4.4-mile swim from Sandy Point State Park in Anne Arundel County to Kent Island on Maryland's Eastern Shore.
"It's amazing," said Jason Chance, the swim's race director. "It tells us that it is not an elitist event, it is an event that can be accomplished. You just have to put in the work; you have to have the dedication and the heart."
As if swimming across the bay wasn't challenging enough, Wasserman decided he would do so this year wearing the same gray and red swimsuit he donned when he first completed the Great Chesapeake Bay Swim in 1995. There was just one problem: He had to significantly slim down his 5-foot-8, 195-pound physique to put it on.
"What's the motivating factor?" Wasserman asked himself. "It's going to be your 25th swim. Why don't you try to get into that wetsuit? What would it take?"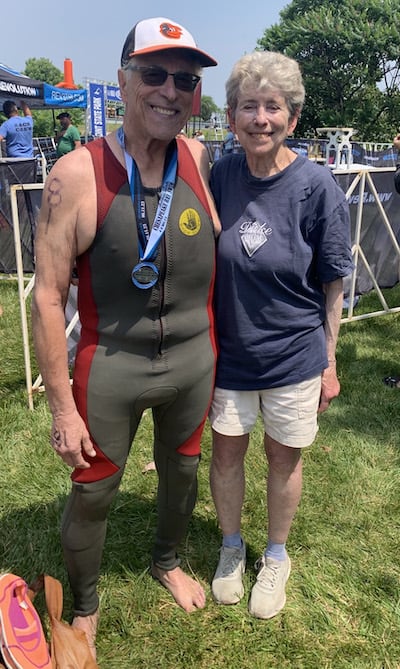 Wasserman first embarked on the bay swim during his tenure as state health secretary in an effort to promote the importance of eating well and exercising.
"I said what would be better than challenging myself to swim across the bay and do that publicly and hold myself accountable for that?" he said. "I did it and I actually had a pretty good time, and so I was hooked."
Wasserman has only missed the swim a handful of times, due to illness and when it was canceled for two years of the COVID-19 pandemic. Open water swimming brings its own unique set of challenges, including a year when Wasserman faced swells up to 2 feet and another when the bay's water dropped to 64 degrees and a number of swimmers got hypothermia.
"We're basing our [start] times and everything off of predicted tides and predicted currents," said Chance, who consults with National Oceanic and Atmospheric Administration experts prior to the race. "There are the invisible factors – its wind, its currents."
Along with swimming, the retired Wasserman still enjoys biking, kayaking and horseback riding alongside his wife, Barbara Wasserman.
"It's enabled us to spend a lot of fun time together and doing things that are healthy and enabling us to spend time out of doors," said Barbara, 80. "It's been such a pleasure, especially living in Howard County."
Still, even with their active lifestyle, Barbara had been nudging Wasserman about weight loss, a concern that only grew after he fell off his horse, Tee, last year. That August, the two attended an annual nutrition conference sponsored by the Physicians Committee for Responsible Medicine that promoted the health benefits of a plant-based diet.
"I was really impressed by everything they said and thought if I go vegan, that will help me lose weight; it'll help me get healthier," said Wasserman, who also volunteers with PCRM.
---
Emily Kimball: Cycling After 50 Brought Adventure, Health, and Joy
A Winning 79-Year-Old Tennis Player
More Incredible Older Adults: Age Knows No Limits
---
He soon reached out to Hana Kahleova, an endocrinologist and the committee's director of clinical research, who started serving as Wasserman's coach and "chief cheerleader" as he committed to the new diet and weight-loss effort.
"I was really inspired by his discipline and by his commitment," Kahleova said. "In spite of these few weeks where the scale wouldn't budge, he was pretty consistent."
While Wasserman initially set out to lose 10 pounds, when he stepped on his scale the Saturday before the race he weighed 164.2, a level Barbara hadn't seen him at since the two met as first-year students at the Johns Hopkins University School of Medicine in 1964.
"He has always been dashing, but he's become even more so over the past year," said Barbara, who stood waiting on Kent Island to cheer for her husband as he completed Sunday's race in about three hours and 20 minutes.
While admitting there may be the occasional slip, especially when it comes to cheese, Wasserman says he hopes to maintain his plant-based diet and race again next year.
"If you train for it, you stay in shape," he said. "There's a lot of positive reinforcement, too, because as I've gotten older people will ask me, 'Are you still swimming?'"
Chance says the bay swim is a testament to swimming's wide age and demographic appeal. The youngest participant Sunday was 13, nearly seven decades younger than Wasserman. With Maryland's many natural and man-made waterways, he hopes more people come to embrace swimming as a lifelong activity, just like Wasserman. .
"Whether that's a lake in your community, a pond, or open water, going down to Sandy Point and just swimming … [t]here are ways to do it," Chance said. "Typically, it really doesn't matter your age."
---
©2023 The Baltimore Sun. Visit at baltimoresun.com. Distributed by Tribune Content Agency, LLC.